Vaccination invite count increased to 200
On the first day around 74 per cent of the health workers had received the jab, however, the target came down to around 63 per cent on the second day of the vaccination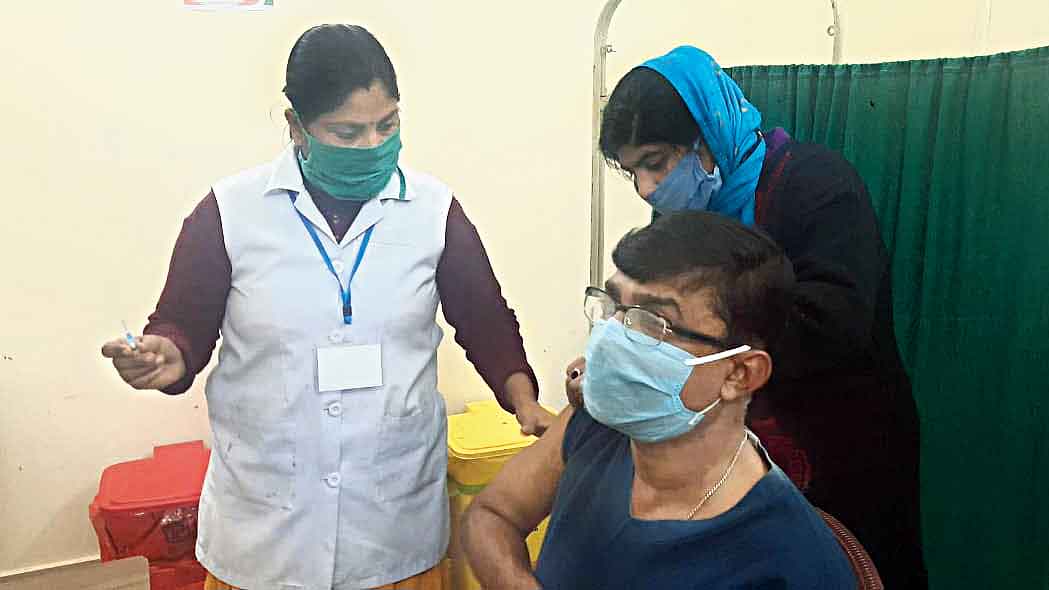 A vaccination centre at an urban health centre in Bolpur on Monday
The Telegraph
---
Bolpur(Birbhum)
|
Published 19.01.21, 12:32 AM
|
---
The Mamata Banerjee government has decided to invite 200 health workers to each of the 207 vaccination centres across the state from Tuesday to achieve the target of administering Covid-19 vaccines to 100 persons at each centre.
While only 74 per cent of the health workers had received the jabs on the first day on Saturday, the target came down to around 63 per cent on the second day of the vaccination on Monday.
"On Saturday, 15,349 people had turned up for vaccination while the target was to administer vaccines to 20,700 people. On Monday, a total of 14,810 people could be given the first dose of vaccine even though 150 people were invited to get the vaccine at each camp," said a senior state government official.
The state government has also asked the district officials to call up the beneficiaries a day before the vaccination to encourage them to come to the vaccination centres.
Senior officials pointed out that the health workers, who are enlisted for vaccination, need to be encouraged to come to the vaccination centres as the turnout was getting thinner.
Sources said around 23,570 health workers were invited for vaccination on Monday at 207 camps across Bengal where the target was to meet 20,700 persons.
"In the evening, we found that 14,810 persons were administered vaccines out of a target of administering
vaccines to 20,700 people. It means 74 per cent could be administered vaccines on Saturday. But the figure came down to 63 per cent on Monday.
This is why more people are being invited to get the vaccines," said an official.
At a few places, the district officials had invited candidates beyond the enlisted persons to meet the target.
For example, in Birbhum's Dubrajpur, only 50 persons could be given vaccines initially from the list prepared by the government. Later, 25 more persons were called to the camp who were not in the initial list and were administered vaccines.
"We will enrol their names in the government portal later," said a health official.
A section of the health officials, however, said the process to invite persons beyond the list could create trouble and the districts had been asked to be careful in this regard.
"We have asked health officials in the districts not to administer vaccines to people outside the list as it would create a problem to manage the system and stock of vaccination," an official said.
"To get rid of the problem, we have decided to invite 200 persons officially from Tuesday for the vaccination in a bid to meet the target. We are planning to increase the number of camps too," he added.
Officials felt that there could be two reasons behind the thin attendance in the camps. First, people are apprehending adverse side effects and second, many of the enlisted persons could not appear in the camps as all of them are engaged in emergency duties like treatment of Covid patients.