Union minister Subhash Sarkar courts controversy with remarks on Rabindranath Tagore's complexion
The Minister of State for Education made the comments during a visit to Visva Bharati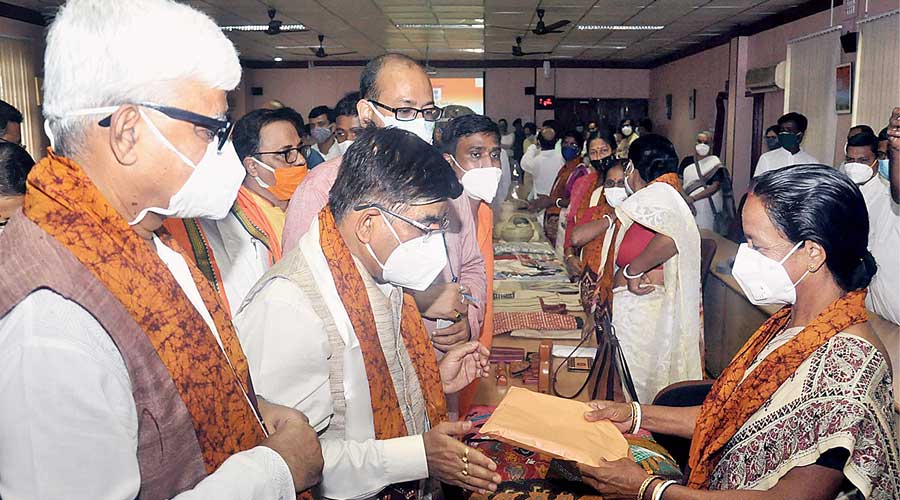 ---
Santiniketan
|
Published 19.08.21, 01:44 AM
|
---
Union minister of state for education Subhash Sarkar produced a shocker on Wednesday when he dwelt on the skin tone of Rabindranath Tagore in public at Visva-Bharati, the central university founded by the Bard. 
Instead of discussing the woes facing the Indian education system or how to bridge the digital divide to ensure that more students could attend online classes, the minister gave a lecture on different types of fair skin and explained why Sarada Devi hadn't purportedly taken her son Tagore on her lap in his childhood.
"Tar maa ebong barir oneke kalo boley take koley niten na. Sei Rabindranath Thakur bharoter hoye biswa joy korechhen (His mother and some other family members didn't take him on their lap because he was dark. That Rabindranath Tagore conquered the world for India)," Sarkar said at a lecture organised by the varsity during his first visit after his induction into the Narendra Modi cabinet. 
Sarkar was silent on where he sourced the titbits of racial discrimination in the Tagore family. Nor did he offer any correlation between Tagore's success and skin tone, which he portrayed as a disadvantage. 
During his three-hour stay at the abode of Tagore, Sarkar, with Visva Bharati vice chancellor Bidyut Chakrabarty by his side, spoke on several issues, ranging from the situation in Afghanistan to the New Education Policy. 
But the comments of the gynaecologist-turned-politician on the skin tone of the Bard and other members of the Tagore family stumped everyone.
"Kabiguru Rabindranath Thakur samporke, eder barite sokoler chehara jodi dekha jai, sokoler gayer rong dhobdhobe forsha chhilo. Rabindranath Thakurer o gayer rang satyikarer forsha chhilo. Farsa sadharanato dui prokarer hoi — ekjon dekhben toktokey holdey, ar ekjon dekhben forshar modhyei kintu ektu laal bhab thake. Kabiguru Rabindranath Thakurer gayer rong dwitiyo dhoroner chhilo, (If I talk about Rabindranath Tagore, if we look into the faces of all his family members, everyone's complexion was extremely fair. Tagore was also really fair. There are two categories of fairness — a person with extreme yellow skin tone and you may find the other type of fairness with a reddish tinge. Tagore belonged to second category)," said Sarkar. 
Several experts on Tagore drilled holes into his assessment of Tagore's skin tone, but the bigger question was what prompted him to bring skin tone of the legend in public discourse.
"When a BJP central minister talks about skin tone, it exposes the deep-rooted racism in his mind. The Prime Minister and other senior leaders of the party should condemn his statement," said CPM leader Sujan Chakraborty. 
"They divide the country in terms of religion and caste.… Now, they have began bringing skin tone in the discourse," he added, expressing his dismay at how the BJP was trying to divide the society. 
Later in the day, Sarkar told journalists in Bankura that he had documents to prove whatever he had said on the Bard's skin colour. 
But some of his colleagues in the BJP expressed surprise over his comments.
"The comments on skin tone of Tagore were unnecessary… We could have avoided this controversy at a time awareness of colour prejudices is growing at least in urban India," said a senior state BJP leader on condition of anonymity.
Last July, Hindustan Unilever had changed the name of Fair & Lovely, a skin-lightening product, to Glow & Lovely. The modification captured an attempt to do away with racial stereotyping against which worldwide protests erupted after the killing of George Floyd, a Black man, by Minneapolis police in the United States.
More than a year after an FMCG behemoth made an effort to align its marketing policy towards a more inclusive vision of beauty, and several other brands followed suit, Sarkar's comments were seen as regressive.
"If a Union minister talks about skin tone and portrays someone like Tagore as dark and then refers it as a disadvantage, you can well imagine that he is reinforcing the racial stereotype," said a professor of Visva-Bharati.
Some Tagore experts said although the bard himself, and even his nephew Abanindranath Tagore, had often described themselves as 'dark', it was more in jest while referring to their childhood memories.
"Tagore was very fair and handsome and there was no doubt that he was definitely a fair one. My father Bijan Bihari Bhattacharya worked with Tagore at least for 10 years from 1931 as he was one of the editors of Rabindra Rachanabali. I heard from my father that he was fair and handsome. I also heard it from many people who met Tagore personally," said Amitra Sudan Bhattacharya, a Tagore researcher and author.
According to him, the minister's assessment of Tagore's skin tone was wrong.
Academic Pabitra Sarkar said word "dark" was very relative and it was very shameful when a minister discussed the complexion of Tagore in front of seniors at the varsity. 
"It is wrong that his mother or others did not take him on their lap. His mother used to cuddle the kids before they went to bed. Is there any relation with Rabindranath whom we know with his skin complexion? Did such issues stop Tagore from becoming a Nobel prize winner or a philosopher or polymath? It is shameful that a minister will speak about such things like a child in front of the matured people." 
Trinamul vice-president Saugata Ray also criticised Sarkar. "This reminds of what Ishwarchandra Vidyasagar had said: 'Murkheyr awshesh dosh (the faults of the idiot are endless)'. Subhash Sarkar, I don't know him very well. He is a first-time MP, and a minister now… But if he does make such remarks, he should not be allowed to enter Visva-Bharati henceforth."