Unhappy with Election Commission, says CPM general secretary Sitaram Yechury
Yechury alleged that the EC was not taking proper steps to ensure a glitch free and fair elections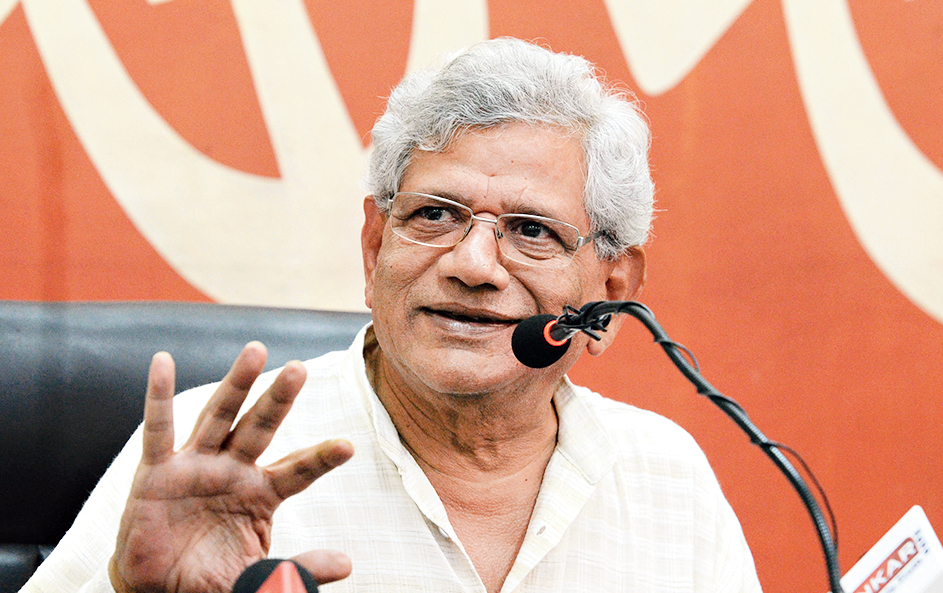 ---
Calcutta
|
Published 14.04.19, 07:18 PM
|
---
CPM general secretary Sitaram Yechury on Sunday expressed displeasure over the way the first phase of the Lok Sabha elections had been conducted by the Election Commission.
"We are totally displeased with the way the elections were conducted by the Election Commission in the first phase in 91 Lok Sabha seats. I was in Tripura and saw no central forces there. They were all invisible and no confidence building measures were undertaken despite advertisements by the Commission about casting votes without fear," Yechury told a news conference at Alimuddin Street here.
Yechury also said the polling had started at 2pm in some parts of Andhra Pradesh because of "serious glitches" in EVMs.
"People had lined up early in the morning in Andhra because of the heat during the afternoon. But they had to leave without casting their votes because of glitches in the EVMs. The polling started at 2 in the afternoon and many people chose not to come again beating the heat in Andhra. The polling continued till 2am the next day," he said.
Yechury said a CPM delegation led by him would meet the chief election commissioner in New Delhi on Monday afternoon to communicate their views and demands.
He alleged that the EC was not taking proper steps to ensure free and fair elections and also a glitch free one across the country.