Uncertainty hits irrigation projects
Files of important irrigation projects, have been gathering dust for about two months while funds for projects put forward by other departments are being released.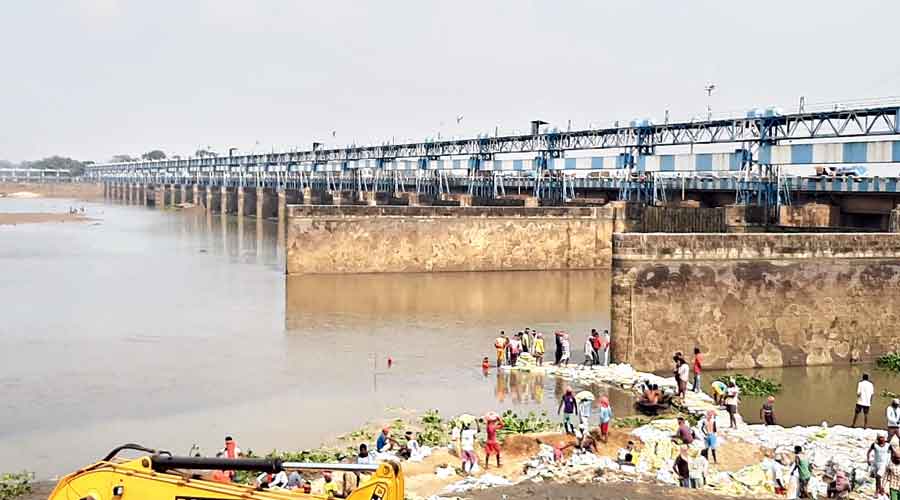 ---
|
Calcutta
|
Published 20.11.20, 02:14 AM
---
Several important irrigation projects in the state are on hold because of unavailability of funds amid speculation that the uncertainty over the political future of irrigation minister Suvendu Adhikari has cast a shadow over the schemes.
"Files of important irrigation projects, which need to be started right now to complete them before next monsoon, have been gathering dust for about two months while funds for projects put forward by other departments are being released. It seems speculation about the minister's political future has held his department hostage," said a senior government official.
According to a source, proposals to strengthen the Durgapur Barrage and restore and repair its sluice gates were sent to the finance department recently, but despite the emergency, required funds have not been released. Similarly, funds needed to strengthen some river embankments in the Sunderbans and restoration of the Muriganga have not been released either.
"Projects worth a total of Rs 190 crore have been sent to Nabanna considering their importance. But the department has received no response yet even though only about seven months are left to complete the projects before the next monsoon," said an official.
Sources said the strengthening of the Durgapur barrage and repairing its sluice gates were of paramount importance as a large area depended on the reservoir for water supply. Besides, it also plays a vital role as water from Maithan and Panchet dams in Jharkhand are released into the barrage, which, in turn, is released in a calculated manner during the monsoon to prevent floods in several districts in south Bengal.
The irrigation department officials are worried because the finance department has started releasing funds for projects like repair of roads and bridges which were put forward by the PWD. Projects related to water supply and solid waste management proposed by the municipal affairs and urban development department are also getting cleared by Nabanna.
"It is a cause of concern that Rs 110 crore for the Durgapur barrage is not cleared. The department can wait for other projects for a few months, but projects related to Durgapur barrage need to be cleared immediately," said an official.
Sources in the government said while it was true that there was a crisis of funds because of the Covid-19 pandemic, important projects must be taken up without any delay.
" It seems the growing distance between the minister and the ruling party is the reason behind the sudden drying up of funds for the department," said a source.
Adhikari has not been attending cabinet meetings or party programmes since May amid murmurs that he is all set to chart a different political course for himself.
A section of the officials said the top brass of the government were perhaps waiting to see the next steps of Adhikari before allocating funds.
"The government wants proper utilisation of funds. If confusion remains on the minister's political future, the utilisation may suffer and that's why the funds are not getting cleared," a senior official said.