Ananta Maharaj, who heads a faction of the Greater Cooch Behar Peoples' Association (GCPA) and is one of the principal proponents of statehood, has became the target of north Bengal development minister Udayan Guha's frontal attack.
"This so-called Maharaj, if he raises his head again, it would spell doom for the people in and around Cooch Behar. We will have to put all efforts to thwart him and the BJP to save Bengal and keep the state united," Guha said at a public meeting in Dewanhat of Cooch Behar on Tuesday.
In recent years, this is the first time that a senior Trinamul leader like Guha, who is also a minister, has fumed at Ananta, who is known to have considerable clout among the Rajbanshi community.
During the past few months, chief minister Mamata Banerjee attended a number of public events with Ananta, including one hosted by the GCPA.
At the events, Mamata in Ananta's presence said that her government is against any further division of Bengal. Ananta, however, has often claimed he hs been in contact with the Centre and that their statehood demand would be met soon.
No Trinamul leader, including the chief minister, however, resorted to such a blatant attack on Ananta before Guha. Their criticism was limited to the BJP for allegedly trying to divide the state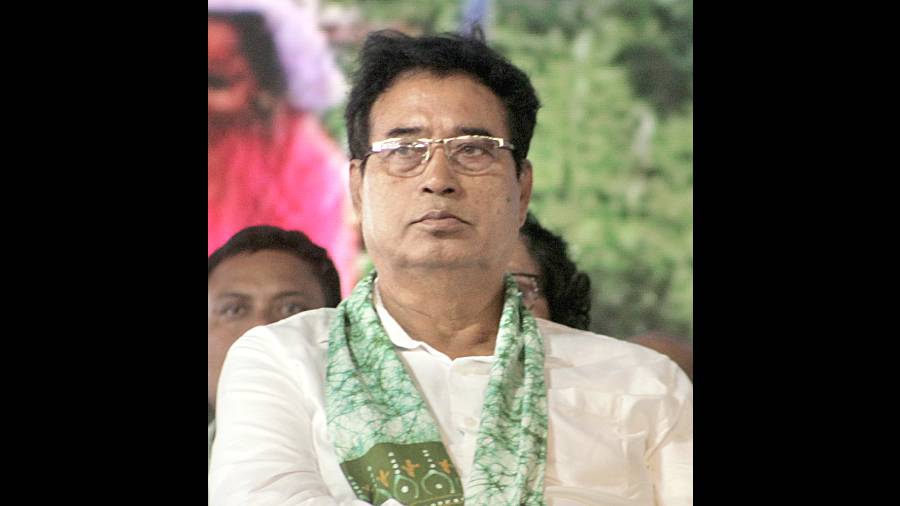 GCPA leader Ananta Maharaj File picture
The NB development minister took a different approach. "The GCPA leaders roam around with a yellow uttariyo (scarf) which costs Rs 10 to Rs 20. Ananta Maharaj sells those to people at Rs 500. Villagers bear hardships to buy it from him and stay in huts while the Maharaj stays in a palace. We do not need such a person who dupes people," said Guha.
Political observers pointed out that so far Trinamul leaders kept mum on Ananta and other leaders like Bangshibadan Barman (who heads another lobby of GCPA) because of the Rajbanshi vote bank.
"But consistent claims by Ananta Maharaj that their statehood demand would be met seems to have irked Guha," said an observer.
Ananta reacted to Guha's comments on Wednesday.
"I will complain to the chief minister against him (Guha). He often makes illogical remarks and tries to tarnish people. No one will buy his comments," the GCPA leader said.