Still no job for kin by state govt: Pulwama martyr's family
CRPF jawan Sudip Biswas's relatives allege 'misconception' created by some in the ruling party that they were BJP supporters to be the reason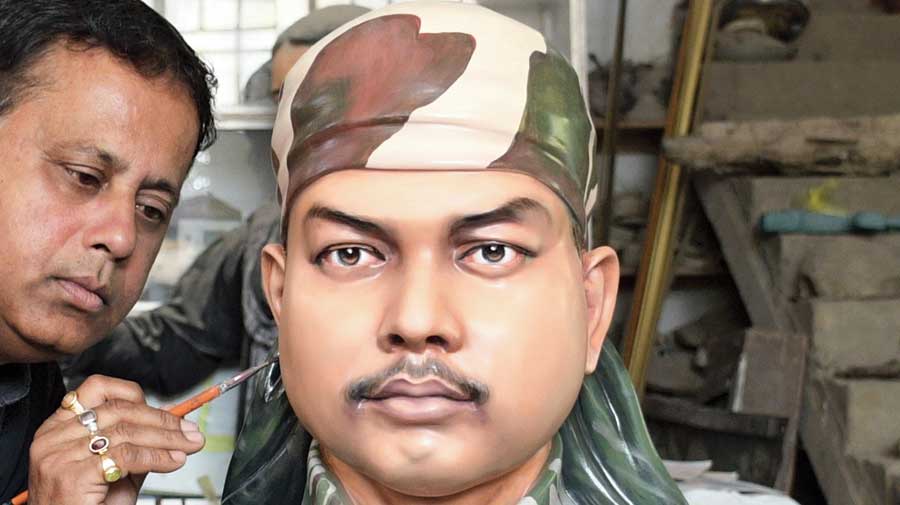 An artisan making a bust of Sudip Biswas
File picture
---
Tehatta
|
Published 15.02.21, 12:16 AM
|
---
Family members of Sudip Biswas, a CRPF jawan who was killed in the Pulwama attack two years earlier on February 14, have accused the Mamata Banerjee government of not yet offering a job to his sister only because of a "misconception" created by some in the ruling party that they were BJP supporters.
Biswas's family alleged that while the state government supported many families of slain personnel of military and paramilitary forces with jobs, they remained outside the state largesse because of the "baseless political prejudice".
Biswas, a constable attached to the 98th Battalion of CRPF, died in the Pulwama blast on February 14, 2019, along with 39 colleagues, when an alleged suicide bomber driving a car packed with explosives rammed into a vehicle ferrying them on the Jammu-Srinagar highway.
The state government immediately handed the family a cheque of Rs 5 lakh through the Nadia district administration and promised a job for his sister, who takes care of the parents Sannyasi and Mamata Biswas. A road in Tehatta was also to be named after Biswas by the state government.
The parents were given around Rs 1 crore as compensation and other benefits by the Centre, and received cash from various private organisations and individuals.
"For two years now, we have been living off the money given to us by the governments and organisations. Our married daughter has been living with us to look after us. We are old and ailing. Money received after my son's death is running out. My daughter's job could help us meet recurring expenses," said the 64-year-old father.
Biswas's sister Jhuma said state officials had promised her a job and advised her to submit an application, which she did. "I also visited the local administration office on a number of occasions. But the officials ignored me repeatedly. I came to know that the wife of another Pulwama victim from Howrah has got a state government job. It appears that I am being deprived of a job only because of our alleged proximity to BJP workers, who are mostly our neighbours," she alleged.
Jhuma's husband Samapta Biswas, who runs a small hardware shop, also alleged that local Trinamul leaders suspect the family of being BJP supporters, but it was "incorrect".
BJP's Nadia (north) organising district secretary Arjun Biswas said: "The family has become a victim of Trinamul's politics. The party leadership misled the administration to deny (Biswas's sister) the job."
Local Trinamul MLA Tapas Saha rubbished the allegations. "We are in touch with the family. I visited them last month and told her sister to submit a fresh application. The matter will be taken care of according to the rules," said the MLA.