Two thanas open in New Town
Earlier jurisdiction of New Town police station has been trifurcated
---
|
Calcutta
|
Published 28.11.19, 05:53 PM
---
Two police stations were inaugurated in New Town on Wednesday.
While one has come up inside Eco Park on a half-acre plot near the Eiffel Tower replica, the other one — called Technocity — will operate from a rented house near the Sukhobrishti housing complex in the township's Action Area III.
The earlier jurisdiction of New Town police station has been trifurcated, a senior officer of the commissionerate said. Earlier personnel from the existing police station (near Tata Medical Center) were tasked to police a large swathe of area with varying demographics that included swanky hotels and corporate offices as well as gram panchayat areas.
A cabinet meeting on August 16 had cleared the trifurcation. "The new police stations will help in improved policing and better patrolling of the township. Our motto is to ensure that each police station covers a radius of 5km," said L.N. Meena, the Bidhannagar police commissioner.
Eco Park
The Eco Park police station will have 36 staff members headed by an inspector. It will cover a 10sq km area including Eco Park, Harley Davidson showroom, City Centre II and an upcoming IAS-IPS housing complex near Akankha crossing.
A Bidhannagar Commissionerate officer said that the station has come up on the ground floor of the new building and has a barrack for some personnel to stay on the first floor.
Eco Park already had a functional police outpost inside where personnel kept an eye on visitors to the park and handled cases of eve-teasing and theft but the decision to have a full-fledged police station inside the park was taken keeping in mind the huge number of visitors to the park on weekends and holidays. Also, several housing complexes have come up near Eco Park.
The inspector in charge (IC) of this thana is Sushim Ganguly.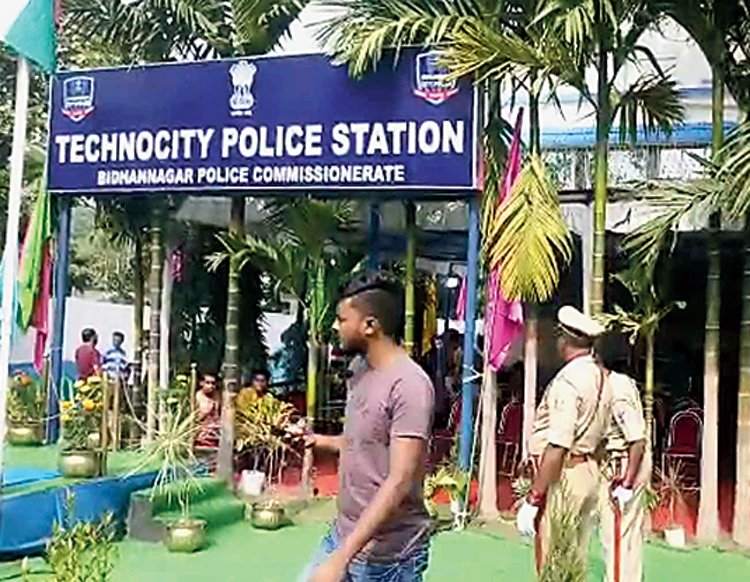 Technocity
The Technocity police station, with 30 staff members, will cover a larger area with major office hubs and educational institutions including Unitech, Infospace, Alia University, Tata Medical Center and a number of housing complexes, like Shapoorji Pallonji and Uniworld City.
The IC here is Partha Sikdar, who was earlier in charge of Bidhannagar south police station.
The existing New Town police station near Kolkata Gate continues to operate from the same premises with Atanu Ghoshal in charge.
This station will man the areas towards Salt Lake. This station used to face challenges in covering both urban and semi-rural areas that are governed by gram panchayats. Besides, many housing complexes were located too far away and residents complained of laxity in policing.
There has been no division of the New Town traffic guard.