Two lakh textbooks to make amends
Two contractual employees have been arrested in this connection so far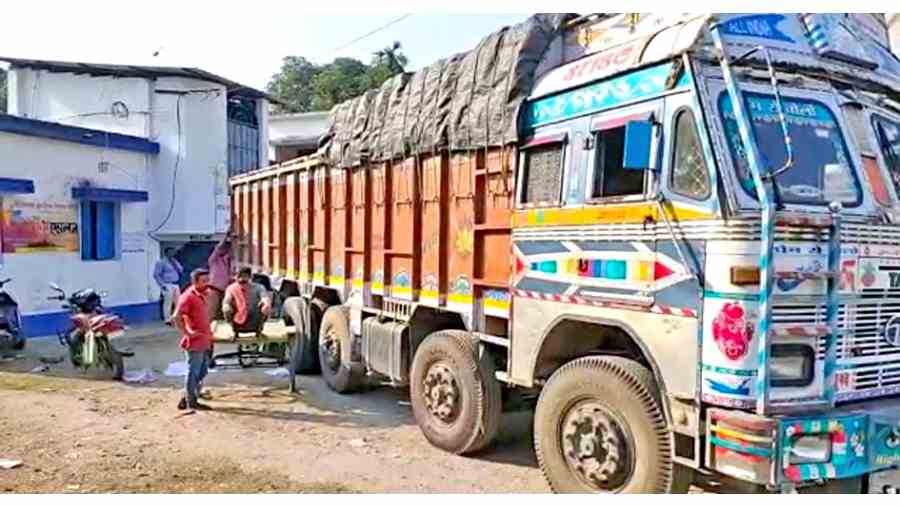 A truck loaded with textbooks in front of the godown of the district primary education department in Islampur on Tuesday
Kousik Sen
---
Raiganj
|
Published 15.12.22, 10:40 AM
|
---
The state education department has sent around two lakh textbooks for primary classes to Islampur subdivision of North Dinajpur, where around the same quantity of books were discovered "missing" earlier this month.
Around 2.15 lakh copies of textbooks, which were supposed to be distributed among students of state-aided primary schools, had vanished from the department's godown inIslampur.
"We were worried as distribution of books will start from January next year and had sent a request to the deputy director of school education, seeking additional books. Since Tuesday, trucks carrying books have started arriving at the godown. Adequate arrangements have been made at the godown. We believe we will be able to distribute the books on time," said DulalSarkar, the district inspector of schools (primary).
Two contractual employees have been arrested in this connection so far.
Sarkar, who had raised questions over the role of the sub-inspector of schools ofIslampur after the incident was reported, said the commissioner of school education of the state has constituted a committee to probe the case.
"The police are investigating the case. But simultaneously, the department will also carry out an inquiry," said the official.
Bishop Sarkar, the superintendent of police of Islampur police district, said the investigation into the missing books was in progress.
Sources said that the police were trying to find out whether the books had really reached the godown or were just "received" in the form of paperwork and removed elsewhere midway in transit.
After books went missing, a section of teachers alleged that rackets were involved in the illegal sale of textbooks— given free by the state government — to some private schools.
"We are keeping a close watch and trying to find out if the books have been sold to private schools of the district and neighbouring areas. It is good the state has sent more books to ensure they are distributed to children on time," said Gauranga Chauhan, North Dinajpur district president of the Trinamul-backed primary teachers' association.