Turmoil over civic polls protests: TMC, Team PK keep mum on 'rift'
Partha Chatterjee tried playing down rumours of the discord and Kishor remained silent in public although sources close to him said he was 'taken aback' by recent developments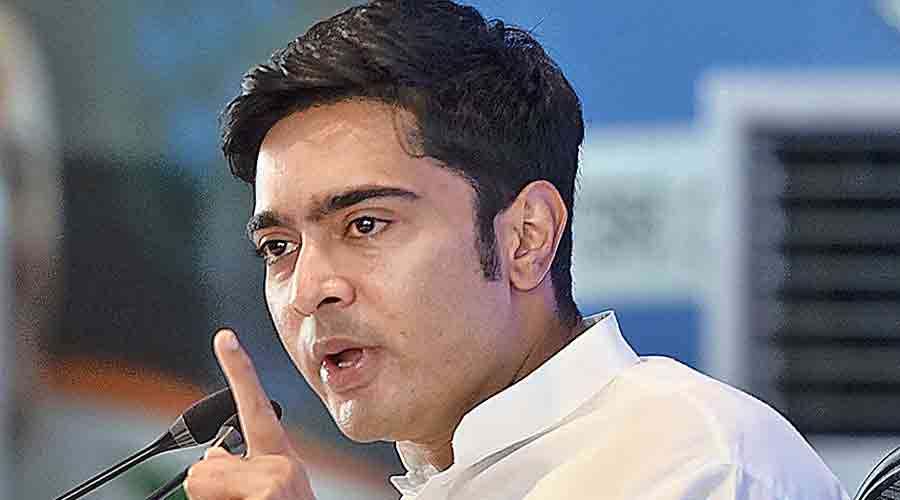 Abhishek Banerjee.
File photo
---
Calcutta
|
Published 08.02.22, 01:48 AM
|
---
 Trinamul and Team Prashant Kishor have not shed light so far on whether their collaboration is nearing an end amid ties turning testy rapidly over the past few days.
Chief minister Mamata Banerjee refused to answer whether the speculated end is nigh, Trinamul secretary-general Partha Chatterjee apparently tried playing down rumours of the rift and Kishor remained silent in public although sources close to him said he was "taken aback" by recent developments. Trinamul's Number Two Abhishek Banerjee, known to heavily back the poll consultant, kept his cards close to the chest.
Both Mamata and Chatterjee ordered adherence to the party's official lists of candidates to polls to 107 municipalities (it is yet to release the list for Darjeeling) on February 27, and not those of Kishor's I-Pac, released on Friday some hours before the party's. Protests among party workers over the difference in a large number of names in the two sets of lists since Friday evening, which continued even on Monday, are believed to have drastically worsened the relationship between Trinamul and Kishor's I-Pac.
"The lists signed by me and Subrata Bakshi have been sent to the district leadership. Some disparities in a few cases have been addressed, with Mamata Banerjee's approval. There should not be any confusion regarding the lists," said Chatterjee.
He also announced senior leaders as district observers to supervise civic polls in each district. Other than Mamata and Abhishek, most senior leaders featured on the list, which gave rise to murmurs that the latter was being sidelined. A Mamata loyalist refuted it, saying there was no need to keep Abhishek, the party's all India general secretary, on a list like this as he was the overall in-charge after Mamata.
 Sources in Trinamul said  Mamata kept tabs  on the fiasco over candidates for civic polls and made interventions.
At the airport, before leaving for Lucknow, Mamata said: "One can't please everybody. The candidate list released by Partha Chatterjee and Subrata Bakshi is final. Okay? There was some confusion...."
Asked if Trinamul and I-Pac were on the verge of parting ways, Mamata said: "Please don't ask me these questions, it is not an internal party matter..."
Chatterjee urged unity and played down protests over the candidate lists saying that out of thousands of wards, protests have been in a handful.
The old guard in Trinamul — such as Chatterjee and Subrata Bakshi — had not been fans of Kishor, brought on board by Mamata at Abhishek's behest after unprecedented gains by the BJP in Bengal in the general election of 2019. Kishor and his team are believed to have contributed substantially to Trinamul's turnaround. However, many believe that even Mamata now wants to reduce Kishor's clout.
"There is a lot of confusion right now, both in Trinamul and Team PK, over the future of this relationship," said a Trinamul insider.
 "Even if we keep the developments of the past 100-odd hours aside, she (Mamata) has been in favour of reducing the clout of Team PK in the party and the government for some time. There have been several indications of her favouring the stand of the old guard, as opposed to that of Team PK and Abhishek, most notably in the intervention for selection of candidates for the Calcutta civic polls," he said.
Developments of the weekend expedited the process, added a Trinamul veteran. "She (Mamata) thinks that Trinamul has developed the skill set to carry out things that Team PK was doing... So, a separation is inevitable, but the question is when."
"These developments have surprised PK, who has been in touch with Abhishek over this. Abhishek, generally a firm PK-backer, is yet to show his hand," he added.
A senior Rajya Sabha member of Trinamul said although it is now being underscored in the party that the association with Team PK was only the Assembly election of 2021, it was clearly stated internally on multiple occasions by Mamata, Abhishek and other seniors in the leadership after the election results last year that the association would continue till 2026.
"I vividly remember attending meetings in June last year, where we were told in no uncertain terms that PK and his team were now going to focus, over the next three years, on projecting her (Mamata) as a principal anti-BJP face nationally... It seems, there is a change in plan," he said.