Trust in love, faith in god
Read more below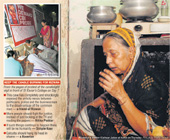 ---
---
I knew Rizwan for the past seven years, ever since we met at a friend's graphic design unit where he had started his career. We were regularly in touch but from September 8 to 20, we were friends, brothers and confidants.
Rizwan was a man of principle. He believed in Priyanka, had trust in love and faith in god. Through all his torment, he never once bad-mouthed his in-laws. I told him to take his story to the media, but he refused. "Unko badnaam nahin karna hai (I don't want to malign them)," he told me.
Ten days later, he was dead.
Rizwan loved music, appreciated art, spoke softly, never lost his cool. He was a beloved teacher and a dear friend. But above all, he loved Priyanka; she was his princess.
September 8
Rizwan approached me for help after Priyanka's family and the police forced them apart.
September 9
"I have faith in Allah. Call me when you can," was the first SMS I received from Rizwan that morning. We spoke twice. Among other things, he told me about two letters he had demanded as a bond in Lalbazar the previous day. One, that Priyanka was going to her parents for seven days, and the other was a guarantee of his safety during that period. This Rizwan had insisted on, following the threats of senior police officers and Priyanka's uncle (Anil Saraogi). "A letter guaranteeing that I would not be harmed while Priyanka was away was written and signed by the police and her uncle. But they refused to give me a copy," said Rizwan. I was worried, but he said: "We are legally married; no one can separate us".
September 10-16
I helped Rizwan get in touch with the APDR. He told me the last time he had spoken to Priyanka, she had said it could take her a little more time to return to him and that he should wait but not worry. Meanwhile, Rizwan and his friend Sadique Hussain were being terrorised by the anti-rowdy squad.
September 17-19
Ten days had passed since he had last seen Priyanka and Rizwan was getting restless. He urged me to contact DC (DD) Ajoy Kumar. When I told Kumar that Priyanka had not returned to her husband, he promised to look into the matter. I conveyed this to Rizwan, who was deeply disturbed and got busy compiling a report to present the chief minister and the human rights commission.
September 20
Rizwan called me from a phone booth — he was sure the police were tapping his mobile — and told me he would be going to the human rights commission the next day. I left town for a couple of days.
September 21
A friend called from Calcutta to say Rizwan was dead.
---
I know my friend Rizwan could not have committed suicide. He was too much in love with Priyanka and too determined to get her back.... Justice must be done.