Trinamul's trade union wing demands replacement of pro-BJP factory workers
The firm owner wrote a letter to the administration seeking their intervention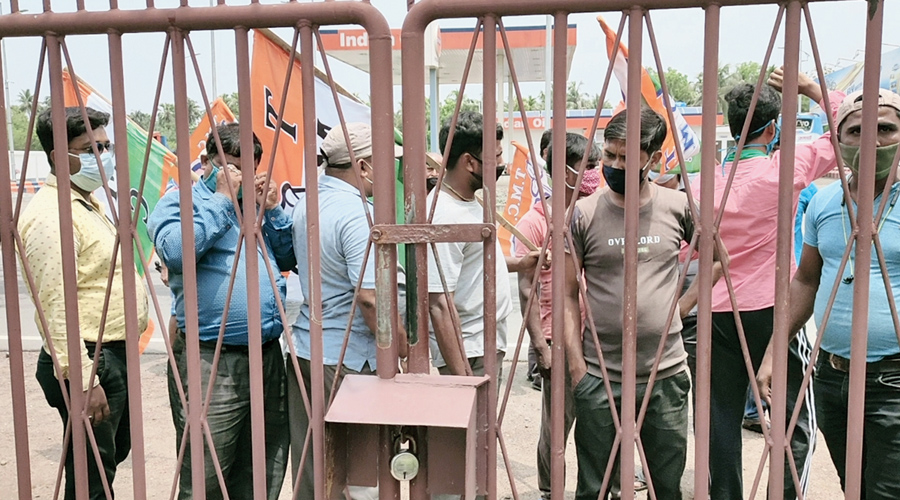 Trinamul workers stage a dharna outside the factory in Haldia on Thursday.
Telegraph Picture
---
Haldia
|
Published 08.05.21, 01:20 AM
|
---
The owner of a poly product firm in East Midnapore's Haldia subdivision has sought the administration's intervention, citing that an agitation led by Trinamul's trade union wing disrupted work in his factory since Tuesday.
Kalipada Bhunia, whose firm is a supplier of Exide Industries, said the agitators had demanded the replacement of 40 of his 52 workers as they joined the BJP before the polls.
The letter, which Bhunia wrote on Thursday, was sent to the working president of East Midnapore's INTTUC unit Sibnath Sarkar, the union's state president Dola Sen, the Federation of Small and Medium Industries and the District Industries Centre.
"I can't do this. My workers are here on the basis of merit. I can suspend them if they perform badly, but I'll never intervene in their political leanings," Bhunia told this paper.
Haldia was known as a bastion of Trinamul turncoat and BJP MLA Suvendu Adhikari. When he joined the BJP in December, workers at the grassroots also switched sides.
Local Trinamul leader Ashok Maity, who is leading the agitation at the gates of Bhunia's factory, said he had demanded the replacement of 40 workers who had switched over to the BJP and "betrayed the party (Trinamul)". "We have nothing against the factory. We just want these 40 men be replaced," Maity said.
Trinamul lost the Haldia seat to the BJP. It, however, secured the Mahishadal seat where the factory is situated. However, most of the 40 workers stay in the Haldia Assembly seat. Maity and his aides claim they contributed to Trinamul's loss in Haldia.
In his letter, Bhunia said several attempts to talk to Maity and his men failed.
"We are suffering production loss, possibility of cancellation of our order from M/s Exide Industries Ltd., loss of reputation of our company and financial loss without any cause...," Bhunia wrote.
On Thursday, Biswanath Bhattacharya, the president of The Federation of Small and Medium Industries, wrote to chief minister Mamata Banerjee, chief secretary Alapan Bandyopadhyay and principal secretary of the MSME and textiles Rajesh Pandey, on Bhunia's predicament.
The general manager of the District Industries Centre forwarded Bhunia's representation to East Midnapore' district magistrate and superintendent of police, and requested their "kind consideration".
Haldia SDO Avneet Punia said he has asked the SDPO of Haldia to sort out the problem.
INTTUC's Sibnath Sarkar said this couldn't go on.
"I've received a complaint from Bhunia. Representatives from another factory have also verbally complained to me. This can't be tolerated. I'll request the police to take action against anyone who causes disruption," Sarkar said.
Tapasi Mondal, Haldia's BJP MLA, accused that work in 12 factories, including that of Bhunia, had been disrupted because of Trinamul's protest.
"Trinamul supporters are demanding the replacement of people who voted for the BJP. That should not be the ground for such a demand. I request the administration and SDO to ensure that industries work properly," Mondal said.