Trinamul ups ante on citizen bill
Marches held across north Bengal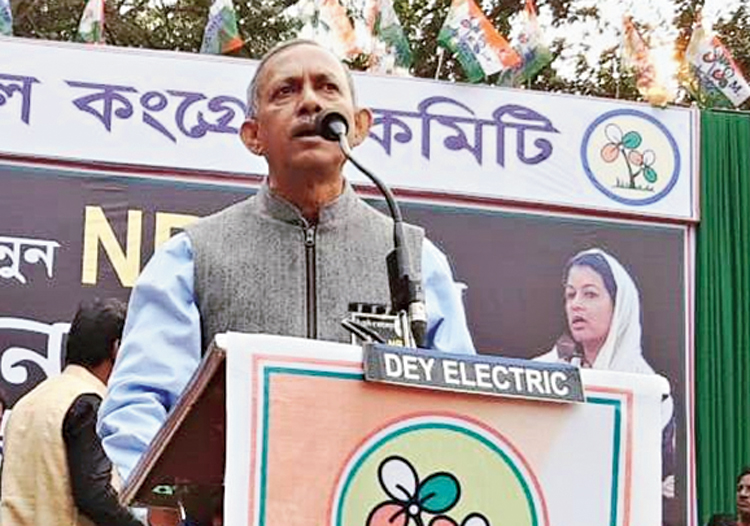 Deb addresses the Trinamul meeting in Malda on Thursday.
(Soumya De Sarkar)
---
Malda
|
Published 12.12.19, 07:46 PM
|
---
The Trinamul Congress has launched its campaign against the Citizenship (Amendment) Bill in north Bengal by organising a meeting in Malda and taking out processions across the region.
Around 3,000 Trinamul supporters on Thursday attended the meeting near the district collectorate in Malda where tourism minister Gautam Deb and former MP Mausam Benazir Noor renewed the vow to oppose the CAB and the National Register of Citizens in Bengal.
"People across north Bengal, particularly those living closer to the Assam border, fear the NRC and the CAB. We want to reiterate that our government and party will not let the BJP take up any of these exercises in the state. We want people to be aware of the consequences they might face. I will visit districts like Alipurduar and Cooch Behar and speak to people to ease their feeling of insecurity," said Deb.
Noor, who is also the Malda district Trinamul chief, sounded confident of reviving the party's support base.
"The turnout at the meeting exceeded our expectations. This shows people have realised how the BJP has plunged them into uncertainty and that we were correct in highlighting the problems they might face if the NRC or the CAB is implemented in Bengal. We need to get more and more people in support of our stand," said Noor.
Trinamul held marches at several places in north Bengal against the CAB and the NRC, especially at places with sizeable population of minorities and located close to the Bangladesh border.
The BJP had won seven out of eight Lok Sabha seats in north Bengal in the recent election. Trinamul leaders said although they had tried to revive the party's suppose base in north Bengal after the polls, it didn't work much.
However, after the final list of the NRC was published in Assam, the BJP had to face awkward questions from people in most districts of the region.
This was because of two reasons. "First, many people who are from north Bengal but stay in Assam could not find their names in the final list which left their family members worried. Secondly, consistent ranting by state BJP leaders that the NRC and the CAB will be implemented in Bengal disappointed a large section of people," said an observer.
With 20 civic bodies going to polls in north Bengal next year, Trinamul has projected itself as the sole crusader against the CAB and the NRC. Chief minister Mamata Banerjee repeatedly vowed that both the exercises would not be allowed in Bengal as long as Trinamul was in power in the state.