Trinamul Congress courts Rajbanshi leader close to BJP
Party leaders have not only started communicating with Ananta Maharaj, but sources in the administration said decks are being cleared to drop some old cases against him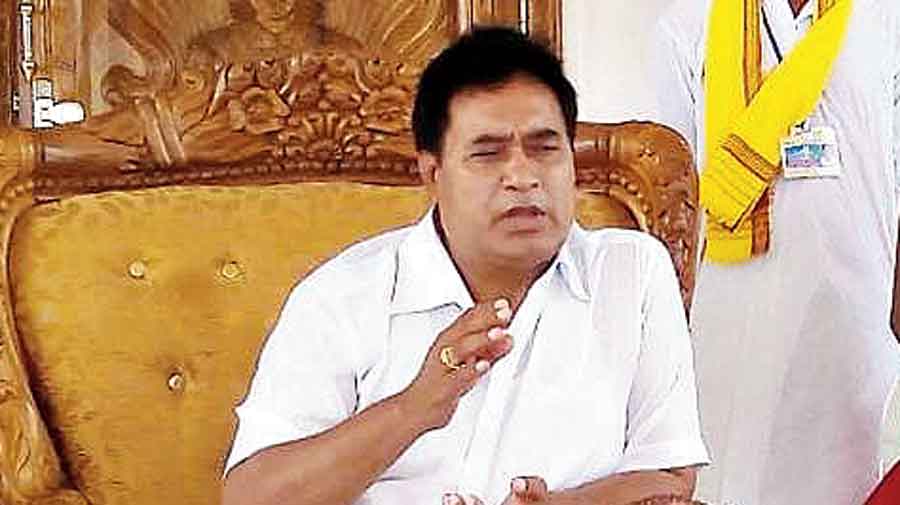 Ananta Maharaj in Barogila, Chakchaka.
File picture
---
Siliguri, Cooch Behar
|
Published 28.06.21, 12:09 AM
|
---
Trinamul is trying to win over Ananta Maharaj, a leader of the Greater Cooch Behar People's Association (GCPA) with clout among the Rajbanshis, who has backed the BJP in recent polls, to get the influential community on its side. 
Trinamul leaders have started communicating with Ananta, who was living in Assam in recent years. Administrative sources said decks are being cleared to drop some old cases against him.
"Senior Trinamul leader Rabindranath Ghosh met him. Then, he (Ananta) returned  home in Barogila of Chakchaka (on the outskirts of Cooch Behar town) a few days back from Assam.
There is information that curbs on his bank accounts have been relaxed and there is no indication that warrants pending against him will be executed," said a source. 
Ghosh, the most prominent Trinamul face in Cooch Behar, did not reveal much. "All I can say is that Ananta Maharaj is a nice person," he said.
A senior Trinamul leader in Alipurduar said this clearly indicated that Trinamul's distance from Ananta, believed to be instrumental behind the BJP's stellar show in north Bengal in recent Lok Sabha  and Assembly polls in Rajbanshi-dominated belts, is about to be bridged. 
The Rajbanshis play a key role in the outcome in half of eight parliamentary and 54 Assembly seats in north Bengal.
"We got leaders like Bangshibadan Barman (leader of another faction of the GCPA) and Atul Roy (who headed the Kamtapur Progressive Party) on board while the BJP managed to get Ananta on their side. Eventually, it was found that Ananta matters more," said a Trinamul leader in Cooch Behar, alluding to his party's poor poll performance  in the region.
That is why, though Ananta is a principal proponent of the demand of separate statehood, Trinamul wants him.
Insiders say the timing is right. "Before Assembly polls, even home minister (Amit Shah) met him (Ananta)....But now, discontent is brewing as the BJP has not done anything for the Rajbanshis," said the leader.
Dilip Ghosh, the state BJP president who was in Cooch Behar on Sunday, scoffed. "We have good relations with Ananta Maharaj and he is with us," he said.
'KLO' poster threat
Hundreds of posters allegedly of banned Kamtapur Liberation Organisation (KLO), formed in the 1990s by some Rajbanshi youths, were found in Chopra block of North Dinajpur on Sunday.
Each had a text in Rajbanshi: "In Chopra, Trinamul should stop torturing Rajbanshis, who are sons of the soil, or else we are there (KLO)." Police are trying to ascertain the authenticity of the posters.