Trinamul Congress attacks BJP on 'terror links'
Congress has also accused saffron party of having as a member the main accused in Kanhaiya Lal murder case of Udaipur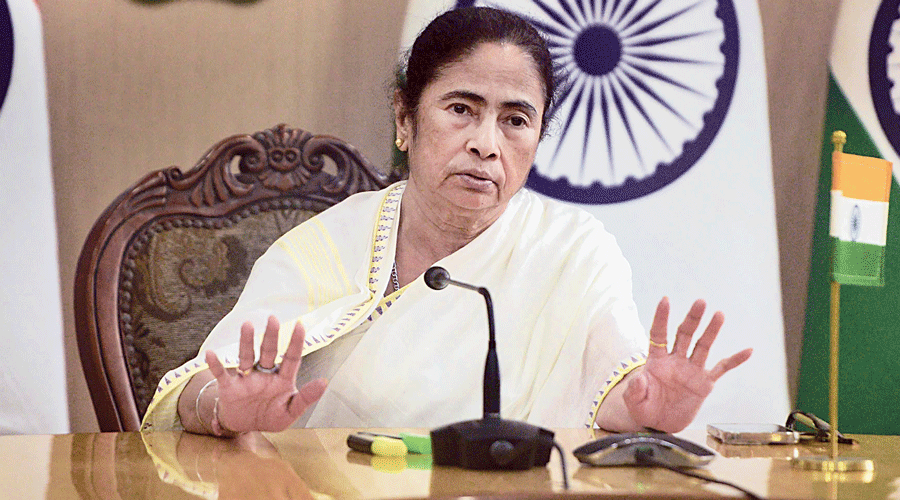 Mamata Banerjee.
File photo
---
Calcutta
|
Published 06.07.22, 02:12 AM
|
---
Trinamul Congress on Tuesday demanded independent judicial probes into the BJP's alleged connection with the main accused in major cases of crime.
Mamata Banerjee's party held a news meet in the city, asking for a judicial inquiry into Lashkar-e-Toiba terrorists "found to have BJP links", and wanting to know how suspended BJP spokesperson Nupur Sharma roams free even after the Supreme Court's scathing criticism of her on July 1.
"We unequivocally demand an independent judicial inquiry into the BJP's connection with the accused in the two cases, Riyaz Akhtari and Talib Hussain Shah. The perpetrators of the crimes have a direct link with the BJP," said Trinamul state general-secretary Kunal Ghosh.
"These are serious, heinous crimes committed in Indian states, and the accused have direct links with the ruling dispensation," he added.
A photograph of a person resembling Talib Hussain Shah — arrested on Sunday in Jammu on the charge of being a Lashkar "commander" and the mastermind of several blasts in Jammu and Kashmir — with a person resembling Union home minister Amit Shah and some others, was released by the Congress.
The BJP has acknowledged that Hussain was associated with the party at least till May this year, and blamed the online membership drive for his entry. It said he may have infiltrated into the organisation to target the leadership.
The Congress has also accused the BJP of having as a member the main accused in the Kanhaiya Lal murder case of Udaipur, over a photo showing Akhtari with some local BJP leaders. The BJP Minority Morcha in Rajasthan has refuted the allegation.
"The heinous crimes taking place in India are a fallout of the insensitive and reprehensible remarks made by a (suspended) BJP spokesperson, who has time and again indulged in hate speeches," said senior minister and spokesperson Shashi Panja on Tuesday, referring to now-axed BJP spokespersons Sharma and Naveen Jindal, for their derogatory remarks against Prophet Mohammed last month.
"Trinamul demands answers from the BJP as to why Nupur Sharma has not been arrested yet. The Supreme Court recently made invaluable observations regarding Sharma's remarks," said Panja.
"The BJP claims these are fringe elements, but the sad reality today is that the fringe itself has become mainstream," said Panja.
"All Indians wanting to live peacefully are today demanding the arrest of Nupur Sharma and we question the BJP as to why she's being protected?" she asked. "The real issues of this country are not being looked at. Rising prices of petrol, diesel, medicines and cooking gas, no jobs for the youth, rampant privatisation of government undertakings, reduction in interest rate of EPF… these issues are being ignored and the country is being polarised so that the public doesn't question the BJP."