Millions of sardines will take part in an annual eastward exodus along the South African coastline over the next three months, while being followed by a caravan of predators such as sharks and dolphins.
Swimming alongside the giant game and the pack of hunters will be a tall and sturdy man from Barasat, always looking for the perfect click. There is no guarantee that he will get one this time. But he will keep trying until he does.
Dhritiman Mukherjee, 44, award-winning wildlife and nature photographer, is not fond of terms such as adrenaline rush and near-death experiences that are associated with his ilk. He is loath to speak about being chased by rhinos and bear or being surrounded by sharks and crocodiles because he does not think these things make his job glamorous.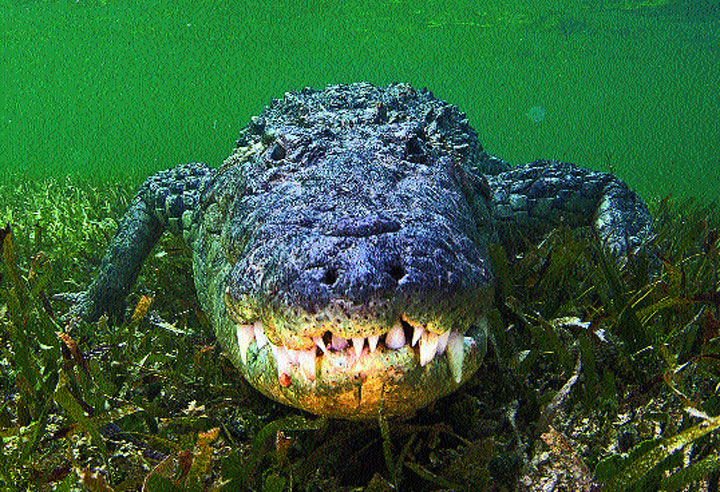 A safety diver also stays in the water at all times, armed with a long pole, to push away the crocodiles in case of a problem. Pictures courtesy: Dhritiman Mukherjee, RoundGlass Sustain
"Predators will not harm you if you respect their habitat and are embedded in it. If you have an elephant chasing you, he thinks you are an intruder," Mukherjee tells Metro sitting in his sister's residence in Ballygunge.
Mukherjee's portfolio is extensive and unrivalled among Indian wildlife photographers. He has shot in 38 countries and all states and natural parks in India. He has dived in the frozen Baikal lake in Siberia to capture the elusive Nerpa seals. He has photographed giant American crocodiles off the Mexican coastline in the Caribbean Sea. He has shot all the five sharks that are considered most dangerous in terms of human casualties — the Great White, the Tiger Shark, the Bull Shark, the Oceanic White Tip and the Hammerhead.
He has trekked through dense Congolese jungles to click dwindling mountain gorillas. He also has iconic pictures of the snow leopard in Spiti Valley and in Ladakh, arguably the first detailed pictorial documentation of the elusive animal in the wild. Similarly, he has rare pictures of the Bengal florican, Himalayan brown bear and the western tragopan.
Along with composer Shantanu Moitra, Mukherjee undertook a 100-day tour of the Himalayas in 2016. Mukherjee is a trained mountaineer and uses it as a tool for wildlife photography. But when he graduated in physics from the Barasat Government College, little did he know what future held in store.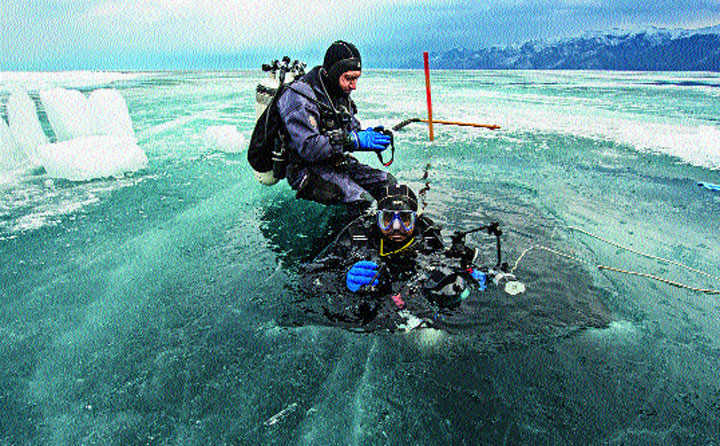 Mukherjee in frozen Baikal Lake in Siberia, where he had gone to document Pictures courtesy: Dhritiman Mukherjee, RoundGlass Sustain
But he knew he would not be able to do a 9am-5pm job. He developed an interest in wildlife while doing post-graduate diploma course from the Indian Institute of Ecology and Environment in New Delhi.
"One thing led to another. I took interest in mountaineering and started solo travel. I bought my first DSLR camera around the same time," he tells Metro. Mukherjee feels the key to taking good pictures of animals in their natural habitat is homework, patience and persistence.
"I trekked the Himalayas close to 15 times before I could click the brown bear," he says with a hint of excitement in his eyes that is in contrast with the nonchalance with which he speaks of diving with bull sharks in Fiji.
At the Maguri wetlands near the Dibru Saikhowa National Park in Assam, where Mukherjee had gone to shoot a variety of rare migratory ducks, the birds would fly away the moment he got close. He had to make a hide using trunks of banana trees and long grasses to camouflage his equipment.
Mukherjee did get the pictures, sinking himself chest deep in the wetlands with leeches all over his body.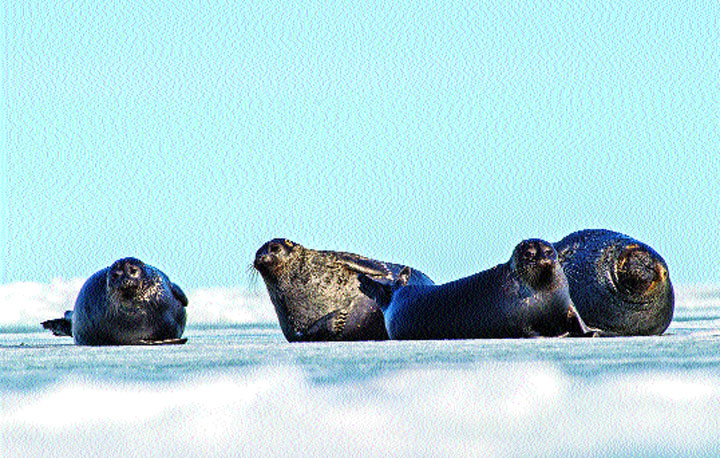 Nerpa seals Pictures courtesy: Dhritiman Mukherjee, RoundGlass Sustain
His work has featured in National Geographic Traveller, Lonely Planet, BBC and The New York Times.
He is the founder of Saevus, one of India's leading wildlife and nature magazines. Along with ornithologist Asad Rahmani, he has co-authored a pictorial book, "Magical Biodiversity of India". He has won several awards, including the Carl Zeiss Award for Conservation (2013) and the Royal Bank of Scotland Earth Heroes Award (2014). Dhritiman is also an ambassador for RoundGlass, a foundation that seeks to promote the "well-being of the planet".
"But the best perks of my job are not getting international awards. Contribution to science, research and conservation is my pull. While shooting a rare or elusive animal, I am helping in its documentation and opening a new scope for future studies," Mukherjee said. Mukherjee prepares to capture hornbills on Narcondam Island in the Andamans Pictures courtesy: Dhritiman Mukherjee, RoundGlass Sustain
The same pull drove him to spend two weeks in the Antarctic peninsula, his most challenging underwater expedition so far. He dived into the waters around the islands and icebergs and photographed its fascinating and colourful underwater life, including lesser-known inhabitants such as anemones — marine predators with a deceptive floral appearance who use their tentacles to ensnare prey.
His pictures are beyond being just beautiful or stunning. They are the face of conservation campaigns for some of the rarest species on the planet — whose existence and extinction have a delicate line in between.
In March 2014, he spent two weeks on an island located over 250km north-east of Port Blair. The Narcondam hornbill is found only on its namesake island, which is also the easternmost land body of India where the only human settlement is a police camp. The only way to reach the island is to be ferried by the coast guard.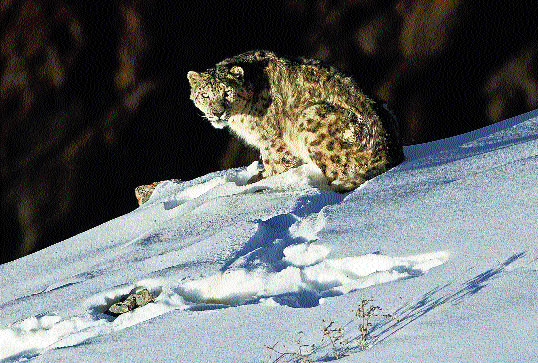 One of Mukherjee's iconic shots of a snow leopard in Spiti Valley Pictures courtesy: Dhritiman Mukherjee, RoundGlass Sustain
The Centre's decision to allow a military radar base installation in this fragile habitat has triggered a wave of protests by wildlife enthusiasts and conservationists.
Mukherjee remembers being suspended from trees for hours because he wanted to shoot the bird at eye level. Today, his photos are the face of the Narcondam hornbill conservation campaign.
For a man who spends 300-odd days a year in the wild, Mukherjee is surprisingly rooted. Home for him is the old family house in Barasat's Pioneer Park, his mother's cooking and gully cricket. Mukherjee's father is a retired government employee.
"We were of modest means but there were no complaints. New clothes or not, we went to a trip every year," he says.
Every time he saw a new place, he was struck by a sense of bewilderment. From the snow leopard in Spiti to South American fur seals, that feeling of being struck by wonder is what keeps him going on new projects.
"Abak hote chai (I want to be wonderstruck)," Mukherjee sums it up.