Tribals protest mine deforestation
The plan was given the go-ahead last year to supply coal to the Bakreswar Thermal Power Project in Birbhum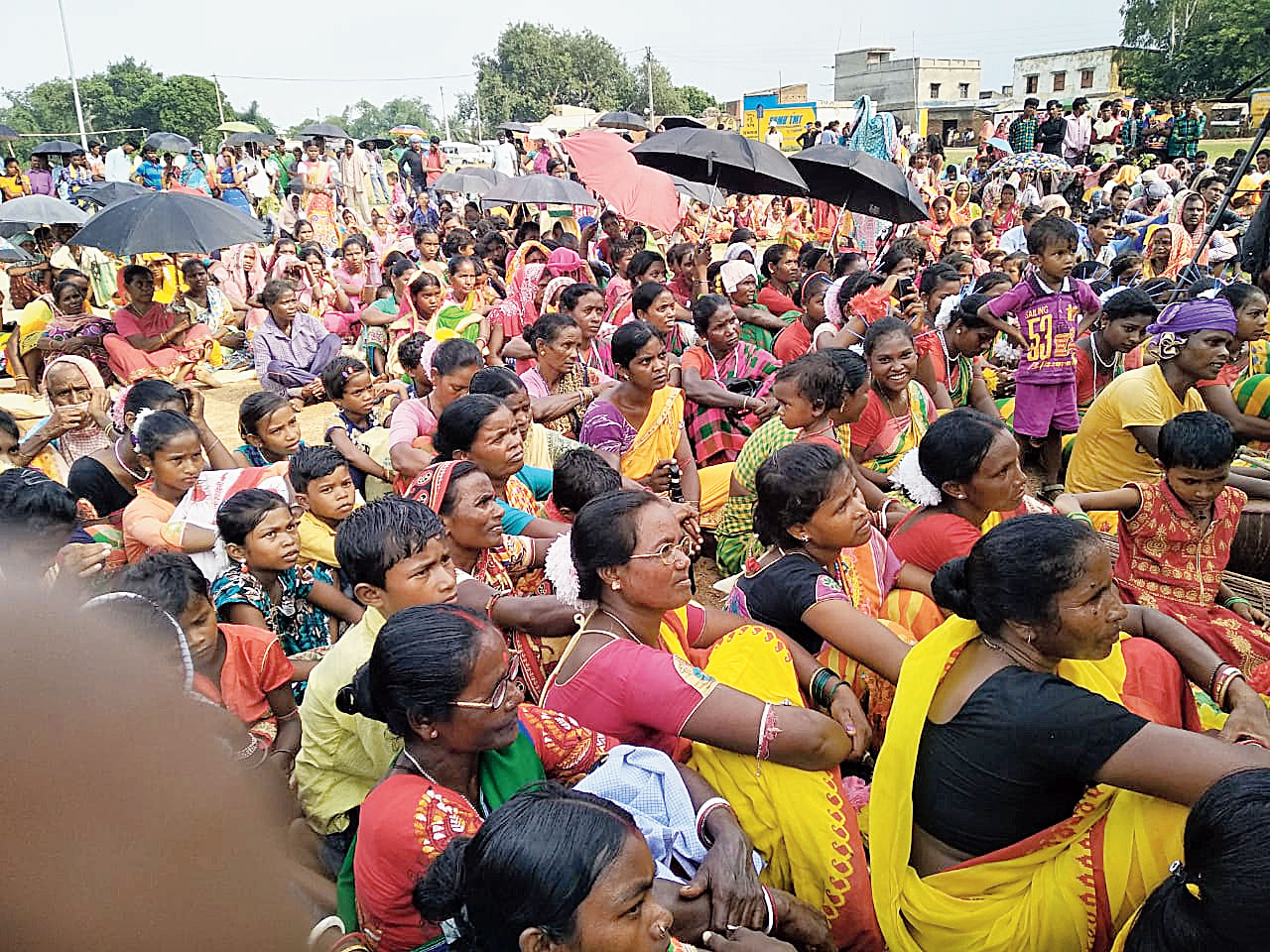 ---
|
Suri
|
Published 15.09.19, 07:10 PM
---
Two organisations, including a prominent tribal outfit, on Sunday held a protest rally in Birbhum's Khoirasol against the proposed felling of trees on 270 acres of forestland to make way for a coalmine, alleging that such deforestation would affect the livelihood of tribals.
The Birbhum Adivasi Gaonta and the Save Democracy Forum alleged that tribal people, who depend on wood, honey and fruits to earn their livelihood, had not been taken into confidence before launching the drive to clear the forestland for an open-cast mine of the Power Development Corporation Ltd (PDCL).
The plan was given the go-ahead last year to supply coal to the Bakreswar Thermal Power Project in Birbhum.
Forest department officials said PDCL had taken permission to cut trees on the 270 acres of land in Khoirasol and promised to carry out a re-plantation drive in Siliguri.
"We handed over the land to PDCL as per rules. Now, it is up to the agency concerned to continue work there," said Harikrishnan, the divisional forest officer of Birbhum.
Villagers said an agency hired by PDCL had felled hundreds of trees in forest areas of Khoirasol's Bastabpur and adjoining places in June for the coalmine.
Local residents, mainly tribal people from at least half a dozen Khoirasol villages, had protested and written to the local block development officer urging him to halt the project.
Sunil Soren, the convener of the Birbhum Adivasi Gaonta, told the rally on Sunday: "Tribal people from about 10 hamlets where the coalmine is proposed, such as Bastabpur, Bhadulia, Gangaramchak and Debganj, will be affected as they depend on wood, honey and fruits from the forest. The government started felling the trees without discussing with our tribal villagers and settling the issue of their livelihood. We will not allow the coalmine to be set up."
A team from the Save Democracy Forum, including retired Supreme Court judge Ashok Ganguly, joined the protest rally, pledging support to the tribal people. Over 300 tribal people, mostly women, participated in the rally.
Justice Ganguly said: "The demand of the tribal people is justified. It is illegal to set up an open-cast coalmine by deforesting the area. The government should conduct a public hearing along with the tribal people before undertaking such a project in Khoirasol."
Moumita Godara Basu, the Birbhum district magistrate, said later that the administration was ready to resolve the matter.
"It is up to PDCL to carry on with the work. If villagers approach us, we can hold meetings to solve the issue," she said.