New Jalpaiguri: Trial run cheers for Vande Bharat Express
Train takes eight hours from Howrah to NJP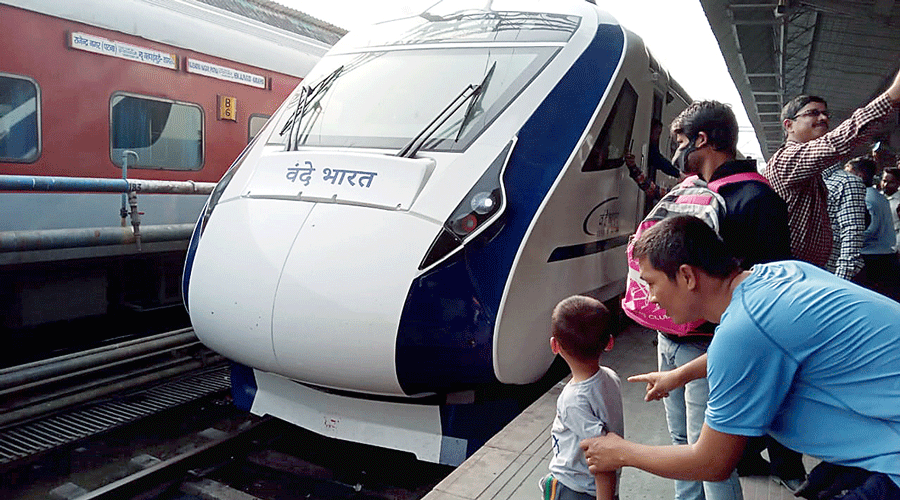 The Howrah-to-New Jalpaiguri Vande Bharat Express trial run at New Jalpaiguri Junction on Monday.
Passang Yolmo
---
Siliguri
|
Published 27.12.22, 04:33 AM
|
---
Railway authorities held a trial run of Vande Bharat Express between Howrah and New Jalpaiguri on Monday, much to the elation of north Bengal residents.
There are indications the train service might be inaugurated at the end of this month.
Around 1.45pm, the train reached NJP, covering a distance of around 600km from Howrah, from where it had departed at 5.55am.
Recently, the railways announced that Vande Bharat, a semi-high-speed passenger train service, would be introduced on the route, be the first such train service in eastern and northeastern India and the country's seventh Vande Bharat train.
"We have successfully conducted the trial run. Today (Monday), the train ran at a speed of 110kmph. In the next three-four months, we will develop tracks till Malda so that it can run at 130kmph," said S.K. Choudhury, the divisional railway manager of Katihar division of the Northeast Frontier Railway. The 14-coach train, with an executive class and air-conditioned chair cars, is likely to halt at New Farakka and Malda Town.
According to railway sources, there is a plan to run it six days a week. Early in the morning, it will depart from Howrah and reach NJP in the afternoon. From NJP, it will reach Howrah around 11pm the same night.
"Its timings are almost opposite to the NJP-Howrah Shatabdi Express. So more passengers can benefit from it. In the trial run, it took eight hours. But later, it will be able to cover the distance in less time. Fares will be slightly higher than Shatabdi," said a source.
Shatabdi Express, which takes around eight hours, leaves NJP in the morning and reaches Howrah in the afternoon. It departs from Howrah soon after and reaches NJP at night.
Senior railway officials in NJP said they had not received any notification yet regarding the start of the train service.
However, sources said that on December 30, when Prime Minister Narendra Modi is in Calcutta, he may flag off the train.