Trees under attack - Poison used for killing plants
Read more below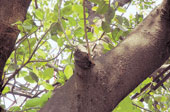 ---
Published 12.04.07, 12:00 AM
|
---
A branch of a tree in Tollygunge with a cloth doused in poison. Picture by Amit Datta
After trimming trees to ensure unobstructed view of billboards, outdoor advertising agencies are now poisoning roadside plants, according to officials of civic parks and gardens wing.
Horticulturists of the Calcutta Municipal Corporation (CMC) have uncovered attempts to poison trees in the Tollygunge area.
The revelation follows Tuesday's decision by the civic body to take steps against two outdoor advertising agencies for allegedly felling trees near Tollygunge Metro station. The civic authorities have decided to showcause the agencies before blacklisting them.
Mayoral council member (parks and gardens) Faiyaz Ahmed Khan said civic officials detected traces of poison on trees while pulling down four billboards near Tollygunge Metro station on Tuesday night.
It was found, said Khan, that a branch of a banyan tree had been chopped off and a cloth doused in chemical was tied at its base.
On another tree, a deep hole had been dug about three feet above the ground. Civic horticulturists suspect that harmful chemicals would have been stuffed into the hole.
"Copper sulphate is often used to kill large trees. The branches dry up slowly after application of the chemical," said CMC's horticultural advisor Ranajit Samanta.
According to him, copper sulphate is readily available in neighbourhood grocery shops. About 250 gm of the chemical stuffed into a hole on a tree trunk is enough to kill the plant. The closer the hole is to the root, the deadlier the effect of the chemical.
If copper sulphate is applied on the upper parts of a tree, the branches dry up slowly. The tree, however, can recover slowly from the effect of the poison, stated Samanta.
"Application of poison to kill roadside trees is a recent trend. Following restrictions on unauthorised felling or trimming of trees, unscrupulous people have taken to poisoning them," stated Khan.
The parks and gardens wing has repeatedly told the outdoor advertising agencies that they cannot trim or fell trees without CMC permission, added Khan. According to the civic rules, the trimming must be done under the supervision of civic officials and experts.