Trawler owner arrested for juvenile hilsa catch in Kakdwip
At least seven other boat owners and two truck drivers were also nabbed by the fisheries department and detained for interrogations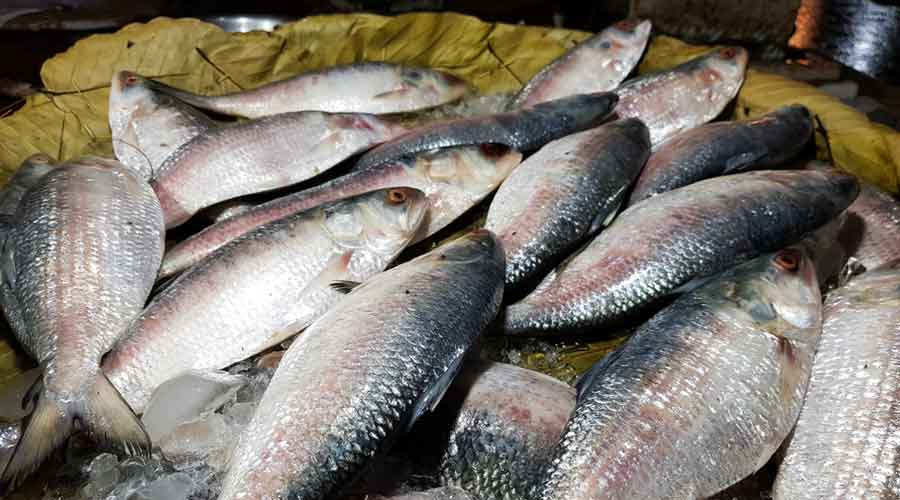 Police seized over a tonne of juvenile fish from Kakdwip that was being transported for sale.
File photo
---
Kakdwip
|
Published 12.07.21, 01:18 AM
|
---
Kakdwip police jointly with the state fisheries department and a local fishermen's association arrested the owner of a trawler for "bottom trawling" hilsa spawn, a practice strictly prohibited by the state government.
Bottom trawling means scooping with nets the "bottom" of the sea to catch juvenile hilsa.
At least seven other boat owners and two truck drivers were also nabbed by the fisheries department and detained for interrogations.
Police seized over a tonne of juvenile fish from Kakdwip that was being transported for sale.
"We have been trying our best to create awareness among the fishermen against catching juvenile fish. But it made little impact. So such an action is being taken for the first time to convey a message," a senior official of the fisheries department in Calcutta said.
Under the guidelines of the West Bengal Fisheries Department, catching, selling and buying hilsa fish weighing below 500 grams is strictly prohibited and is a cognisable offence for penal action.
According to a senior official of the state fisheries department, the hilsa fish takes at least two years to age sufficiently and be ready for market. With a life expectancy of about four years, a mature hilsa weighs up to 2 to 2.5 kg. However, such large hilsas are hardly found in the market reportedly owing to premature catching.
 "Today (Sunday), we got a tip-off that a boat named MV Sankha Pradeep had arrived in the Kakdwip fishing harbour with huge quantities of juvenile fish and was transporting it to city markets. We informed the police and a joint raid was conducted where over one tonne of juvenile hilsa were found," said assistant director of fisheries (marine) Jayanta Pradhan.
"Hilsa about 23cm long and weighing below 100 grams are also found. That's really unfortunate. Despite our best efforts to create awareness about not catching juvenile fish, a section of fishermen have remained adamant," added Pradhan.
 Superintendent of police of the Sunderbans police district Bhaskar Mukherjee said a probe has started based on Pradhan's complaint.
"One person has been arrested. The consignment of confiscated fish was handed over to the fisheries department for disposal," he said.
Many fishermen have expressed their concern over the increasing trend of "bottom trawling" to catch juvenile fish.
 "This is a dangerous method which will eventually exterminate the hilsa," Bijan Maity, joint secretary of the West Bengal United Fishermen's association said.
 The organisation demanded that the boat owners and fishermen involved in bottom trawling be arrested and their permits for fishing be cancelled permanently.
 "There are around 11,000 registered fishing ships in the Sunderbans area, of which around 200 ship owners allegedly bottom-trawl," added Maity.