Trafficking survivors run to warn others
The festive atmosphere of the race was what impressed the survivors the most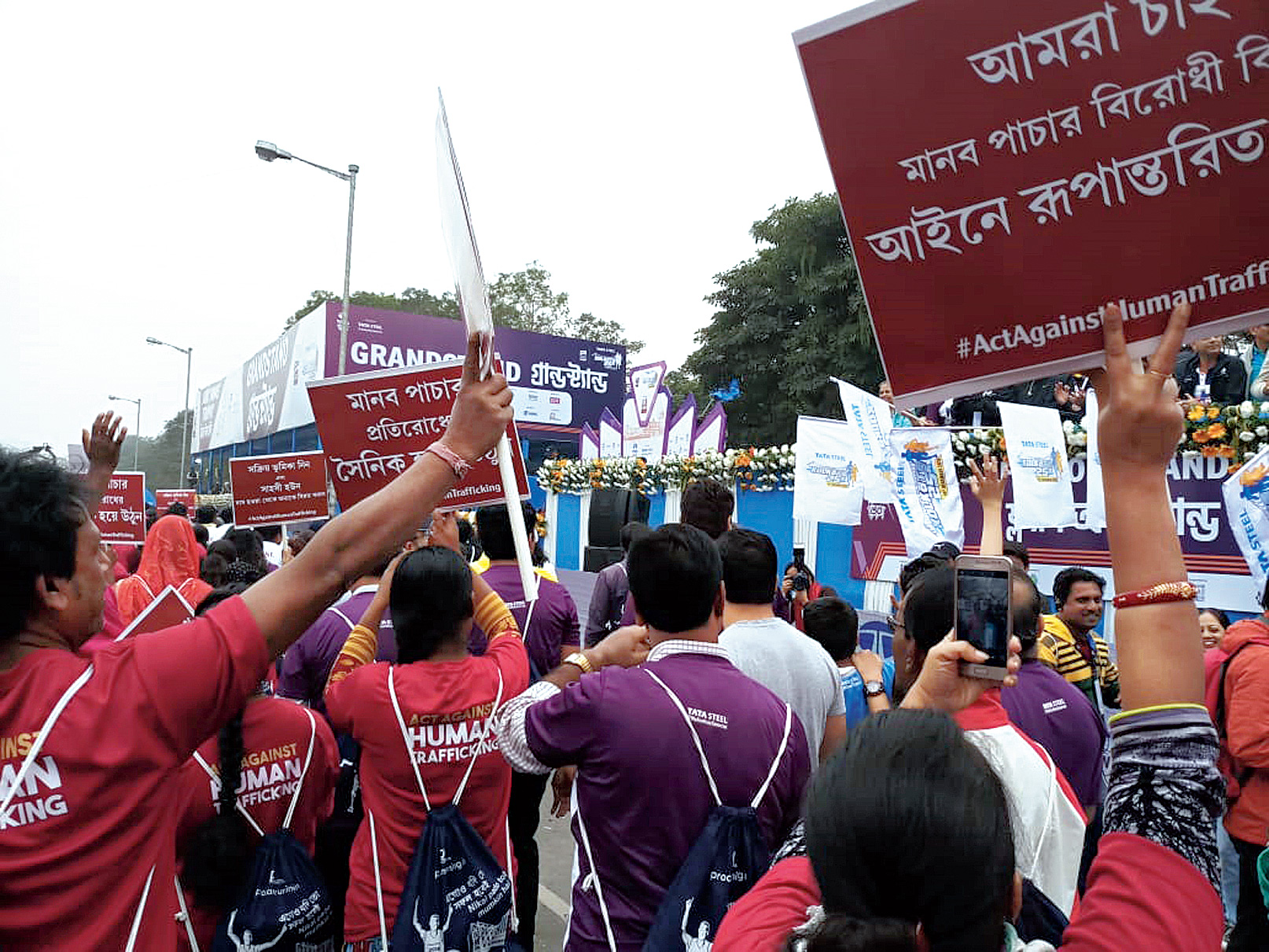 ---
|
Calcutta
|
Published 17.12.18, 09:51 PM
---
A woman from a village in North 24-Parganas was among the 15,000-odd people who took part in Calcutta's biggest road race on Sunday morning.
Two years ago, the 24-year-old was at a brothel in Pune where weekends meant a steady stream of customers throughout the day and night.
The woman was among the 22 trafficking survivors who took part in the Ananda Run — a 5K event without any timing chip — of Tata Steel Kolkata 25K, partnered by The Telegraph.
The survivors, aged between 16 and 27, ran under the banner of the Partners for Anti-Trafficking (PAT), a network of NGOs.
"The survivors are from North and South 24-Parganas. They ran to raise awareness about the perils of trafficking," said Sambhu Nanda, a programme manager with PAT.
Most of the teenagers and women were lured by men who befriended them and promised to marry them or arrange a job for them. Instead, they landed up in the red light areas of Bihar, Uttar Pradesh, Maharashtra and Karnataka.
The woman mentioned at the beginning of this report is from Matia, a small village in the Basirhat sub-division, around 60km from the heart of Calcutta.
In 2013, a friend had "asked her out" and she had gone to a nearby railway station. She was allegedly given a spiked soft drink.
"When I came to, I found myself inside a compartment with a group of men. They threatened to throw me out if I shouted," the woman said.
She was taken to a brothel at Budhwar Peth in Pune. She said she had been sold and resold multiple times during her three-year-stay at Budhwar Peth.
Members of an NGO and police rescued the woman in 2016. "She was brought back to Bengal the same year but her rehabilitation was far from smooth because most neighbours and village elders ostracised her family. She now works as an ayah at a hospital in Barasat," Nanda said.
The survivors had reached Calcutta on Saturday evening and put up at a hotel on Mahatma Gandhi Road in central Calcutta. They reached Red Road early on Sunday with placards bearing a host of messages. One of the placards read "Women are not for sale".
Another demanded the passage of the anti-human trafficking bill during the ongoing winter session of Parliament.
"I have never seen so many people run together. Some of the participants were on wheelchairs and some with artificial legs. The sight encouraged me," said one of the survivors, who is from Canning.
She said a man who had promised to marry her sold her to a pimp in Bihar. She was part of a dancing troupe that performed in rural pockets during weddings and on other occasions.
"I was made to wear skimpy clothes and dance to loud music and vulgar songs. Men in the crowd egged us on to shed our clothes. Drunkard would often rip apart our clothes," the woman said.
She had been raped multiple times during her stint with the troupe.
The festive atmosphere of the race was what impressed the survivors the most. "While running, I saw Sourav Ganguly on the dais. I will never forget that moment," said another woman.