Toy traders down shutters
Protest against proposed customs duty hike of 200 per cent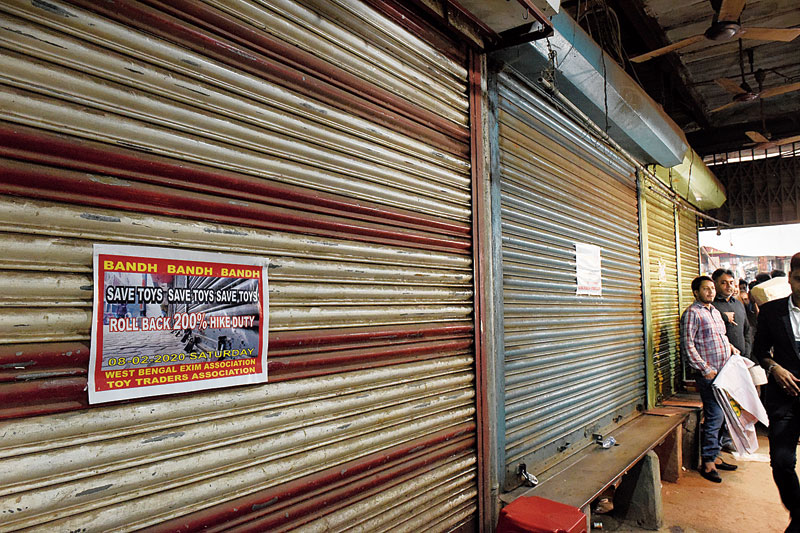 ---
|
Calcutta
|
Published 08.02.20, 07:40 PM
---
Toy traders in the city shut down their shops on Saturday to protest the centre's decision to raise the duty on imported toys by 200 per cent.
The rise is being introduced to support local manufacturers as part of the Centre's Make in India initiative but in reality imported toys have a far greater demand and are more sophisticated than countrymade products, the traders said.
The 2019-20 budget had raised the customs duty on toys from 10 per cent to 20 per cent, the impact of which the industry is still to overcome. On top of it, this year the government announced in the budget customs duty will be raised to 60 per cent from 20 per cent — it is like a death blow, the striking traders said.
"How many people will be able to afford very expensive toys. If there is a 60 per cent customs duty on foreign toys, their retail prices will skyrocket," Mohit Banthia, a wholesaler of toys at Bagree Market, said. "A vast majority of toys sold in India are imported ones. Kids want toys that are sophisticated and innovative. The toys produced in India are still nowhere close to the foreign toys."
Banthia is the joint secretary of West Bengal Exim Association. The association is a body of traders whose businesses depend on import and export.
All stores dealing with toys on Canning Street had their shutters down on Saturday. The traders took out a rally to protest the hike and marched through Portugese Street, Canning Street, Amartala Street, Ezra Street and Pollock Street — roads in Burrabazar, which are filled with toy traders. The rally ended in front of Customs House on Strand Road.
Vikash Jain, the vice-president of Exim Association, said Burrabazar had 150 toy traders. Besides, there are hundreds of hawkers who sell toys in Burrabazar. "About 10,000 people earn their livelihood from the toy trade in Burrabazar alone."
In her budget speech, finance minister Nirmala Sitharaman had put the hike in customs duty on toys under the head "Changes in Customs duty for creating a level playing field for MSME and promoting MAKE IN INDIA".
Some of the traders said they wanted a reasonable increase so that trade was not hit. "A 200 per cent hike should be implemented in phases and not in a single year," a trader said.
A countrywide protest has been planned. "We have spoken to toy traders in Mumbai, Delhi, Jaipur and Gurugram. We are trying to bring all state associations under the umbrella of All India Toys and Baby Products Association," Akshay Binjrajka, another toy trader and secretary of the Exim Association, said.
The traders said they wanted to meet Sitharaman, who would be in the city on Sunday.
"We want the minister to hear us out once when she is in the city. I think she will understand our concern," a trader said.
Sitharaman had said in her budget speech: "Labour intensive sectors in MSME are critical for employment generation. Cheap and low-quality imports are an impediment to their growth. Special attention has been taken to put measured restraint on import of those items which are being produced by our MSMEs with better quality."