Top KLO militant surrenders in a blow to BJP govts' 'peace talks'
Koch's surrender comes 15 days after the state government announced a new surrender-cum-rehabilitation policy for outfit's activists and linkmen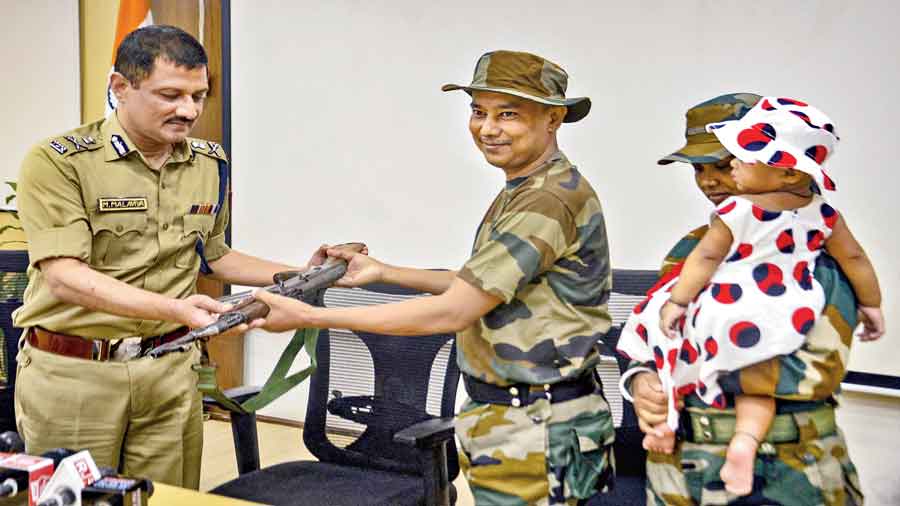 Kailash Koch hands over his weapon to DGP Manoj Malaviya in Calcutta on Thursday. On the right is Koch's wife Jugli.
PTI
---
Siliguri
|
Published 19.08.22, 02:12 AM
|
---
Bengal chief minister Mamata Banerjee on Thursday stole a march on the BJP as Kailash Koch, the second most important leader of the proscribed Kamtapur Liberation Organisation (KLO), surrendered before police in Calcutta within over two weeks of the announcement of her government's new rehabilitation package for the militant outfit's members. 
Apart from KLO general secretary Koch, his wife Jugli also surrendered. He handed over his AK-47 to director general of police Manoj Malaviya at Bhabani Bhaban, the state headquarters of the force. Koch's surrender comes 15 days after the state government announced a new surrender-cum-rehabilitation policy for KLO activists and linkmen.
He has laid down the arms at a time when Jeevan Singha, the self-styled chief of the KLO, is readying for peace talks with the central and Assam governments, both of which are run by the BJP, keeping Bengal out of the loop. 
"In the past eight-nine months, a number of BJP leaders in Bengal were trumpeting that the central and Assam governments managed to coax the KLO into joining peace talks and returning to the mainstream. But a top KLO leader's surrender today flummoxed them all and gave an extra edge to Mamata Banerjee and her government," said a senior Trinamul Congress functionary in Cooch Behar. 
Formed in 1995 with members of the Koch Rajbangshi community, the KLO has been demanding a separate stateencompassing parts of Cooch Behar, Malda, North Dinajpur, South Dinajpur and Jalpaiguri districts and stretches of Assam.
A senior police officer said Koch had allegedly been involved in several KLO operations in Assam and Bengal between 2008 and 2013 and had reportedly imparted arms training to hundreds of KLO militants. 
"We want to return to the mainstream of the society and I appeal to all members in the jungles to give up arms," Koch said at a press conference in the presence of his wife and Malaviya. "Development can't come with violence. Several others from the KLO will surrender in the days to come."
Malaviya said Koch and his wife had responded to the government's appeal to KLO members to give up arms when a special rehabilitation package had been drawn up for them. KLO members are offered compensation, jobs and education for their children among others in the rehabilitation package. 
In December last year, Assam chief minister Himanta Biswasarma had said the KLO was interested in peace talks. KLO leader Singha confirmed it and issued a number of video statements in the past few months.
He was critical of Mamata but soft on the BJP in the videos. A few days ago, Singha issued an audio clip addressed to Biswasarma, naming five persons, including four former militants, as the KLO representatives in the peace parleys. 
"If Koch's claim of more surrenders is true, it will be a major success for Mamata Banerjee and would help Trinamul revive its support base in the Rajbanshi belts of north Bengal," he added.Senior officers tracking the KLO's activities said Koch had studied till Class XII, while his wife Jugli holds a diploma in nursing. Koch can speak in several languages and married Jugli, also known as Swapna Burman, in May 2014.