TMC widens anti-NRC drive
Party insiders said they were on the lookout for more such outfits that work at the grassroots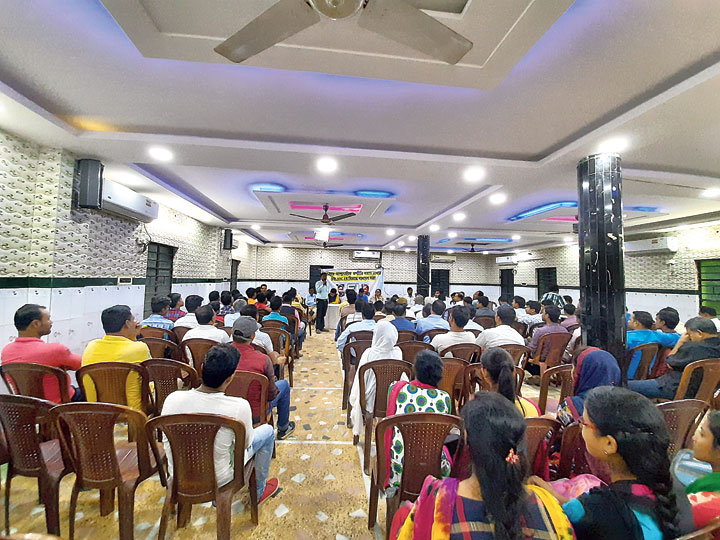 ---
---
The Trinamul Congress has decided to help an apolitical organisation launch a statewide campaign against the possible implementation of the National Register of Citizens (NRC) in Bengal.
The move is being seen as an attempt to inspire a resistance and reach out to more people to strengthen the anti-NRC movement against the backdrop of rising fears among a section of people in Bengal about its possible fallout.
The Bangla Sanskriti Mancha — a Calcutta-based organisation that works on human rights and women's empowerment — has launched a drive in several districts through its 5,000 members against the possible implementation of the NRC. The organisation held a training programme for its 200-odd members in Birbhum on Saturday to impart training on how they should start campaigning against the NRC in the district from next week.
"We have already started campaigning against the NRC in a few districts. The members in Birbhum on Saturday were trained on how to carry out the campaign. Our volunteers will start campaigning by organising small meetings in the villages," said Samirul Islam, the president of the Mancha and an assistant professor of a college in Howrah.
Members of the Mancha said they had contacted senior Trinamul leaders in Calcutta and secured an assurance on help to undertake the campaign.
"We have spoken to senior leaders of Trinamul in Calcutta. They assured us that we would get all required help in the remote areas. We have kept the platform open for other political parties who are against the implementation of the NRC," said Tanmoy Ghosh, secretary of the Mancha.
Trinamul insiders said they were on the lookout for more such outfits that work at the grassroots to spearhead the anti-NRC movement in Bengal.
"A campaign by apolitical outfits will compliment our leader Mamata Banerjee's initiative to build people's resistance to the NRC. If more such organisations come up, it will be good for us as it would take the steam out of the BJP's campaign that the anti-NRC movement is a political ploy of Trinamul," a minister in the Mamata cabinet said.
In Birbhum, the party has decided to provide transport facilities to the members of the Mancha so that they can reach remote areas. Moreover, Trinamul has planned to use its grassroots network — albeit in a discrete manner — to help the members of the organisation draw the attention of the rural populace.
The district unit has alerted police about the Mancha's programme and requested the force to ensure that the members are not heckled by the BJP during the campaign.
"Our chief minister has declared that the NRC will not be implemented in Bengal. We are ready to extend all kinds of help to the apolitical platform in our district," said Asish Banerjee, the agriculture minister and Trinamul MLA from Rampurhat in Birbhum.
Another minister said: "If we want to reach out to the people who have voted against us in the last Lok Sabha polls, non-political organisations could be the best weapon."