TMC trio stopped at Varanasi airport
Later in the day, Priyanka met the delegation at the airport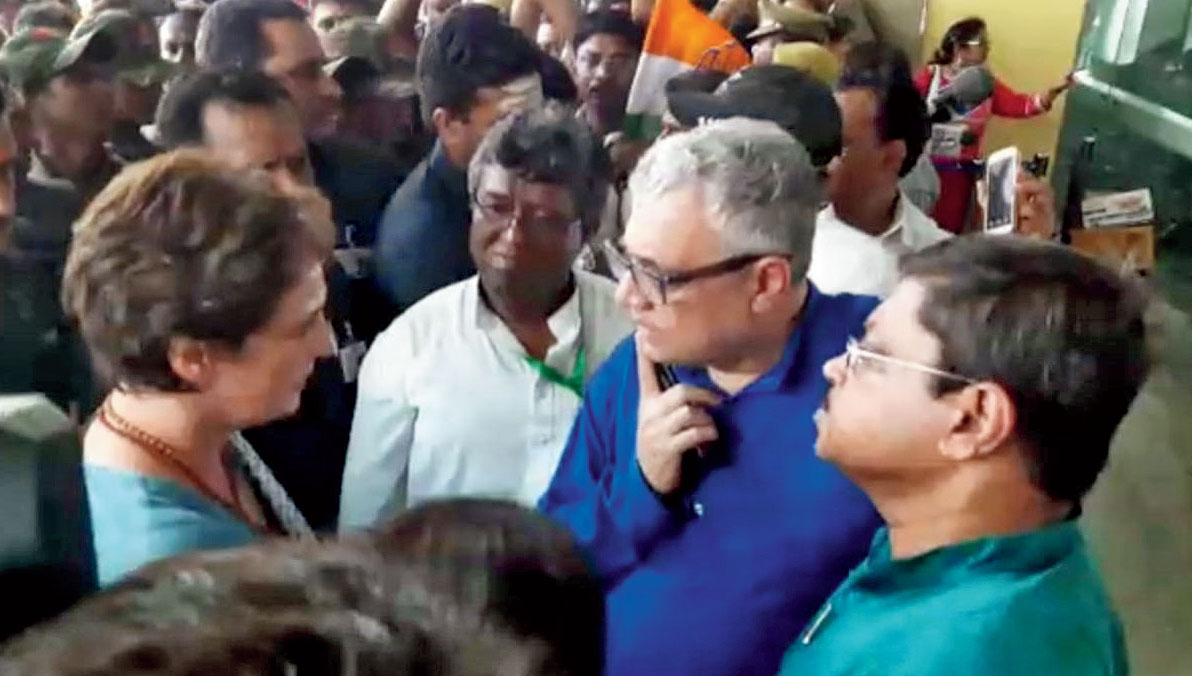 Priyanka Gandhi with Derek O'Brien (in blue kurta), flanked by Sunil Mandal (to his right) and Abir Ranjan Biswas at Varanasi airport on Saturday
(Screengrab)
---
Lucknow
|
Published 20.07.19, 08:32 PM
|
---
A Trinamul Congress parliamentary delegation led by Derek O'Brien, the party's leader in the Rajya Sabha, was detained at Varanasi airport on Saturday morning when the leaders landed there for a planned visit to the village where 11 tribals have been gunned down in a land dispute.
Rajya Sabha members O'Brien and Abir Ranjan Biswas, and Burdwan East MP Sunil Mandal had arrived in the morning at Lal Bahadur Shastri Airport and had planned to travel to Umbha village in Sonbhadra, 80km away, where the killings took place on Wednesday.
However, two battalions of the Provincial Armed Constabulary and one of the Rapid Action Force were waiting at the gates of the airport, while local administrative officials stopped the trio inside the airport.
The Trinamul leaders protested and sat on a dharna for about three hours. They agreed to leave the airport only when district magistrate Surendra Singh arrived there and said they could visit the trauma centre of Banaras Hindu University, where over a dozen injured people from Umbha are undergoing treatment.
The delegation's detention came a day after Congress leader Priyanka Gandhi Vadra was detained in Mirzapur and prevented from going to Sonbhadra to meet those injured in the attack as well as the victims' families.
"We sat on a dharna after we were detained at the airport. Later, we decided to go to the hospital to meet the injured villagers. The BJP government is trying to suppress our voice just because we want to meet the poor people of Sonbhadra," O'Brien said.
Later in the day, Priyanka met the delegation at the airport.
The three Trinamul leaders, who were accompanied by the police and administrative officials to the hospital, took a flight for New Delhi after returning to the airport.
In Calcutta, Trinamul chief Mamata Banerjee said law and order in Uttar Pradesh had "collapsed" under Yogi Adityanath's rule.
"Incidents of lynching, caste and community-based violence, encounters, violence of all sorts…. It is an alarming situation," Mamata said.
"Priyanka did not try to violate Section 144, nor did our delegation…. Only three-four people, it is allowed. But they were stopped. Whenever something happens in Bengal — fomented entirely by the BJP — and Section 144 is imposed, their delegations break the law by going to those places in 50 cars. Even then, here we don't have the culture of stopping," she added.
Sources close to Mamata said she was "pleased" with the impact her party's delegation was able to make with its visit to Uttar Pradesh and appreciated Priyanka's gesture of meeting the Trinamul lawmakers at the airport.
"Ours is a grassroots-level party and we are trying to meet the people who are poor victims. We shouldn't have been stopped," said O'Brien later, adding that he would raise the matter in Parliament on Monday.