TMC plans bhaat-jaat protest over CAA
Mega march on International Women's Day on March 8 has also been planned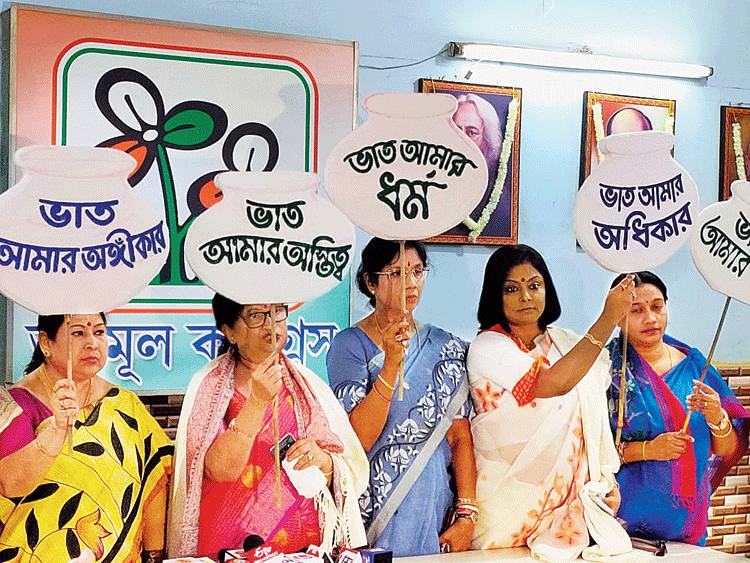 ---
Calcutta
|
Published 31.01.20, 07:29 PM
|
---
The Trinamul Congress women's wing has drawn up a protest plan with the objective of bringing the focus to bhaat (rice) in response to every question of jaat (creed) that the BJP throws at the nation in its alleged attempt to distract the masses from the real issues.
In addition to meetings, rallies, demonstrations and sit-ins, the frontal organisation has planned a mega march on International Women's Day on March 8 from Sraddhananda Park to the Dorina Crossing at Esplanade.
The march, said sources, is likely to be led by Mamata Banerjee.
"Bhaat is our address, our commitment, our existence, our religion, our right, our jaat. For every jaat-related distraction they try to cause, we will drag them to the bhaat-related questions. That is what our country needs. That will be our unwavering focus," Trinamul Mahila Congress chief Chandrima Bhattacharya said.
"Especially with the new citizenship regime, they are trying to get people to look away from what really matters. We will never allow that to happen," she added.
The bhaat-jaat reference has been popular in the discourse of the pan-India protests against the Narendra Modi government's citizenship thrusts. The bhaat-over-jaat concept was first floated by lyricist Varun Grover in his poem Hum Kaagaz Nahi Dikhayengey (We will not show papers) that became one of the anthems of the movement. The final stanza of the poem says: "Tum jaat-paat sey baantogey/Hum bhaat maangtey jayengey (You will try to divide on the basis of caste and creed/We will go on demanding rice)".
"Without a doubt, the BJP has failed this nation, its economy and its people — especially the women — and women are taking a stand, fighting back. Because it is women who still handle most kitchens in the country and form the backbone of every home, we thought the bhaat-jaat theme is apt and timely," said Bhattacharya.
The women's wing, in keeping with Mamata's promise of upping the protest ante after Saraswati Puja, on Friday announced its plans to organise protests with participants brandishing handis.
"We will go big with the handi. It is popularly associated in Bengal with the cooking of rice. Besides, it will also represent the handi'r haal (abject state) to which the BJP has reduced the nation's economy," said Bhattacharya.