TMC picks SMP office bearers
Since 1989, when the SMP was formed, this is the first time that Trinamul secured a majority in it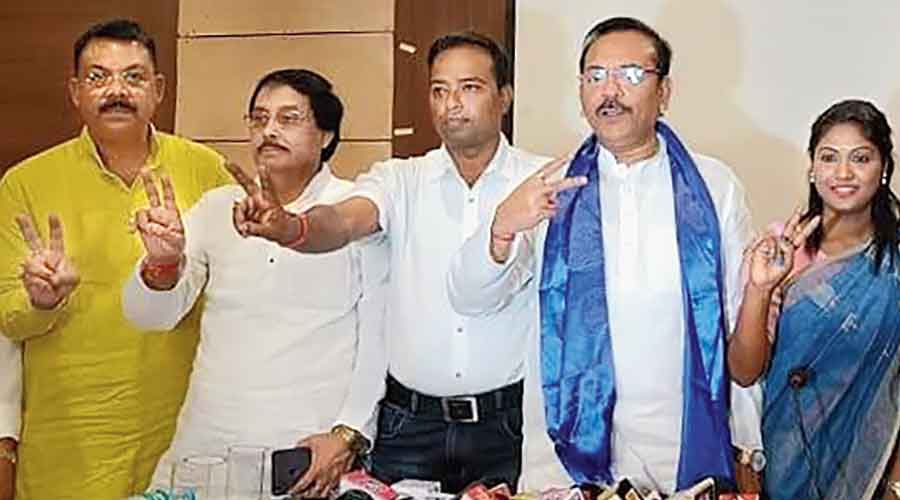 Minister Aroop Ghosh (in blue scarf) flanked by Arun Ghosh and Roma Reshmi Ekka in Siliguri on Thursday.
Passang Yolmo
---
Siliguri
|
Published 15.07.22, 01:46 AM
|
---
Trinamul on Thursday announced names of main office bearers of Siliguri Mahakuma Parishad (SMP), the apex rural body of Siliguri sub-division which the party won for the first time, and chose a seasoned  leader and a tribal woman as top two faces.
State minister Aroop Biswas, who accompanied chief minister Mamata Banerjee in her trip to Darjeeling, came here on Thursday and made the announcements.
"Arun Ghosh, who won a seat in Naxalbari block, will be the new sabhadhipati of Siliguri Mahakuma Parishad. Roma Reshmi Ekka will be the sahakari sabhadhipati. Also, Captain (retired) Nalini Ranjan Roy will be the leader of our party in the treasury bench," said Biswas.
Ghosh, who had joined Trinamul in 2008, has defeated his rival with a margin of nearly 1,200 votes. Earlier, he has served as chief of Naxalbari panchayat samiti.
Ekka, who is in Trinamul for the past couple of years and is also known for her stint in the film industry, won with a margin of over 14,000 votes, the highest margin among all nine candidates of the SMP.
In the uppermost tier of the SMP, Trinamul won eight of the nine seats. One seat went to the BJP.
Since 1989, when the SMP was formed, this is the first time that Trinamul secured a majority in it. So far, the Left was in power in this rural body that covers four blocks of the Siliguri sub-division.
Biswas, speaking to newspersons, said Ghosh and Ekka will take oath at the end of this month.
"The selections have been made with the consent of Mamata Banerjee and Abhishek Banerjee. In due course, the karmadhyakshas (members in charge of different departments) would be selected from among other members. Also, in the two lower tiers, the sabhapatis of panchayat samitis and the pradhans of panchayats will be selected in the coming days," the minister said.
Along with the SMP, Trinamul has won all four panchayat samitis of Phansidewa, Matigara, Naxalbari and Kharibari and bagged a majority of 19 of 22 panchayats.
Ghosh and Ekka, when asked about their new responsibilities, said they have a tough road ahead  "It is a huge responsibility for me. A lot has to be done to improve certain rural areas of the sub-division," he said. 
Ekka, a tribal woman, said that in areas like Phansidewa block, tribal communities formed 48 per cent of the population.
"They (tribal people) have been deprived for decades from basic services like drinking water, roads, electricity and housing. The state has introduced an array of welfare schemes and my plan is to provide these benefits to the maximum number of people," she said.