TMC fumes at BJP MP & MLA over storm relief
The party filed missing diaries at Falakata police station in Alipurduar district on Sunday in the name of the John Barla and Dipak Barman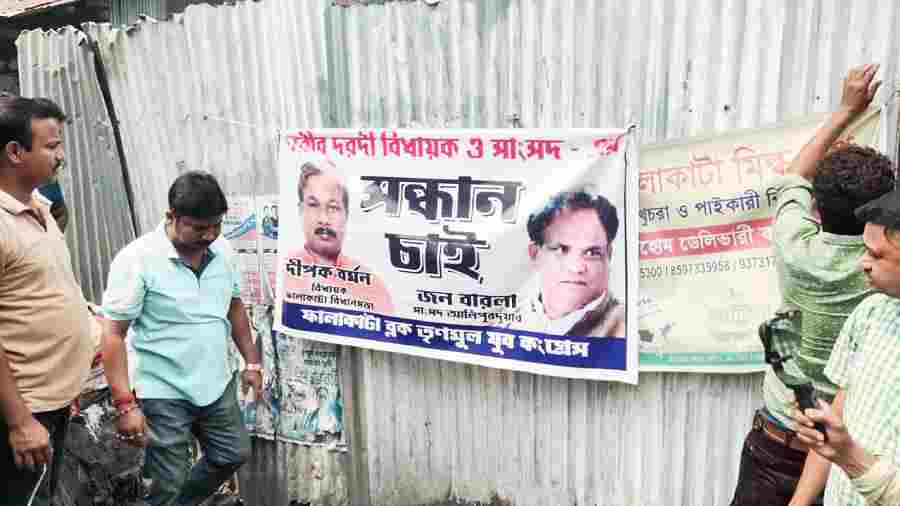 A banner hung by Trinamul supporters at Falakata on Sunday against the local BJP MP and the MLA.
Anirban Choudhury
---
Alipurduar
|
Published 25.04.22, 03:34 AM
|
---
The Trinamul Youth Congress filed missing diaries at Falakata police station in Alipurduar district on Sunday in the name of the local BJP MP and the MLA in protest against their alleged absence from areas struck by a storm recently.
Trinamul supporters took out a rally and hung banners in different locations of the town seeking information about the Alipurduar MP and Union minister of state for minority affairs, John Barla, and Falakata MLA Dipak Barman.
Falakata had experienced a hailstorm on April 18 evening. Hailstones weighing two to three kilos damaged around 8,000 houses in the town and the surrounding localities.  
"After the recent natural calamity that left hundreds of families with tottering houses and many others homeless, the MLA or the MP have not been seen even once in the affected areas. They did not bother to meet the affected families. That is why we filed the
missing diary in their name," said Subhabrata Roy, the Youth Trinamul president of Falakata block.
Barla could not be contacted.
Barman brushed aside the allegations and said he was doing his best to help the affected people and accused Trinamul of levelling baseless allegations. "I was in Calcutta when the hailstorm occurred. The very next day, I reached Falakata and distributed tarpaulin among the affected families. I visited all 18 wards of the town and asked the district magistrate to buy further tarpaulins utilising the MLA's local area development fund." he said.
The party filed missing diaries at Falakata police station in Alipurduar district on Sunday in the name of the John Barla and Dipak Barman