TMC focus varies in plains, hills
Party wants to win Siliguri Mahakuma Parishad, give space to allies for GTA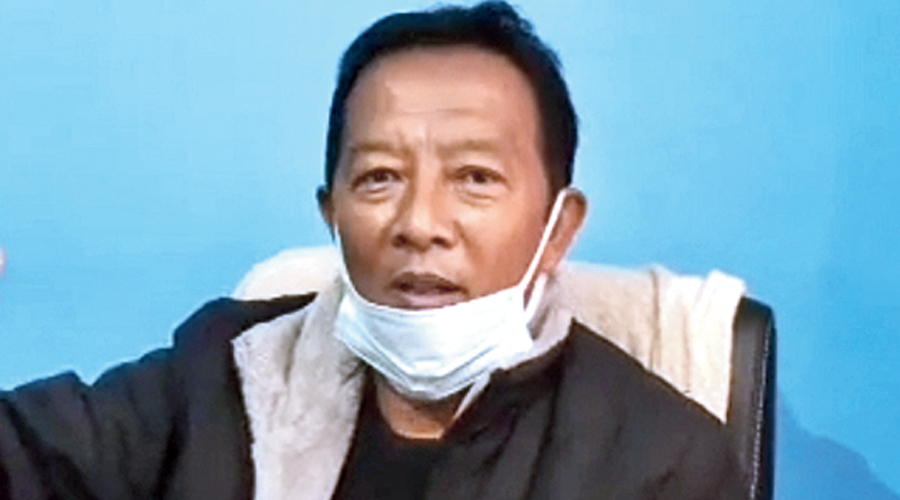 Binay Tamang
File picture
---
Siliguri
|
Published 11.05.22, 01:29 AM
|
---
Trinamul is likely to take a "contrasting role" at the upcoming three-tier elections of the Siliguri Mahakuma Parishad (SMP) and elections of the Gorkhaland Territorial Administration (GTA).
According to senior Trinamul functionaries of Darjeeling district, the party will contest the SMP polls in the foothills with all its might in all the seats in all three tiers. But in the hills, it is likely to "leave adequate space" for its political allies and anti-BJP parties and then field candidates for the GTA polls.
"We have a number of allies in the hills. Also, the chief minister has cordial relations with some of the parties that are against BJP. Our party leaders want the GTA elections to be held peacefully and there should be no such move from our side that can antagonise any of these allies. All we want is that an elected board should run the GTA," said a Trinamul leader here.
Earlier this year, as election of Darjeeling municipality was held with several other civic bodies of the state, Trinamul fielded candidates in 10 of 32 seats but won in two.
Hamro Party, which was floated by Ajoy Edwards,  bagged the civic body by winning in 18 seats.
After the elections, a section of hill Trinamul leaders, including party's Rajya Sabha MP Shanta Chhetri and party leader Binay Tamang, had advocated that they should have contested alone and fielded candidates in all the seats.
Such assertion by these leaders had left Mamata disgruntled. At a meeting in Calcutta in March, she had alerted these leaders not to make such statements.
"We want to work with everybody.... there is peace in Darjeeling and the hills have returned to the election process. I am happy with it," the chief minister had said.
In the hills, Trinamul has Bimal Gurung's Gorkha Janmukti Morcha and Anit Thapa's Bharatiya Gorkha Prajatantrik Morcha as allies. She is known to have a good rapport with Anit Thapa.
A veteran in politics in the hills said that at the civic polls, Mamata was also content to see that the BJP and GNLF, its ally, were decimated.
"These two parties are still reluctant to participate in the GTA elections…. even Union home minister Amit Shah has said that GTA polls will not resolve the problems of hill residents," he said.
N.B. Khawas, the spokesperson of Trinamul's Darjeeling (hills) district committee, asserted that they are ready to contest the GTA polls. "However, we cannot comment on the number of seats where we will field our candidates. The party high command will decide it," he said. There are 45 seats in the GTA where elections would be held.
In the plains, Mamata Banerjee's party will put all its might to win SMP, the sole uppermost rural body of the state which they have never won so far. "We have secured a majority in the civic polls of Siliguri for the first time this year. We are confident we will also bag the SMP," said Alok Chakraborty, chairman, Darjeeling (plains) district Trinamul.
In Siliguri sub-division, elections would be held for the nine seats of the SMP (uppermost tier), in four panchayat samities (middle tier) and in 22 panchayats spread across the four blocks of Matigara, Kharibari, Naxalbari and Phansidewa.