'Tiger' sighted in Dooars
Motorist claims he saw animal near Neora park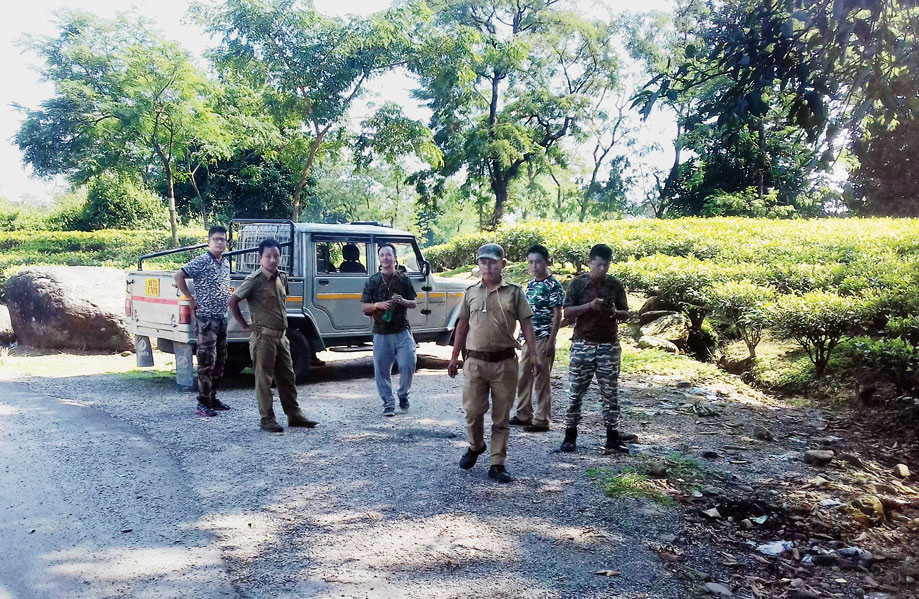 A team of foresters at the spot between Samsing and Chilauni tea estates on Friday.
Picture by Biplab Basak
---
Jalpaiguri
|
Published 26.10.18, 08:29 PM
|
---
A man driving through tea estates on the fringes of a reserve in the Dooars claimed to have seen a Royal Bengal Tiger on Thursday evening.
Homestay owner Kartabyya Pradhan, who was with friends Deepak Bhujel and Suman Rai, said he could identify the animal with "black stripes and a long tail".
The trio were passing through the patch on the border of Kalimpong and Jalpaiguri districts on the fringes of the Neora Valley National Park, where a cab driver had claimed to have seen a tiger for the first time in January last year.
On Thursday, Pradhan and the others said they had seen the tiger between the factories of the Samsing and Chilauni tea estates while driving to Metelli.
"I was driving to Metelli when the tiger crossed from the right to left of the road. I stopped the car and looked at the animal which stayed there for a while. I could clearly see the black stripes on its body and the black mark on its tail. I could not take photographs. "Sighting of leopards is common and I can identify it. I am very sure it was a tiger," said Pradhan, who is based in Samsing.
The sighting of a Royal Bengal Tiger in the area, though not totally unheard of, is rare. P.D. Bhutia, an honorary wildlife warden, was among those who spoke with Pradhan on Friday.
"I spoke to Pradhan after he reported having sighted a Royal Bengal Tiger around 6.30pm on Thursday. In the past, Royal Bengal Tigers have been sighted at the Neora Valley (in Kalimpong district) National Park and this particular tiger might have come to lower region due to onset of cold weather in the hills, given that tigers generally move within a radius of 20km," said Bhutia.
Neora Valley is known as a virgin forest and spread over 160sqkm on the ridges of the Lesser Himalayas at the tri-junction of Bengal, Sikkim and Bhutan.
Back in 1993, the presence of tigers was reported for the first time, but not through direct sighting.
After 24 years, on January 19 last year, taxi driver Anmol Chhetri claimed to have seen one near Lava in Kalimpong. Chhetri had also clicked photos of the animal.
Following the sighting, the forest department had installed trap cameras in different locations of the park. The initiative had yielded results as photos of tigers were clicked on January 23 on February and 15 last year.
"We have also come to know that from a nearby area, a cow has gone missing four days back. It is not possible for a leopard to take away a cow and can only be done by a tiger. We are trying to find outother marks to confirm whether they are those of a tiger," said a forest official.
"The Neora Valley National Park is not far from the area where tiger sighting has been reported. We have launched a search considering the eyewitness's statement is correct," said divisional forest officer Nisha Goswami.