The ups and downs of prawn farming
What was once regarded by farmers in Midnapore as a viable economic option is now turning out to be an agri soup
---
---
Tajpur is in Bengal's Midnapore district, 200 kilometres from Calcutta. Adjoining the Bay of Bengal, its stark landscape is pockmarked with tiny plots filled with water and covered with fine blue nets. In these plots locals cultivate prawns. They have dug out channels in the fields to let in water from the sea at high tide.
The people here adopted prawn cultivation in the 1990s. Says Harishankar Parida, manager of a local resort, "Brackish water had already made the land infertile. When one farmer resorted to prawn farming, fellow landholders thought it best to follow suit." Prawn cultivation earns quick money. Parida adds, "It is like investing in a lottery. The profits are high but so are the losses. You could become a pauper overnight."
Social worker Prodip Saraswati, who has been working in the area for almost two decades, explains the reason behind this. He says, "If a person cultivates prawn in a bigha of land, he will be able to earn Rs 3-5 lakh in three months, which is the production cycle. Losses are incurred when farmers lose prawns to virus attacks. At times the entire produce is wiped out."
Local farmer Rabindranath Bhunia says, "I have four bighas of land, of which two were badly affected by the salty water. Initially, I had resisted prawn cultivation but when I was left with no choice I got into the business. In the first year, I made heavy profits, but in the next two cycles I lost all that I had gained and more."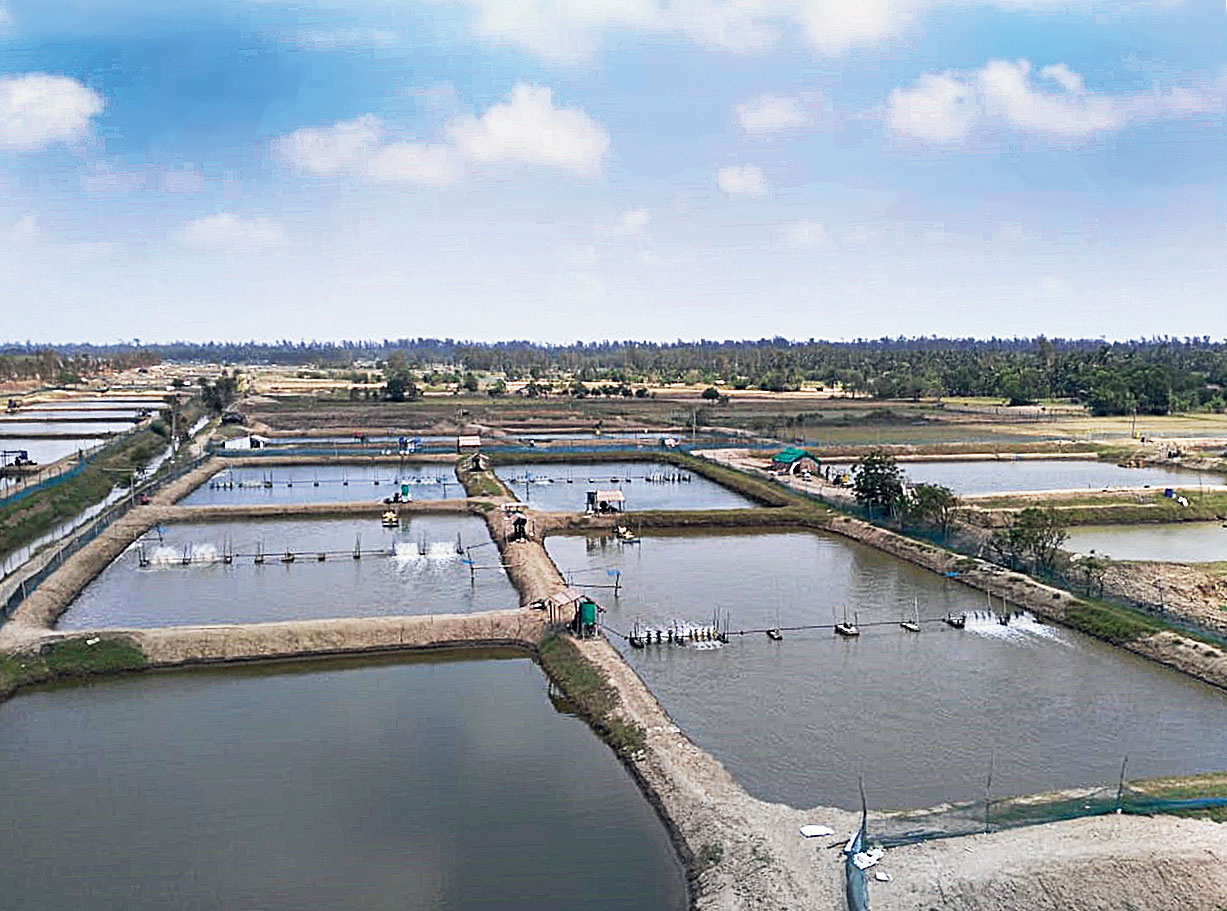 Today, more than one lakh people are directly involved in this business; many others are involved indirectly. The intensive aquaculture, however, affects the surrounding land that was once lush with paddy. Brackish water is not conducive to vegetation.
Surajit Bag, who is the assistant director of fisheries, has a different argument. He says, "Out of 25 blocks in Midnapore district, 17 are brackish and among them eight to nine blocks are potentially brackish. These places did not produce enough rice even when salt-resistant varieties of paddy were cultivated. Shifting to prawn cultivation was a sensible thing to do."
And there was big money too. After all, prawns produced in the Midnapore area are almost entirely for export. Bag says, "Twenty two per cent of the produce is directly exported to the European and American markets and the rest is exported through Japan."
But with time, people are increasingly resisting prawn farming. Says Debasis Shyamal, the vice-president of the Dakshinbanga Matsyajibi Forum, "When the process had started, it was restricted to areas closest to the sea — ones that got flooded during high tide. Those days, the patch segregating agricultural land from the brackish one was wide and seepage was minimal. But eventually people started to store brackish water in the fields for prawn cultivation, and the land patch that acted as a divider started to get narrower." He adds, "This plays havoc with the drainage system and the ecological balance of the place." But because this is an unorganised sector, there is no way of enforcing these environmental must-dos.
The other fallout of prawn cultivation is pollution. Says Shyamal, "The chemicals used are harmful to the soil and also hazardous to humans. The water that is drained out at the end of a production cycle causes severe itching to anyone who comes in contact." Saraswati adds, "The antibiotics added to the water in large volumes are toxic; they harm marine life adversely." As for the soil, it turns black and barren. Yet there is no easy way of getting out of this situation.
Between the prawn and the salty blue sea — that's life for the farmers of Midnapore.