The 'snow leopard' I could open my heart to
Mrinal Sen is one such whose films and books are a legacy of sensitivity and never sensationalism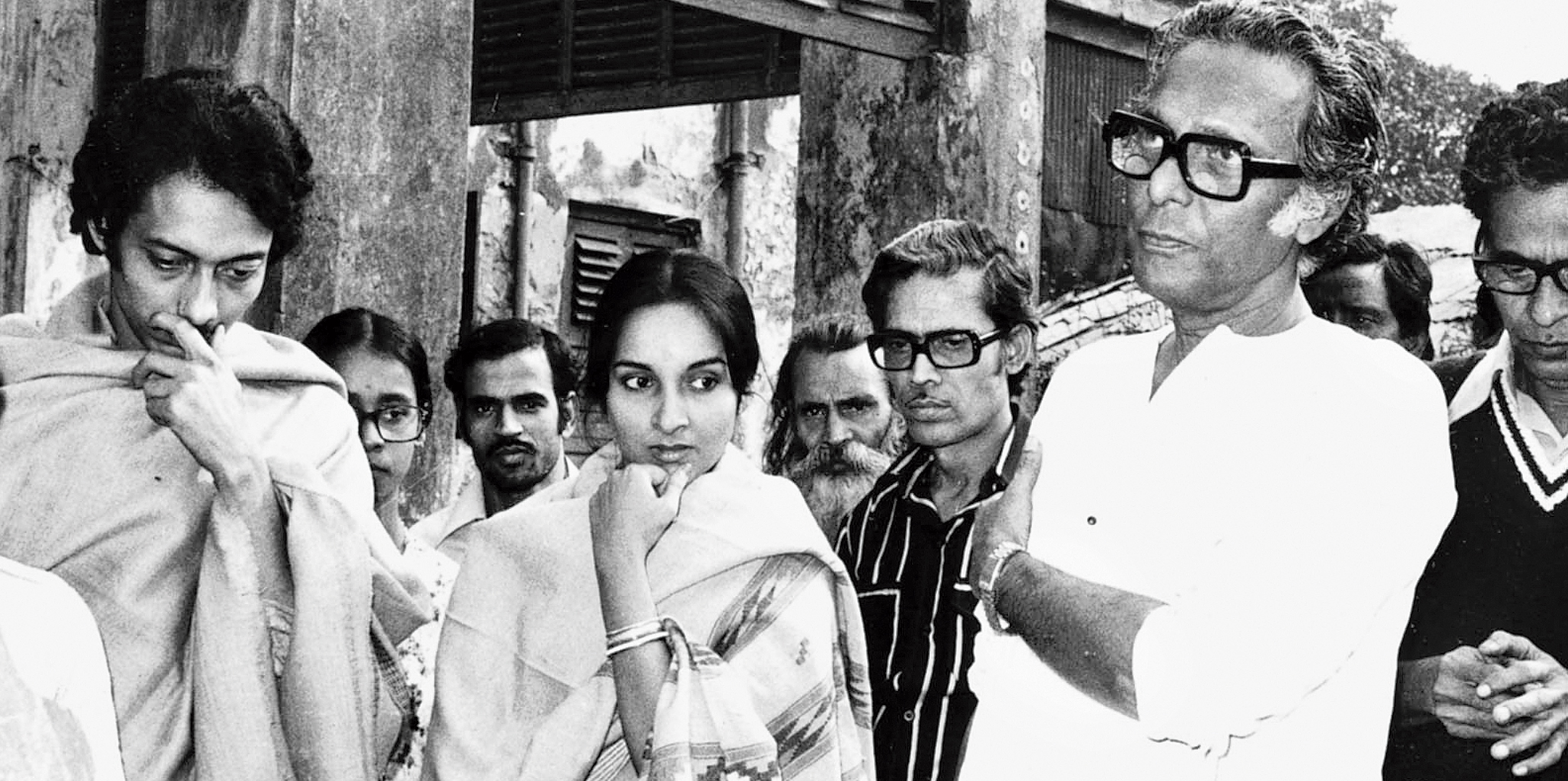 Mrinal Sen with Anjan Dutt (left) and Mamata Shankar during the shooting of Kharij
The Telegraph file picture
---
Published 30.12.18, 09:33 PM
|
---
I first met Mrinal Sen at 21, working as a journalist and directing a Jean-Paul Sartre play in Bengali. I had gone over to the director of Alliance Francaise for funding. Mrinal Sen had come to discuss the French subtitling of his latest film. I dreamt of being a movie actor since 14. But this lean, tall, elderly chain-smoker was too magnetic and overpowering to approach. I crouched in a corner, gaping at the Silver Bear Winner in awe.
A year later he was looking for me to play the lead in his Chaalchitra. I had resigned from my job. He caught up with me during the rehearsal of my forthcoming Peter Weiss play at Max Mueller Bhavan. Before I knew what was happening, I had been signed on for Rs 5,000 and thrown into my world of dreams — cinema.
Sen never bothered to help me act. He literally pushed me into the scene and shouted "action". On the crowded streets, jumping on and off trams and buses chased by K.K. Mahajan with an Arriflex 2C, rattling out my lines on the sets to an extremely kind Gita Sen and an equally difficult Utpal Dutt, he simply said "cut".
What Sen actually did was open up the world of cinema which altered my way of seeing, thinking, believing, working.
Very early in our collaboration he ceased to be just my director. He became my mate, teacher, colleague, father… many more things. What binds a 25-year-old fresher with a 56-year-old world-class veteran, in a relationship where nothing is secret or sacred, is difficult to verbalise. But as we progressed with each project, I got to witness the most radical, witty, passionate and generous Bengali in my life.
Very early in my career I realised that I could not be a Soumitra Chatterjee, one of the very few actors who brilliantly balanced the "good" and the "rubbish" in Bengali cinema. Patronised by a handful of the arthouse and totally rejected by the so-called Tollywood, I had to step into direction to survive. Mrinal Sen was my film school.
Now that I look back at those days of collaboration and learning, I remember lengthy arguments at his 40 Beltala Road house, taking huge creative risks on the sets and the edit table, loving "world cinema" unabashedly, being equally upset at mediocrity and social injustice, not being afraid of admitting mistakes or being a misfit, loving Calcutta with all its faults. What I don't ever remember is seeing sycophancy, smooth talk, being media-savvy, patronising, intolerance, pride. Money was necessary, but never the deciding factor. To push the limits of your existence on your terms was far more important. And that is where a committed "socialist" Sen connected with a committed "apolitical" like myself.
This city can boast of many hugely radical people who are sentinels of our time. Mrinal Sen is one such whose films and books reach out to that handful who will take that legacy forward. It is a legacy of artists and not just of professionals. A legacy of sensitivity and never sensationalism. A legacy of the alternative and never mainstream.
Cinema environment, worldwide, has always been ruled by mediocrity. It was that way before I was born and will be that way till we all cease to exist. But there will always be that handful who will challenge this system with low-budget box-office failures but whose work will be treasured by those handful who value posterity and the future of our intellectual environment. That Martin Scorsese has restored and digitally re-mastered Khandhar is proof of that phenomenon, irrespective of the fact that the uncompromising aesthetics of Mrinal Sen is perhaps no longer valid for the majority of our generation here in Calcutta.
During the shooting of Khandhar, I was no longer his favourite actor. Naseeruddin Shah and Pankaj Kapur very justifiably stole that place. I joined the unit briefly as a journalist. But I remember Sen very strongly doing away with the space and menu difference between the Bombay actors and local technicians. He made sure that the shamiana built for the actors be taken down. Everyone had to eat the same food sitting together.
Despite popular notion that Satyajit Ray and Mrinal Sen were rivals, whenever asked to choose his favourite Bengali film, Mrinalda said, "Ray's Aparajito". A close look at Aparajito celebrates the inevitable worldview of "change". Sen's work from his black-and-white relationship dramas like Pratinidhi, to agit prop, new-age, radically non-grammatical Kolkata 71 (labelled as gimmicky by local media) to his introspective, self-analytical, minimalistic Antareen, Sen has been all about "changing".
Sen and his brother-in-law actor Anup Kumar shared the one clean dhoti (in turns) every time their producers arrived simultaneously at their Motilal Nehru home with amazing timing. It was like a Chaplin movie. I have never seen or heard Sen crib about or sentimentalise poverty. An avid Communist who never joined the party but gave space to Naxalites on the run who came to share their crises after watching his Padatik, Sen always had his pocketful of hilarious stories of his otherwise desperately dire early years.
When I joined him in 1980, he scolded me for not being able to dodge speeding cars and cross the road during a shot. He ran and climbed stairs like a leopard in his 60s. He puffed cigarettes like a chimney. He never drank alcohol but loved unconditionally and took utmost care of a severely alcoholic cinematographer.
My doctor friend Abhijit Sarbadhikari (we once listened to Pink Floyd together) once told me that the only way to keep his 90-plus patient Mrinal Sen, with two hip fractures, in check was to scold him. He listened like a child. He grudgingly accepted age, disability, the smell of antiseptic, bed pan. But in between all that he talked about Charlie Chaplin and Wim Wenders in the same breath.
Mrinal Sen was overwhelmed with my Bong Connection at INOX Forum. He hated my Byomkesh at Nandan five years later. Overjoyed by my theatre production of Galileo at Gyan Manch four years later. Just about managed to see the rough cut of Dutta Vs Dutta at the mixing studio, embraced me, cried and then started questioning my politics in the film…
Mrinal Sen never spared me ever.
The one person I never could lie to was Mrinal Sen. I had a huge argument with him regarding my existential beliefs and wrote him a long letter defending Sartre and vehemently denying Karl Marx, risking my career with him. I could do that with a giant 'cause the giant knew that our connection was not just about making moving pictures. Yet, I could storm into his house raving about a gay filmmaker like Apichatpong with Buddhadeb Bhattacharjee sitting there. Such a house is rare. But it is that rare house where we both cry and celebrate Ozu's Tokyo Story, Yilmaz Guney or Michael Haneke.
As a director, what Mrinal Sen taught me was never follow the trend but defy it, break it. Make mistakes but break new grounds. When people found my films wacky, not slick and imperfect, Mrinal Sen hugged me and said: "The rough edges work, Anjan. The sunlight comes through the cracks. Let the cracks be there".
As an actor, Mrinal Sen taught me to just behave
and never ever try to "act". When I won the maiden performance award in Venice in 1981, he behaved as if it was inevitable. There are very few directors in the country who can bring out the best in an actor by allowing him or her to do what they are comfortable with.
During the post-production of the TV series, Kabhi Door Kabhi Paas, he directed for the advertising agency I worked for, we both travelled to Mumbai since digital editing and transfers were not possible in Calcutta. We shared the same room of the hotel for days and chatted till the wee hours of dawn regarding almost everything from politics to pornography. Here was a man I could open my heart to. Share my deepest secrets with. Somehow it is only with Mrinal Sen, I can still cross the boundary of age and experience.
I will always remember my Mrinal Sen as the snow leopard in my crazy Calcutta he called his El Dorado. As a songwriter, Mrinal Sen helped me fall in love with my city Calcutta and celebrate it with all its defects. The poor, lost, struggling middle class and their little stories. With subtle sadness and wit combined. He taught me to tell their stories… the old, crumbling, teeming, inexhaustible Calcutta. He had told some of us, "The day I am gone, kindly sing Salil Chowdhury's O alor pathajatri, e je ratri, ekhane themona…."
The writer has acted in several of Mrinal Sen's films, including Kharij