The nutmeggy fumes of memory
Lives Of Others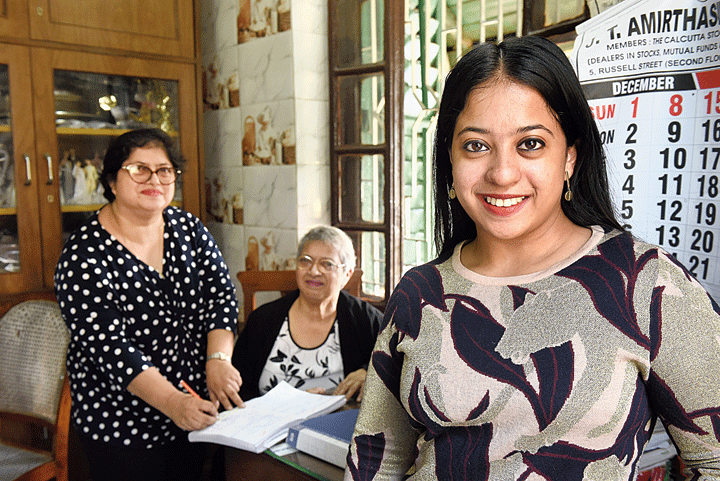 (From left) Debra Alexander, Mona Saldanha, and Alisha Alexander at Saldanha bakery.
Picture by Subhendu Chaki
---
Calcutta
|
Published 08.12.19, 08:07 PM
|
---
Gorgeous food writer Nigella Lawson says that at times women like her do not want to feel like a postmodern, postfeminist, overstretched woman, but rather like a "domestic goddess, trailing nutmeggy fumes of baking pie in our languorous wake".
Not all domestic goddesses may be capable of Nigella's languorous wake. But there is something about all women who come trailing clouds of nutmeggy fumes during or after baking a cake. The cake means memory, childhood and well-being, which is not wellness. Marcel Proust knew this and allowed a madeleine cake to unlock six vast volumes of remembrance within his mind. Women who can bake like this are all goddesses — and sometimes brilliant working women as well, postfeminist or not.
The few men who can compare are most welcome.
Three brisk women guard the secrets of Saldanha bakery, their workplace and their home. The bakery could remind one of the bustle of the kitchen downstairs in Proust. A city landmark, Saldanha is located on Nawab Abdur Rahman Street, a short walk from Rafi Ahmed Kidwai Road, past the old dignified building of Pentecostal Mission Church with its tall spires.
The bakery, two lanes away from the church, is a simple, colonial building painted the same yellow as the church and its gates are the same green as the church windows. The two structures are both bits of an old, cosmopolitan Calcutta that is rapidly disappearing.
The gates open into a large garage space. Inside it's all hectic activity. On the right of the garage is the bakery, which has about 20 men working and an oven as big as room. Many, many cakes and loaves of bread tumble out of it every day. During Christmas week, the queue of customers spills over into the street.
A few steps lead to the office-cum-sales counter at the upper level, also very busy. The space is chock-a-block with tables and chairs. A table at the entrance is laden with the goodies that the bakery is famous for: brownies, lemon drops, lemon tarts, chicken patties, cheese puffs, almond cake slices (aah, the almond cake slices) with some recent additions such as the cupcake, at very reasonable prices. The table is the sales counter.
This place is not bothered about contemporary patisserie décor. The adjacent room seems to be filled with cakes and puffs. The whole place is also filled with good cheer.
Every customer is greeted warmly in, made to sit and shown the cakes. No one is sent away without a conversation.
The three ladies who run the show are seated inside, side by side. They are three generations of the Saldanha family: Mona Saldanha, 78, Debra Alexander, 52, and Alisha Alexander, 25. Debra is Mona's daughter, and Alisha, Debra's. Between them, they represent the three ages of pastry in the city, which roughly coincide with a few stages in the life of the city.
The bakery was set up in 1930 by Mona's mother-in-law Ubelina Saldanha, an exceptionally gifted entrepreneur. She started the business as she was settling into Calcutta's Goan and Christian community as the young bride of Ignatius Saldanha. The Saldanhas have their roots in Salegaon, Goa.
Mona is facing a photograph of Ubelina and Ignatius high up on the wall facing her. The photograph, a classical composition of the young wife in a white gown seated on the right and the husband in a black suit standing grandly on the left, kind of reflects the cupboard behind Mona, stuffed with wedding cake decorations, mostly dainty couple dolls. Saldanha's wedding cakes are renowned. The best decorations are imported.
"Those were the days of the boxmen," recalls Mona, her bright and pretty face breaking into a smile. When Ubelina started the business, about 20 to 30 men would go out from the bakery every day, starting from dawn, carrying black boxes with Saldanha written in white on them on their heads. "They would go from Howrah to Alipore, all over the city." The making of cakes would start as early as 2am.
The city loved the Saldanha boxes: they carried Sunlight biscuits, which came with a sugar glaze at the centre, lemon tarts, cream rolls and Baba cakes, named so because the children liked them. The cupcake was just a muffin then.
From 1964, when Mona married Denzil, she joined the business. She would also be woken up often at 2am, starting the baking with her mother-in-law and sister-in-law. But she was already armed with the knowledge of making sweet Goan delicacies like alle belle, bolinhas or doce.
An unusual event proved fortunate for the bakery: the entry of a man into this world of matriarchs in the seventies. Denzil, Mona's husband and Ubelina's son, joined the bakery. A chartered account by training, he left his profession to take up his mother's business. He was a pillar of the Goan and Christian communities in the city. He passed away in September this year.
At this point, Mona seems tired. She is recovering from a severe illness. Debra takes over.
"This is the first Christmas without my father," says Debra, a bustling, robust woman who keeps managing the workers even as she speaks. "He was a stalwart." Like the women, he was absolutely hands-on too. He developed Saldanah into a modern bakery.
"Not by changing it, but by improving everything," says Debra. The bakery grew in reputation. Its walnut cake grew in stature. It had a solid following in the city's Goan and Christian communities. Those communities have dwindled, but not Saldanha's business.
"My father would always be seated here. He would speak to everyone," says Debra. "Food, you see, is central to a Goan family. And it is shared. Anyone comes to our homes always joins the table," she adds. She mentions the word largesse.
So when her parents grew old, Debra did what her father had: she left her profession, banking, and joined the baking business in 2013.
She, too, trained herself thoroughly. She personally supervises buying the ingredients every day. "Everything is freshly bought, every day," she says with pride.
She did her bit for the bakery by introducing a new line of savouries: chicken envelope, quiche, sandwiches. "By that time Indians had begun to travel. Our palates had opened up."
And then, after the recent cupcake revolution, Saldanha felt that it needed to update itself again. So Alisha, a smiling, pretty girl, joined the bakery formally, though she had grown up here. She trained at Le Cordon Bleu, London, two years ago. With her in the team, along with the old cream rolls, Saldanha now dishes out everything that a state-of-the-art bakery in town does — doughnuts, cupcakes and photo cakes.
The Saldanha menu reads like the march of time: jam roll, lemon roll, custard roll, profiterole, nutty tart, jam cookies, French macaroons, double mousse cake, crème brulee.
"I was inspired by my grandfather," says Alisha. "Business has always been good. We have to keep up with the times," says Debra.
As if by magic, a plate appears by my side, heaped with a lemon drop, cheese puffs and a soft, dark brownie.