The last of darkroom magicians
Read more below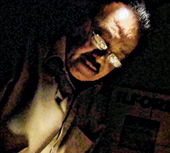 ---
Published 06.01.11, 12:00 AM
|
---
Bikash Bose at work in his darkroom. (Arka Das)
Nemai Ghosh, Swapan Nayak, Sunil Dutta, Achintya Bhadra, the odd Raghu Rai — black-and-white photographs shot by stalwarts adorn the tiny space of a drawing room at Bikash Bose's studio-cum-residence, in a bylane off Ashwini Dutta Road in south Calcutta.
There's Pandit Ravi Shankar's portrait from a mid-70s concert shot by Bijoy Chowdhury, the sitar maestro with Ustad Zakir Hussain shot by Satyaki Ghosh, Usha Ganguly's silhouette photographed by Nemai Ghosh during her performance in the play Rudaali, a still from Ganashatru with Satyajit Ray directing Soumitra Chattopadhyay and Ruma Guhathakurta, shot by Ghosh again.
For the past four decades, Bose has been the go-to developer/printer for not just stalwarts, but anyone shooting black-and-white photographs on film. As 2011 rings in, he remains the lone practitioner of his craft in the city, facing an uncertain future at age 58.
Photography on black-and-white film has turned into an expensive proposition, with the price of chemicals necessary for development and film skyrocketing over the past few years. Black-and-white film itself is rare and comes with a steep price tag.
Bose has been left with no choice but to prepare the chemicals himself for developing photographs.
The supply of paper from Ilford Photo of the UK has almost stopped; a Pondicherry-based firm's "low grade" product is what one has to rely on to print a photograph, with "unsatisfactory results", feels Bose. Blame it all on the steadily rising price of silver.
Silver bromide is the base compound necessary to manufacture black-and-white film. It is used in the development of negatives and is a key ingredient in the paper used to print black-and-white photographs. "With silver prices shooting up over the past five years, the chemical has become increasingly expensive, with a domino effect on black-and-white photography as a whole," Bose says.
"In any case, there are a handful of people in India who shoot on film these days, whether in colour or black-and-white. My primary work now comprises developing archival material for a few organisations and foreign photographers who come to Calcutta to document the city."
Much of his business has been affected by the digital revolution since 2005, which raise the question: why not move on and switch to printing digital photos? "I'd rather retire than develop and print digitally shot photographs," Bose shoots straight.
"I have spent 40 years of my life on developing black-and-white film. It involves a physical process and an eye for detail, among other things. At this point, I could say that I have achieved a certain level of perfection in this craft. I am not giving that up to switch to so-called 'photography' that gets done at the click of a button and then manipulated by a thousand tools on a computer."
Bose, who grew up in Shyamnagar in North 24-Parganas, started working at a photography studio at Ranaghat after his school final examination in 1967 because "there was no money to study further".
After Ranaghat, Bose had a decade-long stint with Calcutta Photo before setting up a studio, Photo Hobby Centre, with partner Kanu Das in Dhakuria.
In 1996, he set up his own space — unnamed — at the Ashwini Dutta Road address.
At one point, he was flooded with thesis photographs by students of various universities.
"I enjoyed the work as it needed serious detailing." He works closely with the Centre for Studies in Social Science.