The dwindling Chinese community of Calcutta
Thomas Chen's experience is indicative of the loosening embrace of the Chinese people of Calcutta and their adopted home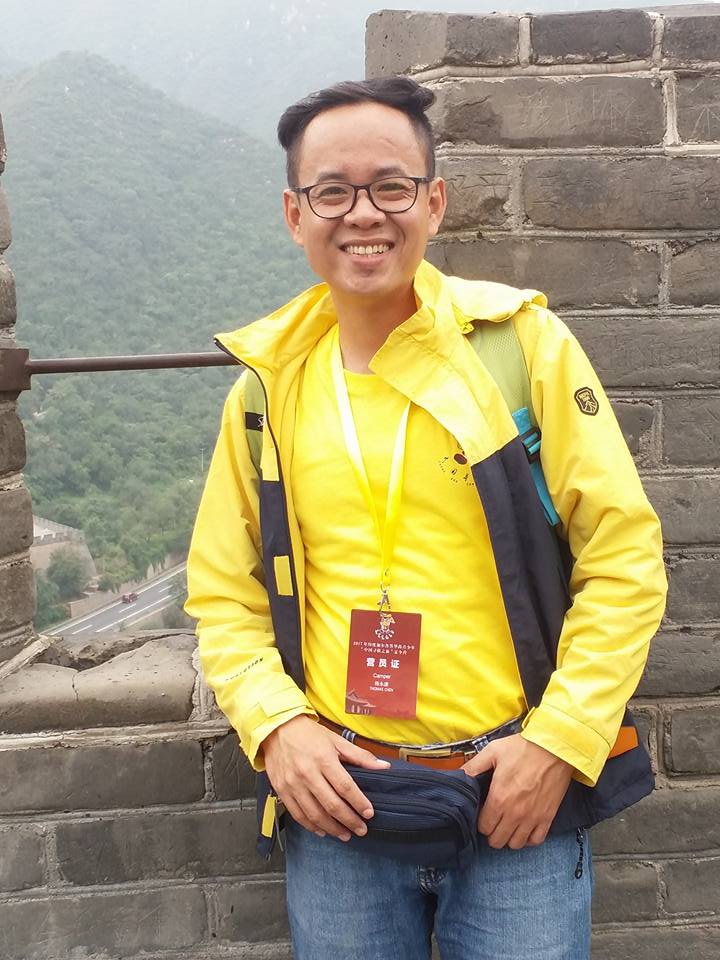 ---
---
If it hadn't been for the Cheenapara song, I wouldn't have heard of him. Thomas Chen has written, composed and sung the song that is part of a larger initiative launched by The Community Art Project to preserve and celebrate the Chinese heritage of Calcutta.
The song in itself is a serenade to the sui mai, sui bao, toufu kok — delectables from the breakfast menu of Tiretti Bazaar or the Chinese market in central Calcutta. For those who don't know, for the last 50 years on Sunday mornings the local Chinese community has been putting out a special breakfast spread here for anyone who cares to stop by. The song goes: "Come on, come on, wake up! Don't you wanna go/Adda, friendship, bonding, all we wanna show..."
The mee kou ban, a sweet snack, is off the menu now, says Chen, disappointment apparent in his voice. "The vendor has stopped making it because he is old. It is a great loss. I can't tell you how delicious it was. That dish is now gone. And that is why the song Cheenapara is so important. We have to preserve this. What if other vendors stop making the other things? The beauty of this breakfast spread will be gone," he continues.
The Chinese in Calcutta are dwindling in number. There are 2,000 to 2,500 of them in the city today. Half a century ago the number was double that. Half a century on will there be any Chinese left in this city? "There's a high chance they might vanish," says Chen. "Which is why the community needs nurturing, opportunities and encouragement," he adds.
The 43-year-old Bowbazar resident holds a day job as a quality control engineer at a firm in Dalhousie that manufactures couplings — a machine part. But beyond this he has another identity. He is a sort of cultural mascot for the Calcutta Chinese.
Chen has been singing for 12 years now and is most likely the only Mandarin singer the city has. He can also sing in Cantonese, English, Hindi, Bengali and Nepali, and plays the piano as well. He is the joint secretary of the Indian Chinese Association; he is a choirmaster at St. Francis Xavier's Church, Bowbazar; and he is part of almost every Chinese celebration in the city — Chinese New Year, Mid-Autumn Festival, Dragon Boat Festival. He has participated in more than one Bengali reality TV show and has even done a bit role in a Bollywood movie — the Salman Khan-starrer, Tubelight, wherein he played a Chinese soldier posted at the India-China border interrogating an Indian. In 2018, when Santiniketan's Cheena Bhavana, the centre of Sino-Indian cultural studies, completed 100 years, he sang Tagore's Aami chini go chini tomare.
Chen's paternal grandfather was from Sihui in the Guangdong province of China. Post World War II, he fell in love and married a Malaysian Chinese, and the couple chose to raise a family in Calcutta. Says Chen, "I don't know why, but this is all I have heard about them. He passed away before I was born." Later, however, he thinks aloud, "Calcutta, during the British period, was a very stable city to live in. It had opportunities and was the centre of everything financial to cultural." Nevertheless, from Sihui to Tiretti is a long trek.
Chen's maternal grandmother was a Lepcha, his maternal grandfather was a Chinese and the two lived in Jalpaiguri in north Bengal. Chen says, "During the 1962 Sino-Indian War, my mother, uncle and grandfather were taken to the Deoli camp in Rajasthan. My mother tells me that many Chinese families were moved there. The government said it was for their protection, but well..." He pauses, takes off his glasses, wipes the slight sweat on his forehead and continues, "All the houses were seized by the government and even after the people were released post the war, they were not allowed to go back to their homes. That is how they came to Calcutta."
Those days there were many small Chinese clubs in Calcutta set up by previous waves of Chinese immigrants. The clubs took their names from provinces in China; so there was a Nam Soon, a Sea Ip, a Yee Hing. Chen belongs to the Voi Ling. He says, "People took shelter in whichever club they belonged to. Many members of the same club got married to each other. That is how my parents met and got married." He talks about the ghetto culture of previous generations. How they were orthodox, not very well-educated and preferred to keep to their own community. Says Chen, "But now people are opening up — perhaps because there is no community. They have no choice but to mingle with others."
Chen was born and brought up in Tiretti Bazaar — Calcutta's old Chinatown — among Chinese neighbours, eating Chinese food and celebrating Chinese festivals. His father was a chef at central Calcutta's Chung Wah and his mother, a housewife.
An Eighties kid, from the sound of it, Chen's childhood was teeming with mixed flavours. There were the Bollywood golds playing on the radio. He says, "My mother is very fond of music. Every evening, while cooking, she would play songs on the radio and listen to Ameen Sayani's Geetmala and Aapki Farmayish." Going to school in central Calcutta meant having friends from all kinds of backgrounds and faiths. It also meant having Bengali as one's second language. At home, the Chens spoke Cantonese, ate Indian Chinese and enjoyed the paayesh and rosogolla.
Chen lost his father when he was seven. He and his two older sisters were raised by their mother. The two girls started working in beauty parlours when they were in their early teens. Chen too had to drop out of school after Class X. Most Chinese youth at the time either opted for a career in the family or traditional businesses — dentistry, running a dry-cleaner's, a beauty parlour or a Chinese eatery — or emigrated to Canada or Australia.
Chen chose a path less taken. He says, "I did my diploma in mechanical engineering. By the time I was 19, I was working as a supervisor in a factory that wrapped teabags. No college life, no having fun, my life was just about going to work and back."
It is obvious from his tellings that in his avatar as a professional, Chen did not always mingle with the greater workforce. Recounting his stint with a factory in Howrah, he says, "Initially they were a little hesitant to talk to me, because I don't look like an Indian, I look Chinese. I would hear them say, 'Eyi chhele ta ke? Ki kotha bolbo or shonge?'." His Bengali enunciation is perfect, his intonation natural.
Chen shares an anecdote. It seems one day, a colleague approached him and confided that he had avoided talking to Chen because he didn't know what language to converse in. So what changed his mind? He told Chen that after working with him for all these days he had figured that Chen was exactly like them. "I was reassured that they had accepted me the way I am," he says. And then he and the others started to call Thomas Chen, Tapas Sen.
From what Chen says, for a lot of Chinese of his generation and even those younger, there is a continuing identity fight, if not a crisis. He talks about how people from his own community would frown upon his broken Mandarin. Chen learnt Mandarin very late in life. "They would tell me I am an Indian, not a Chinese. But for me it has always been clear — I am an Indian Chinese. Born Indian but my roots are in China," he says.
Chen says his eight-year-old son too is experiencing all of that and gets disheartened once in a while. He adds, "Everyone at school calls him the Chinese boy. I tell him not to be insecure. There was no one to comfort me, I am glad I am there for him."
Two years ago, Chen visited the land of his forefathers for the first time as part of an Indian-Chinese delegation. He went to Beijing, Meizhou and Guangzhou, and did all the touristy things from stopping at the Tiananmen Square to having a bite of the Peking Duck to posing at The Great Wall.
Did he feel at home or did he feel out of place, I ask. He replies, "It was a mixture of so many emotions — remorse, anxiety, excitement, happiness and finally, contentment."