The couple who keep the talk going about films
Lives of Others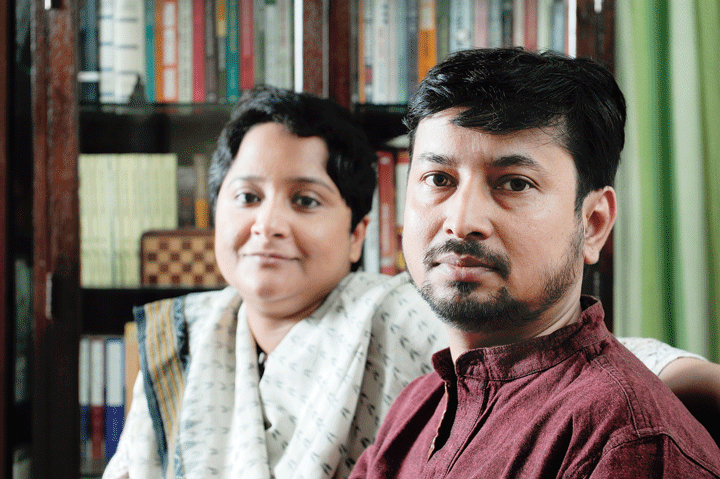 ---
|
Calcutta
|
Published 10.11.19, 09:09 PM
---
This couple from the city combines cinema with politics to relentlessly push the agenda of free thought. Kasturi Basu and Dwaipayan Banerjee are also married to each other.
Kasturi, 38, and Dwaipayan, 38, are two of the founding members of People's Film Collective, an independent, people-funded body that screens films every month in the city, alongside conversations. The two identify completely with the collective, which stubbornly chooses films to keep the talk going about what matters: the role of the state and religion, or the violence that can be sponsored by these forces, even as the conspiracy of silence grows around us.
The collective was born when a group of activists from the city, which included Kasturi and Dwaipayan, was struck again by the power of the moving image during a screening of films on the premises of a closed mill.
On May 25, 2013, the group had organised a film show at Gouripur Jute Mill in Naihati, about 35km from Calcutta, with help from a worker's platform at the mill, which had been closed since 1997. The workers were living — as they still are — in great poverty. Most of them are yet to be paid their dues.
Dwaipayan had been a full-time trade union activist previously, working with a leftist trade union. Before that, he had joined the Singur and Nandigram protests in 2006-2007 as a student activist. Kasturi had been teaching physics part-time at St Xavier's College, Calcutta.
They consider themselves a part of the "social left", by which they mean that their actions and interventions are mostly focussed on the cultural and social spheres of people's lives. They are influenced by the political theory of Marxists like Antonio Gramsci and the political practice of labour leader Shankar Guha Niyogi.
But they always had a keen interest in cinema and politics, and in cinema as a political medium. The Third Cinema movement in Latin America and the Odessa Movies experiment by John Abraham and his friends in Kerala had inspired them deeply.
The independent documentary film interests them most.
On that May day at Gouripur Jute Mill, two films were being screened. Occupation: Mill Worker by Anand Patwardhan and Gadi Lohardanga Mail, a film about a train that ran on a narrow-gauge line between Ranchi and Lohardanga for years before it was taken off to make room for broad gauge. The train evoked memories and drew a strong emotional response from the audience.
About 300 people had turned up. The crowd of workers, their families, including their children, sat through the films for hours.
They spoke, they reacted; they loved being a part of the screening. "We realised that the image can be a beautiful medium for conversation," says Kasturi.
People's Film Collective was formed in 2013. It now has about 35 members, including Kasturi and Dwaipayan, who are residents of Patuli. The group maintains an equal distance from both the state and the market.
"From the very start, we had decided not to take funding from any corporate organisation," says Dwaipayan, who is a research fellow working on his PhD on contemporary labour history at the Centre for Studies in Social Sciences. Kasturi is an independent researcher.
The collective does not accept institutional grants, donations or sponsorships, from the government, corporate or NGO sources. It runs on donations from individuals, the only source of funds.
Its finances, therefore, are "forever precarious". And yet it manages not only the monthly screening, but also hosts the annual Kolkata People's Film Festival in January.
The monthly screenings have been uninterrupted since July 2015. The annual festival, too. The first festival was held in Dr Triguna Sen Auditorium at Jadavpur University.
Once the collective felt that the owners of the establishment were not comfortable with the films being shown.
In 2015, Dalit student-activist from University of Hyderabad Rohith Vemula got in touch with them to ask for a CD of Muzaffarnagar Baaqi Hai, a documentary on the 2013 anti-Muslim riots in western Uttar Pradesh. In January 2016, during the Kolkata People's Film Festival days, the news of Vemula's suicide captured the nation's headlines.
Talking about Towards a People's Cinema: Independent Documentary and its Audience in India, a collection of writings by documentary filmmakers from the country edited by Kasturi and Dwaipayan, the two credit the independent documentary as having the radical potential of challenging and disrupting the status quo. They also claim it is far more exciting than its more glamourous sibling, the feature film.
"Some wonderful films are being made now," says Dwaipayan.
In September this year, a month after the abrogation of Article 370, the collective had shown Soz: A Ballad of Melodies, a film that explores Kashmir's culture of protest through art, music and writing.
This Sunday, at Sujata Sadan, the film screened was An Engineered Dream, directed by Hemant Gaba. It explores the huge coaching-centre business in Kota in Rajasthan, by following four IIT-JEE aspirants.
The film festival had started as a curated one but has grown into a much bigger, open event. "This year, we have received 3,050 submissions," says Kasturi. Last year, the number was 1,620.
This year, writer Arundhati Roy will attend the festival. "Social media has its limits. The festival or screenings are the space where we all meet, physically," says Kasturi.
Kasturi and Dwaipayan are also part of the People's Film Collective's sister organisation, People's Study Circle, a study group.
"Most of the work we do is simply not possible without us becoming part of a collective. Like those of the film collective and the study circle," says Kasturi.
Formed in 2017 in response to "the rise of fascism" in the country, the group holds regular discussions and brings out slim publications, on socially and politically relevant concerns, usually in Bengali, and written and priced in such a way that it can be read by everyone.
A book does not cost more than Rs 25 and is available in local trains. The last publication was on NRC.
"We push the sale of our books. You may see one of our colleagues selling our books in a train on his way to work to a district town and back," says Kasturi.
Pratirodher Cinema (The Cinema of Resistance), a journal brought out by the People's Film Collective, is written in Bengali, as the collective feels important discussions, whether about politics, or about film, have to be held in Bengali.
Kasturi and Dwaipayan have also made two documentary films. The first was on Saroj Dutta, a political journalist and a Communist poet who disappeared during the Naxalite movement. The film claims his death was a savage instance of state-sponsored violence.
Their latest film, almost complete, titled A Bid for Bengal, explores how the forces of Hindutva are slowly, but inexorably and invisibly, penetrating the social and cultural life of Bengal as part of a brilliantly organised campaign. The film travels to many unusual places, including an RSS IT cell.
The propaganda emerging from it is astounding, of course. "Lyrics of songs that will be played on a particular occasion are also decided from before. Recently the songs during a festival in Burrabazar were full of references to 'Narendra Modi' and 'surgical strikes'," says Kasturi.
In such circumstances, it is easy to despair. But Kasturi and Dwaipayan are part of yet another collective: a Facebook group called Open A Door that brings together house-owners in the city who will let out their properties without discrimination on the grounds of caste, gender, religion and marital status.