Tender for Calcutta flyover demolition
A portion of the Vivekananda Road flyover had collapsed in March 2016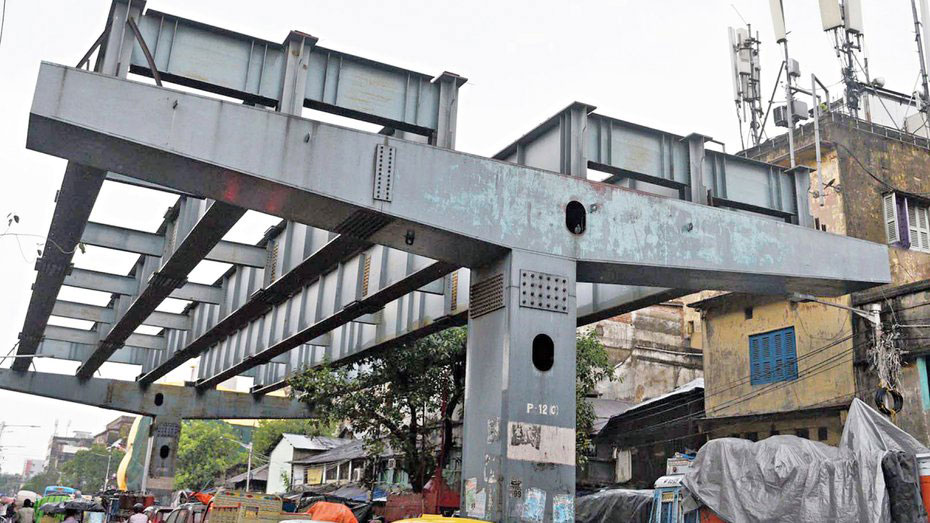 Portions of the Vivekananda Road flyover such as the one in the picture will be pulled down
Picture by Gautam Bose
---
Calcutta
|
Published 17.07.19, 08:59 PM
|
---
The government has floated a tender to dismantle the vulnerable portions of the Vivekananda Road flyover, a portion of which had collapsed in March 2016.
The government is yet to decide whether the rest of the structure will be pulled down or allowed to stand to facilitate reconstruction of the flyover.
Officials said another tender would be floated to assess the health of the rest of the structure.
An engineer of the Calcutta Metropolitan Development Authority, the custodian of the flyover, said the steel structures that did not have any concrete above them would be taken down. The piers and the pier caps will be untouched.
"Only those portions identified as vulnerable by the bridge advisory committee will be pulled down," said a CMDA official.
The urban development department had formed the committee, comprising engineers and academics, following the collapse of the Majerhat bridge in September.
The committee has advised a detailed health assessment of several flyovers and recommended that vulnerable parts of the Vivekananda Road flyover be razed.
The tender says the girders have to be brought down. According to the tender advertisement, the girders that would be removed "were commissioned without the support of bearings and above which no deck slab was cast".
The tender has stipulated that the demolition has to be "completed by two to three weeks' time". The girders that will be pulled down will be kept near Mayo Hospital on Beadon Street.
Bids have to be submitted by July 30 and work could start by the second week of August.
A 41m-long span of the flyover that was under construction had collapsed at the Ganesh Talkies crossing on March 31, 2016, killing 26 people. The structure has remained untouched since as the government is yet to decide on its fate.
Residents of north Calcutta are divided on what to do with the unfinished flyover. While most, especially those who live away from the neighbourhoods through which the incomplete flyover passes, want construction to resume. They stand to gain from it.
Those living under or next it, who would have had to take a detour to get on the flyover, have long protested the construction.
A flyover along the route would benefit thousands of people in north Calcutta and the northern fringes who suffer snarls on their way to Howrah station, The flyover, if completed, will reduce the journey time considerably.
For residents of the Posta and Ganesh Talkies areas, the structure represents a constant threat to their lives.