Teen judoka wins bronze
Poor sight no bar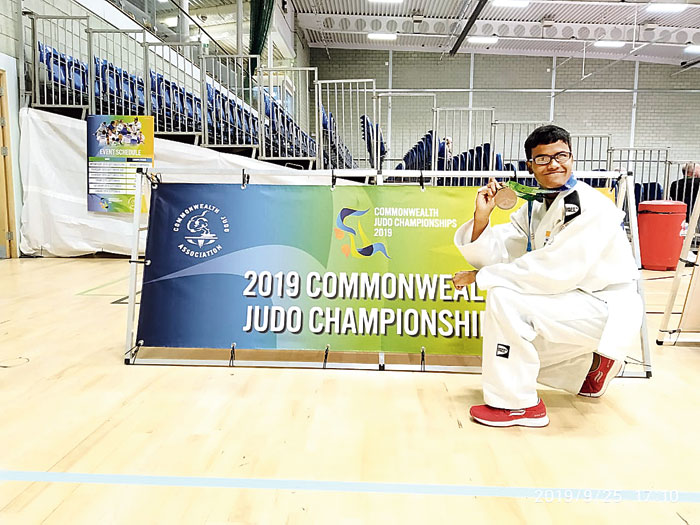 ---
|
Calcutta
|
Published 11.10.19, 08:20 PM
---
Buddhadeb Jana, 19, cannot read the newspaper or see an object beyond 15 metres but he can lift opponents heavier than him and flip them in a flash.
The visually impaired teenager from East Midnapore did just that and won a bronze in the Commonwealth Para Judo Championship in Walsall, Birmingham.
Jana was the sole participant from Bengal in the 20-member Indian team at the tournament, which was held from September 25 to 29 at the University of Wolverhampton Sports Centre.
On September 23, Metro had reported Jana's preparation for the meet, which saw the participation of visually impaired judokas from 19 countries.
Jana took part in the under-60kg category, winning six bouts on the trot before losing in the semi-final to another Indian. On September 27, he won the bout for third place against a Sri Lankan.
He had lifted opponents from South Africa and Albania in the air and pinned them to the ground. But his favourite was against the Lankan because it was "a test of his perseverance".
"The Lankan opponent had pinned me to the ground. It must have been for 4-5 seconds. I just kept telling myself not to give up," Jana, who hails from a village in Khejuri, said. His opponent was disqualified on technical grounds.
A para judo match starts with the referee's clap. Participants hold each other throughout the bout and receive varying degrees of assistance from coaches and referees based on the degree of their impairment.
Jana, a student of Ramakrishna Mission Blind Boys' Academy in Narendrapur, had been sparring with boys with full vision at a judo camp in Andul, Howrah, over the past few weeks.
"My semi-final opponent was a senior pro but in the same weight category. I was crestfallen after the loss. But winning a medal at an international stage feels good."
Jana lost to Kapil Parmar, a judoka from Madhya Pradesh who went on to win the gold in the under-60kg category. The Indian team bagged 19 medals — seven gold, seven silver and five bronze — to top the tally.
"His medal is impressive because the para judo infrastructure in Bengal is not up to the mark," Amit Kumar Chourasiya, joint secretary of the Blind and Para Judo Association of Bengal, said.
A podium finish is not new for Jana, the son of a farmer. A gold medal in the national championships in Gorakhpur, Uttar Pradesh, in January sealed his berth in the Commonwealth Championship. He has won medals in swimming as well.
"But an international medal is different, with the national anthem playing in the background," he said.
Born with limited vision, Jana has had five eye surgeries. He now has less than 40 per cent vision. He joined the Narendrapur academy over a decade ago and took to judo in 2015. "He is disciplined and hard working," Biswajit Ghosh, the principal of the Narendrapur academy, said.