Teen jab camps to meet 48 lakh inoculation target
A recent Union health ministry report has shown that Bengal is at the bottom of the list in vaccinating those in the age category of 15 to 17 years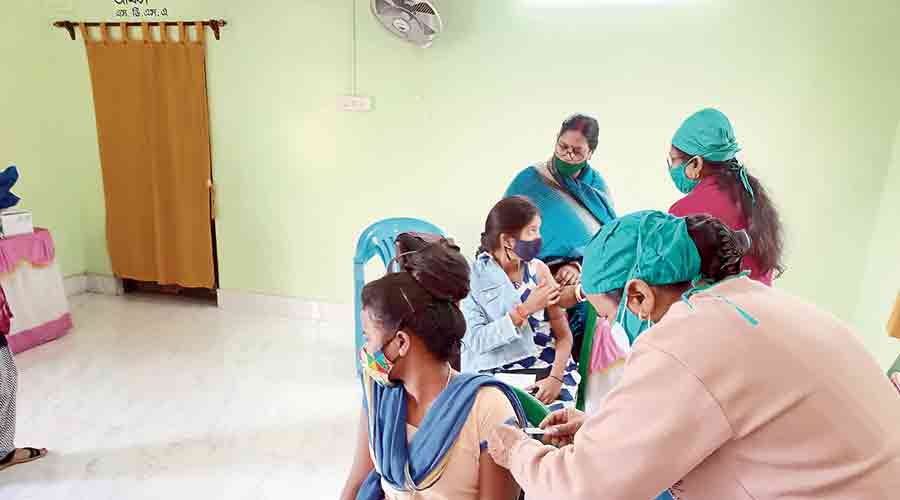 Teenagers being vaccinated at a camp in Bolpur town.
Amaranth Dutta
---
Bolpur(Birbhum)
|
Published 23.01.22, 03:18 AM
|
---
The Bengal government has told the districts to increase the numbers of camps to meet the target of inoculating 48 lakh adolescents with one dose of the Covid vaccine by January 31.
A recent Union health ministry report has shown that Bengal is at the bottom of the list in vaccinating those in the age category of 15 to 17 years.
"Primarily, we had been vaccinating adolescents in schools only. But soon after the drive started in the first week of January, it was hit by the closure of schools owing to the third wave of Covid. We have found that many students are yet to be jabbed and they include dropouts in both rural and urban areas. Camps and other drives will help us to accelerate the vaccination campaign," a senior health department official in Calcutta said.
"Our goal is to vaccinate the target group with the first dose within this month," he added.
Sources in the health department said that around 27.26 lakh adolescents, or 56 per cent of the target group, had been administered the first dose till Friday evening.
Health officials cited three reasons behind the comparatively below par performance in immunising teens — the closure of schools, which were being used as vaccination centres, the large number of dropouts during the pandemic and many students of private schools in other districts missing out on receiving doses at camps in their hometowns.
As per the plan, health officials in the districts have been asked to involve all local bodies, both in rural and urban areas, to track those who have not received the first dose of the vaccine. Those who are yet to get jabbed will be given their first dose at special camps to be held in auditoriums or open areas. The officials have also been told to organise mobile vaccination camps for adolescents in the rural areas.
"A large number of mobile vans have been sent to the villages to vaccinate adolescents as the rate of school dropouts is higher in rural areas. Our officials are also communicating with local gram panchayats and requesting them to trace school dropouts who are yet to receive the first dose," another official said.
In Birbhum, there are around four such vehicles that are visiting villages with vaccines. "We have asked all civic bodies in our district to organise special camps to vaccinate the adolescents," said a health official in East Burdwan.
Civic bodies have told all councillors and members of the boards of administrators to collect names of adolescents in their respective wards and bring these children to the special camps.
"We organised a special camp in our town to vaccinate all adolescents who are yet to receive their first dose. There will be more such camps so that the target can be achieved by January 31. We have also helped private schools in our areas to arrange vaccination camps," said Parna Ghosh, the chairperson of the board of administrators of the Bolpur municipality.
Purulia district magistrate Rahul Majumdar said the administration was increasing the number of vaccination camps, especially for adolescents.
"We have a target of vaccinating 1.52 lakh people in that category. We have already vaccinated 62 per cent of the target population and hope to cover all by January 31," Majumder said.