Teachers' Day special: BL Block lady tutors all classes
Rupa Chakraborty has opened up her home for needy students with the sole intention of providing them quality education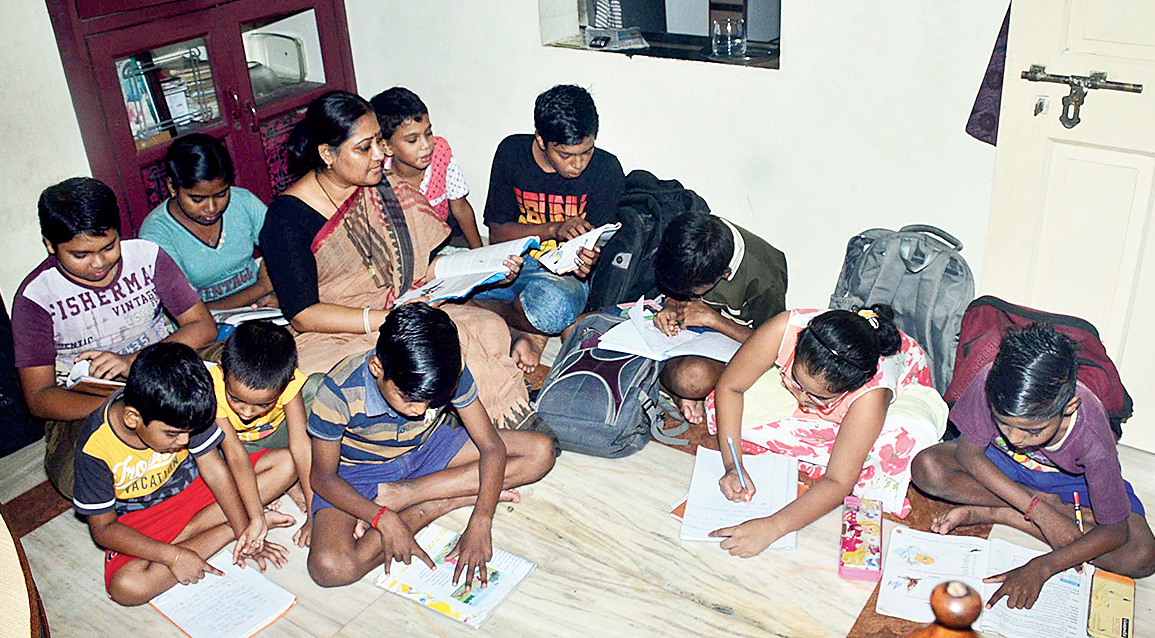 ---
|
Calcutta
|
Published 29.08.19, 07:32 PM
---
The most dedicated teachers need not be teaching at Ivy League institutes. Ask the children of caretakers, rickshaw-pullers and domestic helps in BL Block and they unanimously chorus "Our teacher is the best in the world!"
Their tuition teacher, Rupa Chakraborty, doesn't have a B.Ed degree but she has a home that she has opened up for needy students with the sole intention of providing them quality education. She charges nominal fees, provides them food at times, doubles as a creche whenever their parents need one and is so loving that the kids cannot stay away from her class.
Chakraborty officially teaches from 6.30 to 10 in the evening but her house is never out of bounds to the youngsters. "My mother is going to the doctor so she dropped me off here," said Purba Pal, a four-year-old on Monday afternoon. Her mother is a domestic help. "I'll play here till class starts."
Chakraborty cut an apple for Purba and gave her some home-made goja while she chatted with The Telegraph Salt Lake. "It all started in the 1990s when my help's son was struggling with schoolwork. I asked him to start coming over after school, when I would sit to teach my own son and daughter. Watching him, more needy students started coming," she says.
Students pay as per their capacity — some Rs 100 a month, some Rs 50 … At present Purba is the youngest of 10 students while the oldest are in Class VIII. She teaches up till Class X. "I teach all subjects to primary students but for senior math have asked a friend — Somdev Majumdar — to lend a hand," she says.
Majumdar's regular fee is Rs 1,200 but from the needy kids he charges Rs 250. "I could have waived the fees altogether but then students wouldn't value the class and would drop out," says Majumdar, who is better known as Bibek in the block.
Chakraborty is also on the lookout for someone to give spoken English classes to the kids. "The state of government schools is miserable and the kids need all the help they can get. Those in Class VIII are at the level of Class III students of private schools. They just keep getting promoted whether or not they learn anything," she says.
As her reputation grew, Chakraborty started getting requests from parents of private school-going children to teach their kids too. "While they are welcome, I do not entertain requests to teach their kids separately from the needy kids. And I find it shocking how many parents ask me this."
Suparna Das, a resident of Midland Park Housing Complex in Sector V, is the rare parent from a privileged background who sends her daughter Samriddhi here. "As far as I am concerned, their only identity is that of students. Their family background is irrelevant," Das says. "My daughter loves it here and even when I have work elsewhere I prefer dropping her here to leaving her at a relative's house."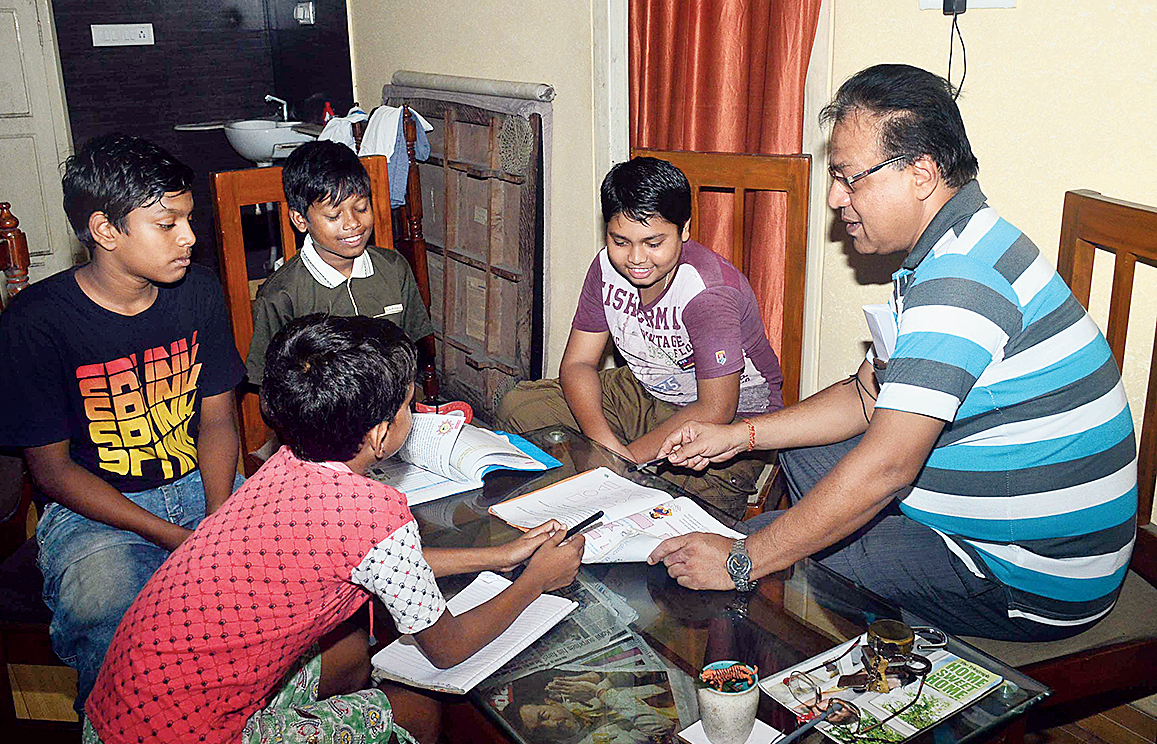 Chakraborty says the kids benefit by lingering around her place. "They live in garages where they don't have space to study. Their semi-literate parents cannot help them with homework, they pick up abuses without knowing their meanings…. If they stay here they learn music, extempore, gardening, meditation, grroming…. We play antakshari and quizes too."
Chakraborty says she would have liked to teach at a school but cannot without a B.Ed degree. "It's all right. It get a lot of satisfaction out of teaching this bunch."
And this bunch shows its appreciation too. "For mamoni's birthday we pooled in money and held a party with cake, cola, chips and balloons," says Joy Mondal, a Class VIII boy who is a self-taught artist. "We shall hold something similar for Teachers' Day."
Chakraborty refuses to take credit for the initiative and thanks her family for their support. "What I'm doing is miniscule in comparison to teachers like Anand Kumar of Super 30 fame. But it can still make a difference," she says. "I appeal to everyone to look around their homes for children who could do with some guidance. Open your heart to them and you'll get much more than you give."