Teachers back Binay, rally on Sunday
Binay-Anit camp is probably looking at reaching out to the 'intellectual' lot to create a new narrative and perspective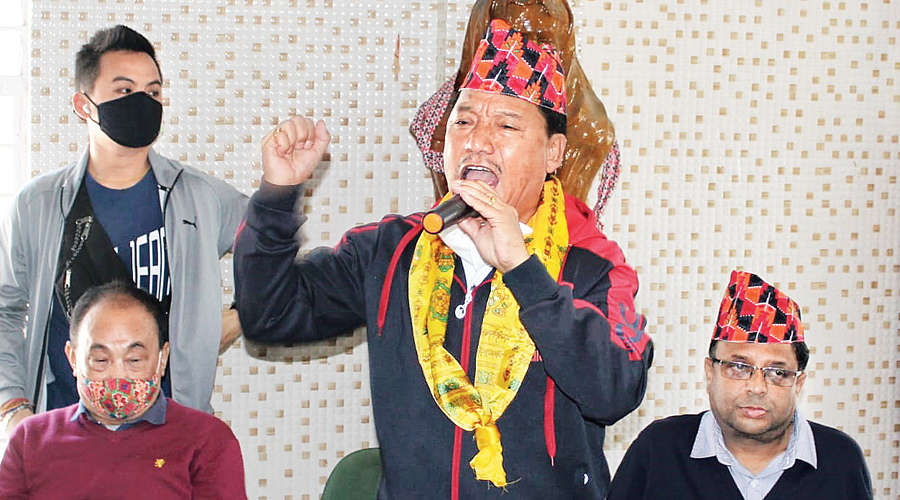 Bimal Gurung speaks in an interaction programme at Pradhannagar in Siliguri on Tuesday.
(Passang Yolmo)
---
Darjeeling
|
Published 06.01.21, 03:03 AM
|
---
A number of teachers' organisations, most of them affiliated to Binay Tamang-Anit Thapa camp of the Gorkha Janmukti Morcha, announced that they would hold a rally and public meeting at the motor stand in Darjeeling on Sunday.
The announcement is significant at a time hill politics is in a flux with Bimal Gurung's faction of the Morcha dumping the BJP and aligning with Trinamul.
Anil Sharma, president of the teachers' outfit Sanjukta Madhyamik Sikshak Sangathan, said it was time for "intellectuals" to give direction in the present political situation.
"Many hill people are in a state of confusion and deliberating who is right and wrong (in hill politics). At this moment, if intellectuals cannot provide the right direction, we suspect that all of us will suffer," said Sharma. "We want to give direction to the confused people of the hills."
Gurung decided to join hands with Trinamul in October 2020 for the Bengal elections. The Binay-Anit camp has been an ally of Trinamul since September 2017. Since Gurung resurfaced in the hills last month, after a gap of more than three-and-half years, each rival Morcha factions is trying to outwit the other, either by holding public meetings or forming new units.
Gurung's party held public meetings in Kurseong, Siliguri, Darjeeling and Sitong so far. The Binay-Anit camp held rallies at the same venues within the next two to three days to assert their presence.
However, the decision to bring teachers on the street seems to be a new strategy.
"Teachers are looked up by society and have a relatively good image. The Binay-Anit camp is probably looking at reaching out to the 'intellectual' lot by bringing teachers on the streets to create a new narrative and perspective," said a hill observer.
Tamang camp spokesperson Keshav Raj Pokhrel, however, said that though some teachers' organisations were affiliated to the faction, the decision to organise the public meeting was not directed by his party leadership. "It is their (teachers') decision. They will probably not use our party flag during the event and may only bring their associations' flags," said Pokhrel.
Sanjukta Madhyamik Sikshak Sangathan president Sharma said through the rally they wanted to send out a message not just to people of the region but also to political parties. "This is because education is also affected by the politics of the region," he said.
Gurung on Tuesday tried to reach out to the Gorkha population of Siliguri. He met people in Pradhannagar area and lambasted the BJP for failing to meet its promises.
He told the media that during his tenure in the GTA, he did not have a proper relationship with chief minister Mamata Banerjee. "But during the past three years, I noticed she keeps her commitments, unlike Prime Minister Narendra Modi. I decided to reach out to people and tell them why they should vote for Trinamul," he said.
State compensation
State tourism minister Gautam Deb and chairman of the board of administrators of GTA Anit Thapa on Tuesday reached Kalimpong to hand over compensation of Rs 2 lakh each provided by the state government to family members of Anita Chhetri,40, and Banita Gurung,46, residents of Chandraloke who died during a stampede at a musical event at Kalimpong on Sunday evening. The two leaders also paid their last respects to the deceased.
Additional reporting by Bireswar Banerjee in Siliguri