Teacher in role of Santa Cause - Martinians help crusader with Mission Textbook for kids
Read more below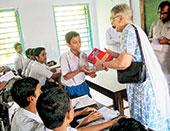 ---
---
Mary Ann Dasgupta distributes English-Bengali dictionaries among students of Nimpith Ashram Boys High School
She is an educationist, she is an author, she is an actress but the hat that 75-year-old Mary Ann Dasgupta chooses to don most often is that of Santa Claus armed with books and tuition fees for children in need. And like Santa, she has an army of elves — including several old Martinians from India and abroad — who makes this possible.
"I wrote an appeal to help educate poor boys and girls in the state and the old boys from La Martiniere responded. What started with loose change collected at gatherings of Martinians on Founder's Day across the world has grown and this year they spent over Rs 2 lakh for text books," said Dasgupta, managing trustee, Sharehouse Charitable Trust.
Dasgupta — who came to Calcutta from America "when Kennedy was President", in 1963, with her husband the late Pranabendu Dasgupta — taught in Modern High School for Girls, Calcutta Girls, Saifee Hall and Mussoorie International School. "I had been teaching privileged children but I always wanted to do something for the underprivileged ones," she said.
Dasgupta's (in picture) dream took its first step when a philanthropist from Germany gave funds to prepare teaching kits, the first batch of which went to Sister Cyril's army of Barefoot Teachers. Unicef got involved and the project expanded.
The trust, set up 20 years ago, primarily contributes to schools, colleges and students in seven villages in South 24-Parganas.
"The textbook project of the Martinians is close to my heart because even in government schools, most students can't afford the books and many drop out," said Dasgupta. The Martinians call it the "Honour Your Teacher" project and for Rs 250, the old boys can buy labels dedicated to a teacher which are then pasted on the books to be distributed among needy students. The initiative was started around two years ago by Martinians Naren Menon and Armen Mesrobian in Australia and Vinoth Kumar in the UK. The money collected from across the world is used to buy textbooks for students from Class VI to the postgraduate level.
"Thanks to them we have given Braille books to the Ramakrishna Mission Blind Boys' Academy, English-to-Bengali dictionaries for students of classes VIII to XII at Nimpith Ashram in the Sunderbans and Oxford dictionaries for the Class XI students of the Calcutta Emmanuel School," said Dasgupta.
Fees for needy students, job-oriented training and even funds for weddings of long-time beneficiaries come out of the trust.
Have you been taught by/ worked with Mary Ann Dasgupta? Tell ttmetro@abpmail.com