Tea official hit over denial of subscription near Chalsa
The youths rained blows the manager and shoved his wife when she got off the vehicle to resist them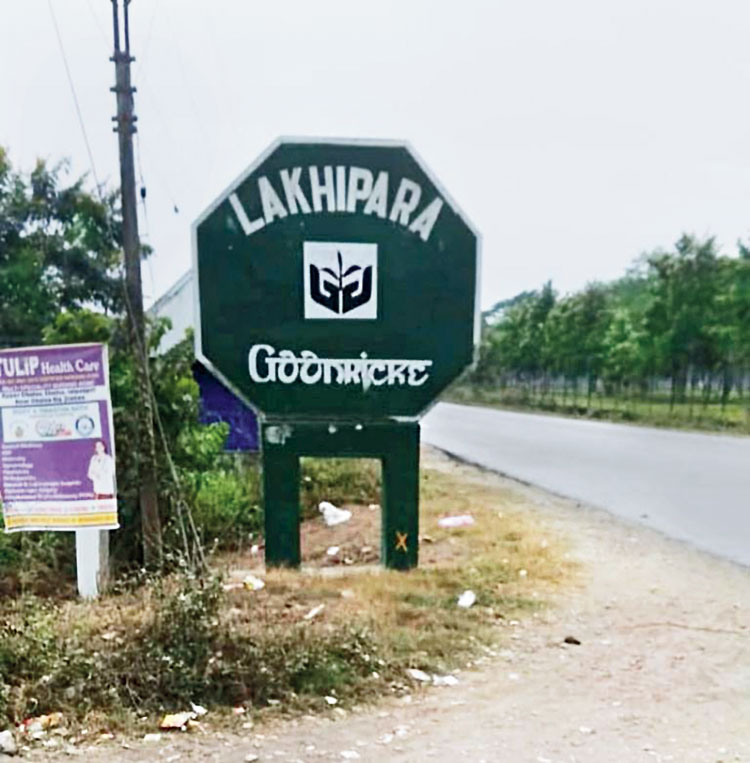 The nameplate of the Lakhipara tea estate.
Picture by Biplab Basak
---
Jalpaiguri
|
Published 02.03.20, 09:04 PM
|
---
A group of youths allegedly assaulted a senior manager of a tea garden owned by the Goodricke Group and ransacked his vehicle near Chalsa in the Dooars on Sunday afternoon when the official refused to pay them subscription for Holi celebration.
Sources said Navneet Kishan, a deputy manager of Lakhipara tea estate, had been returning with his wife after attending a social function at the Chalsa Polo Club on Sunday. Some youths stopped his car on NH31C near Chalsa under Matialli police station of the Jalpaiguri district.
"They asked the garden official to pay them money for organising a puja ahead of Holi. When he refused, the youths raised protests. The deputy manager then tried to drive away but the group hurled bricks and stones at his car and damaged it. As he slammed the brake, they surrounded the car and dragged him out by pulling his collar," said S. Guha Thakurta, secretary, Dooars Branch of Indian Tea Association.
"The youths rained blows on him and shoved his wife when she got off the vehicle to resist them. The couple somehow escaped and reached the garden."
Lakhipara, that is located off NH31C near Banarhat in the western Dooars, is a member garden of the association.
On Monday, officials of the Calcutta-based Goodricke and Guha Thakurta personally submitted written complaints to Jalpaiguri district magistrate Abhishek Tiwary and superintendent of police Abhishek Modi.
"We want the immediate arrest of the attackers. The incident has left the managerial employees of tea gardens worried as they have hardly faced such a situation while travelling in the Dooars," said Guha Thakurta.
Tiwary said the Matialli block administration and the local police had been asked to see that such incidents didn't recur. "Stopping cars and asking for money is illegal," added the DM.