Tea industry stakeholders to seek relaxation in state's order to engage workforce in shift
The government's announcement came as a jolt for the companies and over three lakh workers in the sector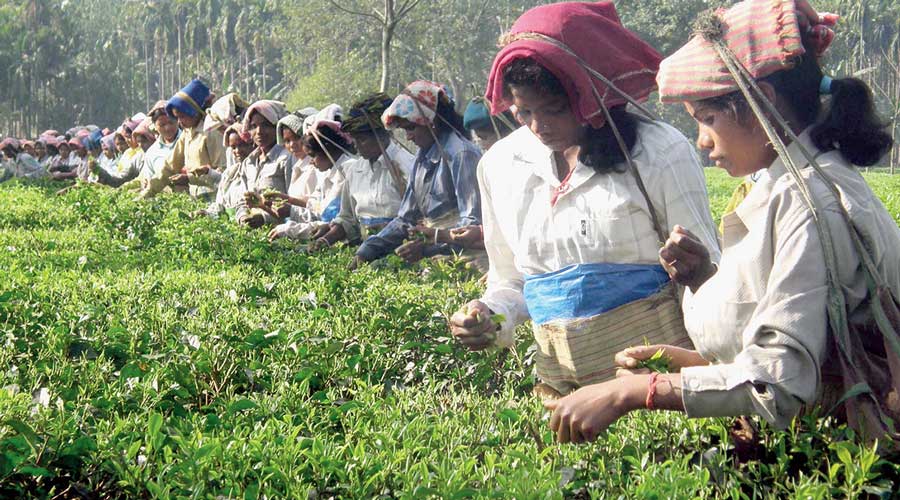 A trade union leader in the Dooars said the curb also halved the income of tea workers.
File photo
---
Siliguri/Alipurduar
|
Published 10.05.21, 12:49 AM
|
---
Tea industry stakeholders on Monday, in a virtual meeting with senior labour department officials, will seek relaxation in the state's order to engage half the usual workforce in a shift.
After chief minister Mamata Banerjee assumed office for the third time recently, she announced that in the tea industry, only 50 per cent of the usual workforce would be allowed to work per shift as a safeguard against crowding amid the pandemic.
The announcement came as a jolt for tea companies and over three lakh workers in the sector.
"Because of this restriction, each tea estate is incurring production loss. From May to August, yield at plantations is higher, so is production. If gardens work with 50 per cent capacity during this crucial time, production will be hit," said Amritangshu Chakraborty, principal adviser to the Indian Tea Planters' Association.
A senior planter in Siliguri said around 65 per cent of the total tea production happens during these months.
"We believe the state government officials will realise that unlike other industries, Covid safety protocols can be easily adhered to in the tea sector (because of large, open gardens). We can maintain social distancing and other safety measures like we did last year. That is why the number of Covid cases are low in the tea sector," he said.
On Monday, a virtual meeting has been scheduled with the principal secretary and other officials of the state labour department, the first such meeting after the Trinamul government returned to power in Bengal for the third time.
Chinmay Dhar, the manager of Majherdabri tea estate on the outskirts of Alipurduar town, spoke on their losses. According to him, at this time of the year, around 1,500 workers usually serve in a shift at plantations and in factories.
"But because of the cap on people, we can engage only 750 workers a day. On the production side, 16,000 to 18,000 kilos of tea leaves are usually plucked and processed daily. But now, we hardly get 8,000 kilos of tea leaves because of fewer workers," said Dhar.
A trade union leader in the Dooars said the curb also halved the income of workers.
"In a garden, wages are distributed after every 12 days. Earlier, a worker got wages for all these days but now that only half of them can be put to work at a time, they are getting six days' wages. In the tea industry, no work, no pay is the usual practice," he said.