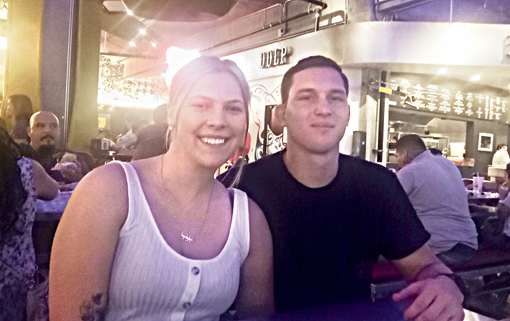 Kirby Tucker and her fiance Dylan Dixon at Food Lab, a food court in Riverside, California.
Sliced eggplant in a chickpea flour batter or the Bengali's very own beguni has turned out to be a hot favourite among residents of California's Riverside.
Serving up the hot and crispy Eggplant Fritters, aka beguni, along with an array of popular Bengali snacks, are a couple from Chandernagore.
Dipti and Shamanno Chakraborty set up shop at Food Lab, a food court around two hours' drive from Los Angeles, in September last year. But they have been serving up Bengali delicacies in this city on the western coast of the US for many years.
"My husband and I love cooking. We started a home delivery business in 2012 but wanted to scale it up. So when we heard about this food court, we took a space," said Dipti, co-owner of Masala Mischief.
On the menu are Eggplant Fritters or Beguni at $5.99 (Rs 431.30) served with Maggi Hot and Sweet Sauce, Indian Egg Roll, Moghlai and samosa. The couple have had to tweak the recipes to suit the taste buds of American customers.
The roll, which is pitched as fusion food, doesn't have onions in the filling. Instead, there is chicken, cream and cheese. "Many people here do not like onions. But cheese and cream are known to them," said Shamanno.
The mughlai parota is not accompanied by the usual serving of spicy potatoes.
But traditional Bengali food like maachher jhol are available on pre-order.
"I wanted to have maachher jhol (fish curry) and told them the night before. They made it for me. They also gave musur dal," said an Indian dining at Food Lab.
Most of the customers are, however, local people with a penchant for trying new cuisines or those who have a liking for Indian food.
Kirby Tucker, 22, and her fiance Dylan Dixon were seen trying Tikka Masala Fry at Masala Mischief on Sunday evening. The base of the Tikka is made of French Fries, topped with cheese and tikka masala. The dressing has tamarind sauce, yogurt, raita, cilantro (dhonepata) and chaat masala.
Dylan, who was in the military earlier, first tasted Indian food when he was posted in Bahrain for seven months. "There are a lot of Mughlai and Indian restaurants in Bahrain. I tried Indian food and loved many of the dishes," said Dylan, an officer in the Covina city police. The menu at the Chakrabortys' counter, Masala Mischief, there. Pictures by Subhajoy Roy
Covina is a city in the Los Angeles county, located about 35km from downtown Los Angeles.
Kirby tasted her first Indian dish on Sunday. "We come to Food Lab quite often. Every time we try something new. So today I felt like trying Indian food," she said, adding that she loved the spicy food.
Shamanno said there were about six Indian food joints in Riverside, a city with a 3.6 lakh population, but his is the only one that serves Calcutta food.
Masala Mischief also claims to offer healthy fare. "Our food is free of gluten, nuts, dairy and tomato because of possible allergies. We add some of these ingredients on request. We also have vegan and vegetarian options," Shamanno said.
The couple's daughter, Surjatapa, 27, is now taking over the reins from her parents. She came to the US after appearing for her Class X board exams from India and completed high school in Riverside before graduating in neuroscience from the University of California, Santa Cruz.
The Chakrabortys had shifted to the US in 2007 as Shamanno's elder brother, who has been living in the US for many years, sponsored them.
"There is a system here where a resident of the US can sponsor someone to come here. My brother had applied for this in 1994 and we got the approval to shift in 2007," Shamanno said.