Tales of hope & despair in Bowbazar
Durga Pituri Lane in Bowbazar was a picture of contrasts on Thursday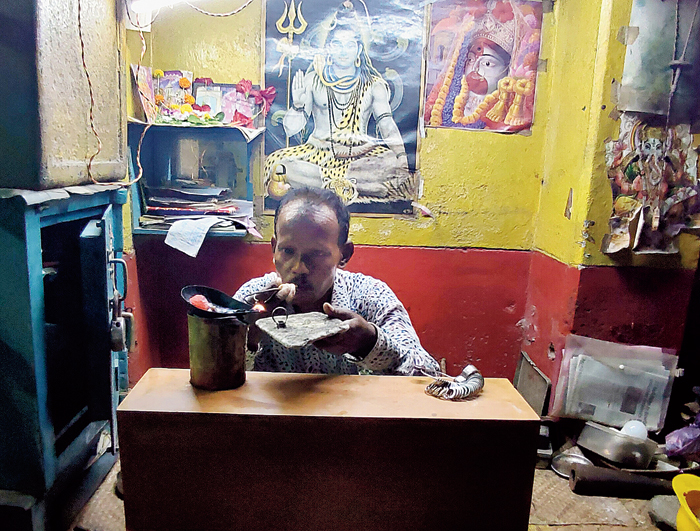 Paritosh Kar in his workshop in Bowbazar's Durga Pituri Lane on Thursday
Picture by Pradip Sanyal
---
Calcutta
|
Published 26.09.19, 08:22 PM
|
---
Durga Pituri Lane in Bowbazar was a picture of contrasts on Thursday.
Paritosh Kar was ecstatic as he stepped into his jewellery workshop after 27 days, while Ananta Das who lived six buildings away in the lane had a forlorn look.
Das is still to get the Metro nod to step into his house, where he stays on rent.
Kar's workshop, spread over 100sq ft, has a small wooden table, a blower, a lamp, and an iron vault. The shop where he designs gold and silver ornaments has been his source of sustenance for four decades, he said. "Two days before Mahalaya it is the best Puja gift I could ask for."
On August 31, a tunnel-boring machine of East-West Metro had hit an aquifer, triggering a subsidence in the Bowbazar area.
East-West Metro will connect Sector V in Salt Lake with Howrah Maidan via a stretch under the Hooghly.
Durga Pituri Lane and Syakrapara Lane were the worst hit with buildings crumbling down or tilting and cracks developing in the walls of almost every house.
Gaur De Lane, which is adjacent to Syakrapara, too, was affected.
At least 688 people from these places had to vacate their homes.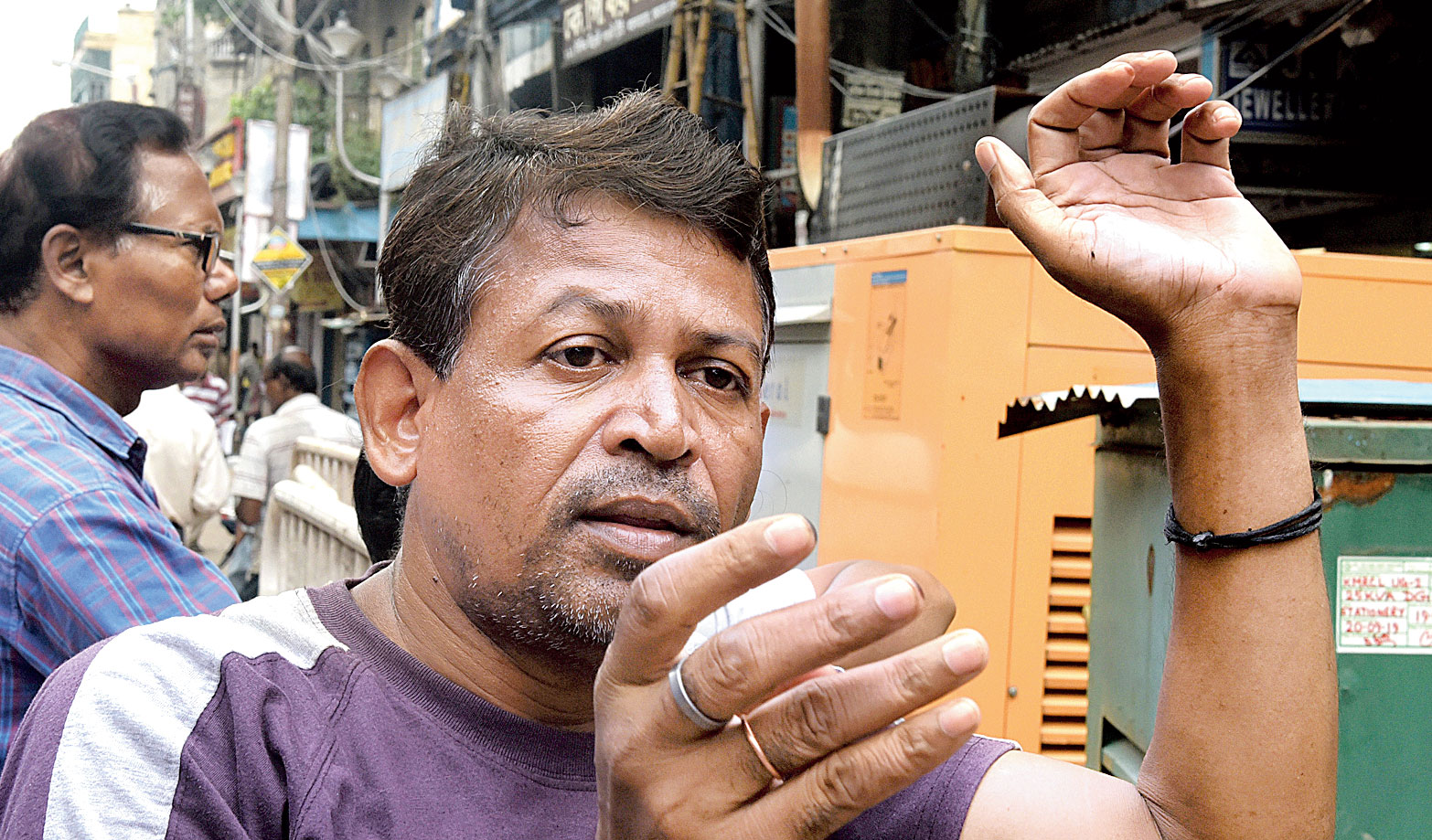 Das said he had been living on the ground floor of a three-storey house for close to three decades with his wife and son.
He left his home on August 31 with one set of clothes and that is how it has been all these weeks, he said. "I am not even sure if I will even get any compensation from Metro."
A day before he and his family had to leave their home, Das said his son Sandip had appeared for a job interview at Park Circus. "They had asked him to return with the original documents. We could not enter our house and he has not got the job."
He said Metro officials had then told him that he would be let in after a day or two. "But a building collapsed and the rubble covered our entrance... it was impossible to enter our home. I wish we had been buried under the rubble."
Kar said there were minor cracks on the wall. "The door is not opening properly. But I'm very happy. Porer din mishti khawabo (Will treat you to sweets the next day)."
In Gaur De Lane, some started cleaning up their homes — discarding junk in a pre-Puja cleaning drive.
The Kolkata Metro Rail Corporation, which is the implementing agency of East-West Metro, moved in a payloader in Syakrapara Lane on Thursday to hasten the process of dismantling a house — the first time since the subsidence.
"Razing down a building has created space, so the payloader could be brought," a KMRC engineer said. "It will speed up clearing of debris."
The KMRC has listed 14 buildings across the three lanes as "fit" for people to live in.
"My house is intact. There have been three inspections. Metro officials said they would inspect it one last time before letting me in," Chandi Dutta, who has a house at 6 Durga Pituri Lane, said.
"But I don't know when that will happen. The Calcutta Municipal Corporation should give us a 'fit certificate' and not the Metro authorities. We pay taxes to the CMC not to the railways."