Sync trial at Phoolbagan Metro station
First underground screen doors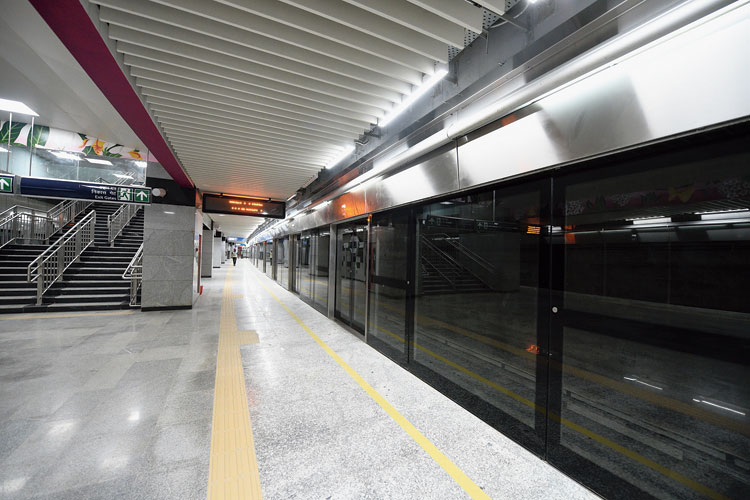 ---
|
Calcutta
|
Published 26.02.20, 08:51 PM
---
Phoolbagan has become the city's first underground Metro station with full-length platform screen doors, from the floor to the ceiling.
The screen doors at Phoolbagan station are around 2.5 metres high and about 140 metres long, stretching from one end of the platform to the other.
Similar screen doors will be set up at all underground stations on the East-West Metro route.
"We have recently completed the installation of screen doors at Phoolbagan station. Now, we are fitting the units at Sealdah station. Next up is Howrah Maidan," a senior official of the Kolkata Metro Rail Corporation (KMRC) said.
Screen doors have also been installed at East-West Metro's overground stations, but they stand around 1.7m tall from the ground, officials said. Each unit is 2m wide.
Trials are on for the screen doors with trains stopping at Phoolbagan station and doors operating in synchronisation, KMRC officials said.
Metro had earlier written how during trials for the first phase of East-West Metro between Sector V and Salt Lake Stadium stations, drivers were finding it difficult to stop the trains in alignment with the screen doors. Those problems have been solved, Metro Railway officials said.
Delhi Metro has long had platform screen doors. Metro platforms in Copenhagen, Sydney and Wenzhou in China, too, have the facility.
Screen doors at stations above the ground are aimed at preventing suicides and accidents, officials said. The ones on underground platforms, however, have an additional function — they prevent cool air from the air-conditioned platforms to escape into the tracks and thus save power.
The Chinese consortium of Zhu Zhou CRRC Times Electric Co Ltd of Hunan and Panasonic Manufacturing (Beijing) Co Ltd has manufactured the electronically operated doors and optimised them for crowded platforms and trains.
A platform screen door unit has three sections. The automatic sliding door is the main compoment with which the train's door is aligned. There is a fixed panel that supports the sliding doors. Next to it is the emergency exit with a horizontal lever.
If the sliding door doesn't open, the train will align its door with the emergency exit so that passengers can pull it open to disembark.
The Metro authorities have submitted to the commissioner of railway safety the application for mandatory safety clearance of the 1.7 km stretch between Salt Lake Stadium and Phoolbagan stations.
Metro Railway general manager Manoj Joshi has conducted an inspection of Phoolbagan station.