Swamiji before CAA for students
PM Narendra Modi thrust disappoints some in audience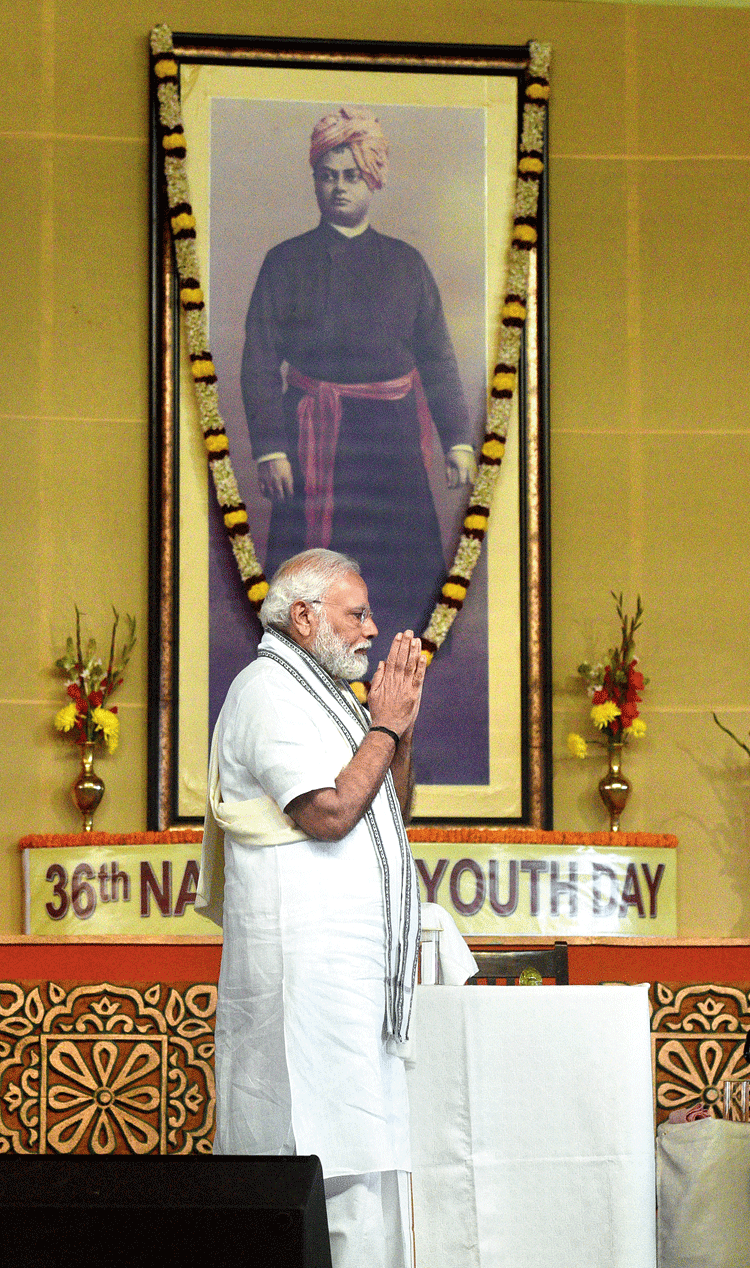 Prime Minister Narendra Modi at a event organised to celebrate Swami Vivekananda's birth anniversary at Belur Math on Sunday.
Pictures by Pradip Sanyal
---
Calcutta
|
Published 12.01.20, 09:00 PM
|
--- Two students of Ramakrishna Mission Vidyamandira who heard the Prime Minister speak at Belur Math on Swami Vivekananda's birthday said they did not want him to harp on the Citizenship (Amendment) Act and attack Pakistan on such an occasion.
Narendra Modi on Sunday spoke on the need to introduce the CAA and said the torture of Hindus in Pakistan justified the need for rolling out the act.
The two undergraduate students said they would have liked Modi to speak more on Swami Vivekananda on his birthday (according to the Gregorian calendar) rather than deliver a political speech.
"I will again say the citizenship act is not intended for snatching citizenship, but for providing citizenship. And the Citizenship (Amendment) Act is just an amendment to that existing act. What is this amendment? We have brought changes to the extent that we have only broadened the scope for granting citizenship of India. This scope has been broadened for those who have been tortured, persecuted because of their religious faith in Pakistan, which was created after Partition," the Prime Minister said in his speech.
The two students, who were part of the 7,000-strong crowd that had assembled on the ground adjacent to Ramakrishna Mandir at Belur Math, said they did not like repeated mentions of the CAA and Pakistan in the speech.
"The first half of his 30-minute speech focussed on the significance of National Youth Day and allied issues. Then he shifted course to the Citizenship (Amendment) Act and repeatedly referred to Pakistan. This sounded out of place on Swami Vivekananda's birthday," one of the students said.
National Youth Day is observed on January 12 to mark the monk's birthday.
"Overall, the speech was good, but it was not clear to me why the Prime Minister veered towards the CAA and Pakistan. Swami Vivekananda's birth anniversary has a different significance. He started the speech on a very pleasant note. But midway he lost his focus," said another student.
Some students, however, said they liked his speech. "He spoke extempore. Some of the issues were political, but he was only trying to sensitise us," said a student.
Another student of the class felt privileged to hear the Prime Minister speak. "There was clarity in what he intended to convey," said the student.
Swami Suvirananda, the general secretary of Ramakrishna Math and Ramakrishna Mission, said the Prime Minister meditated in Vivekananda's room at Belur Math early on Sunday. Modi paid tributes at Ramakrishna Mandir before delivering the speech.
The Prime Minister in his address repeatedly egged the students on with rhetorical questions on CAA and Pakistan. "Friends, after Independence, from venerable Mahatma Gandhi to eminent leaders, all were of the view that India should give citizenship to those being tortured in Pakistan because of their religion. Now I ask you. You tell me. Should we be sending those seeking shelter back to (Pakistan) to die? Should we send them back? Do we have any responsibility or not? Should we give them citizenship or not?" Modi asked the crowd of young people.
The Prime Minister did an encore, egging the students on. "If Modi executes this, will you be with me or not? Won't you be with me? Raise your hands to show you are with me. Raise your hands to prove that you would be with me," he said, till many raised their hands.