Suvendu's Martyrs' Day counter laced with communal overtones
He said goons from 'a particular community' were used to carry out attacks in front of an inactive police and administration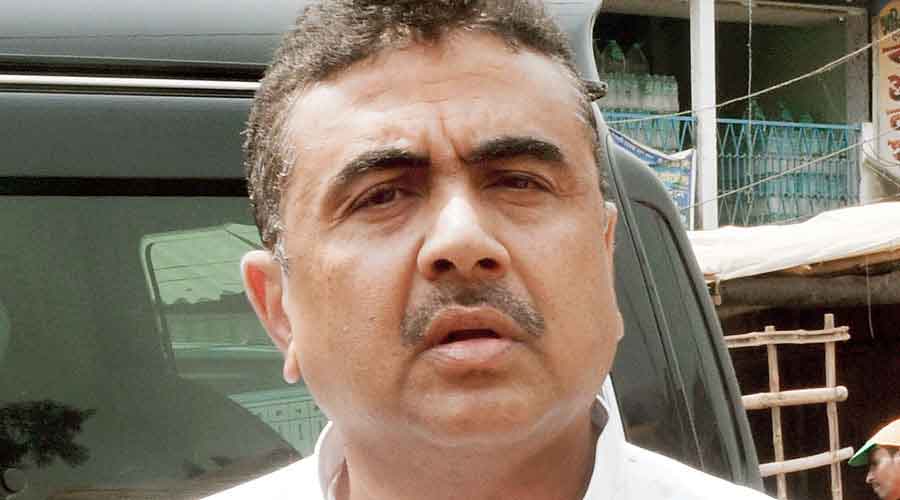 ---
|
Calcutta
|
Published 22.07.21, 01:58 AM
---
Leader of Opposition and BJP MLA Suvendu Adhikari's speech at the saffron party's Shaheed Shraddhanjali on Wednesday, a BJP event planned to counter Trinamul's Martyrs' Day, was peppered with communal overtones that laid bare the party's strategy to stick to divisive politics in Bengal.
"People who believe in the Sanatan (classical religion), who worship tulsi (plant) in their homes and blow conches, who celebrate Durga Puja's Ashtami, who worship Lord Shiva...have been targeted in Bengal after May 2," Suvendu said at the event held at BJP office in Calcutta's Hastings to pay tributes to party supporters who died in the alleged post-poll violence.
Apparently unable to digest the defeat of the Hindutva brigade in the Bengal polls, BJP leaders like Adhikari have been trying to build a communal narrative by suggesting BJP's Hindu supporters were being persecuted by Trinamul's Muslims workers.
Adhikari on Wednesday said goons from "a particular community" were used to carry out attacks in front of an inactive police and administration.
At one point in his speech, Adhikari said Trinamul's coming to power for a third term had been "celebrated in Bangladesh", apparently to hint that Muslim extremists in Bangladesh were ecstatic at Mamata's victory. "We have to stop the attempts to turn Bengal into Bangladesh. We have to save the state from the Rohingyas," Adhikari said.
His speech made it clear that despite the poll drubbing, the BJP would continue to tread the path of communal politics in Bengal.
At a recent state executive committee meeting of the party, the BJP had accepted a political resolution dubbing Trinamul as an anti-Hindu party. However, Adhikari's speech on Wednesday didn't go down well with some in his own party.
Several BJP leaders told The Telegraph that his comments were uncalled for at a sombre event.
"It is true that polarisation did work for us to an extent. The 2.28 crore people who voted for us primarily are Hindus. But today's (Wednesday's) event was not the stage for  a divisive cry," a state BJP leader said.
State BJP chief Ghosh took part in a sit-in demonstration with other party MPs in Delhi. Later, he attended the Calcutta event virtually from the party's Delhi headquarters and said 45 BJP workers died  in the post-poll violence. "The CM is saying all the murders happened before she took oath on May 5. What about the deaths that happened after that?... We have filed around 11,782 complaints," he said.
Criticising the Trinamul supremo's address to her supporters, BJP's Rajya Sabha member Swapan Dasgupta tweeted: "Interesting @MamataOfficial (Mamata) has declared August 16 as "Khela hobe divas". It is the day the Muslim League launched its Direct Action Day & began the Great Calcutta Killings in 1946. In today's West Bengal, "Khela Hobe" has come to symbolise a wave of terror attacks on opponents."
Interesting @MamataOfficial has declared August 16 as "Khela hobe divas". It is the day the Muslim League launched its Direct Action Day & began the Great Calcutta Killings in 1946. In today's West Bengal, "Khela Hobe" has come to symbolise a wave of terror attacks on opponents.

— Swapan Dasgupta (@swapan55) July 21, 2021