Supusti day had just one platter for demonstration, says officer
A resident had been made to sit before the sumptuous platter for a photo op before being shooed away from the govt event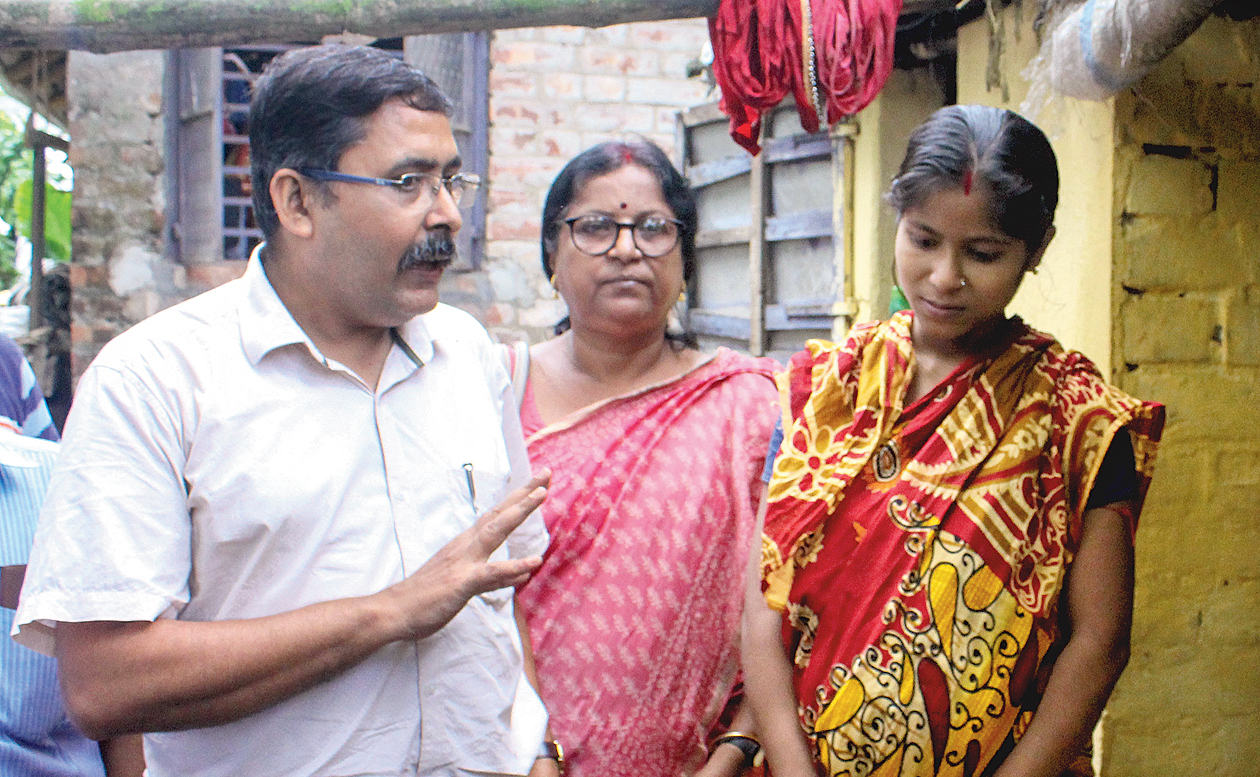 Bhaskar Ghosh (left) speaks to Moumita Sandhukhan at her home in Santipur on Monday.
(Abhi Ghosh)
---
Santipur
|
Published 29.07.19, 08:32 PM
|
---
The project officer of ICDS in Nadia, Bhaskar Ghosh, on Monday said only one sumptuous platter had been prepared for a demonstration before expectant mothers during the launch of the Supusti day in Santipur on Friday.
However, Basana Haldar, the supervisor of the Integrated Child Development Services centre, had said on Sunday that Moumita Sandhukhan and others couldn't be served the platter of the sumptuous food as it had been "affected by flies".
Moumita had been made to sit before the sumptuous platter for a photo op before being shooed away from the government event.
Ghosh told The Telegraph on Monday: "I don't know why they talked about flies. They might have said this out of nervousness. The fact is that they prepared just one platter for display."
The project officer met Moumita at her home in Santipur around 9.30am and apologised to her and her family for the humiliation she had suffered and appealed to her to revisit the ICDS centre.
Moumita said: "An officer came to me and said it was a mistake on the part of the workers who did not tell the mothers that the platter was only for display, which we don't find convincing. We were told that the day (last Friday) will be observed for expectant mothers. In the Bengali society, we have never seen food offered to someone being taken back. Nevertheless, I did not get into any argument with him."
Ghosh later said: "The ICDS workers had cooked complimentary nutritious food for expectant mothers as per the objective of the Supusti day and it was given to them. That food parcel had less items. A platter consisting of food rich in minerals, protein, vitamins and carbohydrate was prepared for demonstration by an ICDS worker. However, unfortunately, she forgot to inform the expectant mothers that the platter was only for demonstration. This caused a misunderstanding."
"I have talked to the woman (Moumita). I hope she has understood our point," Ghosh added.