Supporters of a pro-TMC Congress faction demand cancellation of cultural fest at Cooch Behar palace
The demonstration was withdrawn after district magistrate Pawan Kadyan purportedly assured that the place wouldn't be used for any such event in future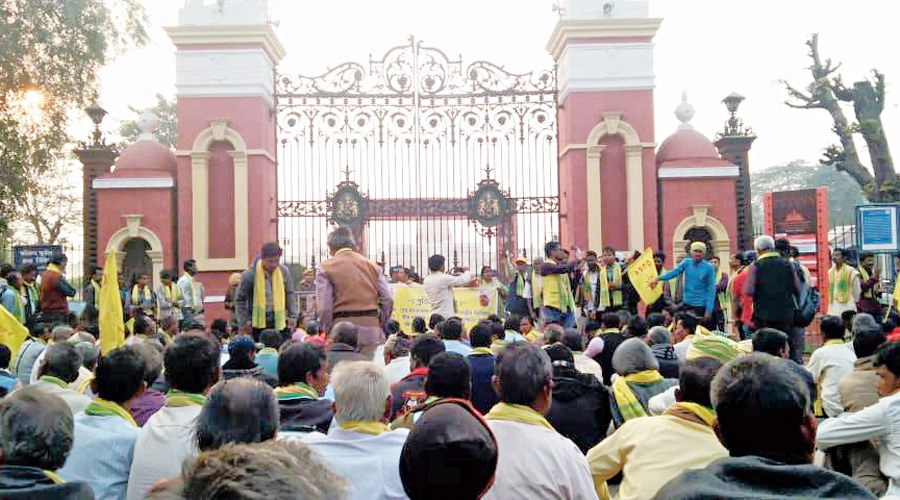 The demonstration in front of the Cooch Behar palace on Saturday.
Main Uddin Chisti
---
Cooch Behar
|
Published 14.02.21, 12:45 AM
|
---
Around 500 supporters of a pro-Trinamul Congress faction in the Greater Cooch Behar People's Association (GCPA) held a demonstration in front of the royal palace of Cooch Behar on Saturday, demanding the cancellation of a three-day cultural fest scheduled to be held there from Sunday.
The fest has been planned by the Union ministry of tourism and culture.
The demonstration by the Bangshibadan Burman faction was withdrawn on Saturday night after Cooch Behar district magistrate Pawan Kadyan purportedly assured the protesters that the palace wouldn't be used for any such event in future.
Asked about the programmes lined up for Sunday at the palace, the GCPA said it was up to the organisers to decide on.
The GCPA, which had been formed over the demand of separate statehood for Cooch Behar, is divided into two factions. While Burman has lent support to Trinamul, the other faction headed by Ananta Maharaj is with the BJP.
"We feel a cultural fest on the premises of the palace will hurt its pride and heritage and also damage the structure and different exhibits at the building. When the Left Front government was in power, we had launched agitation for cancellation of a similar programme," Girija Shankar Roy, the convener of the GCPA, had said earlier in the day.
A few days back, Nisith Pramanik, the BJP MP of Cooch Behar, had announced the fest. Prominent local artists and performers from outside, including singer Kailash Kher, were scheduled to perform at the event.
The BJP had questioned the intention of the protesters. "It is evident that some people are trying to stop the event with narrow political interests. The state government should extend support to the Centre so that the fest is held successfully. It is disappointing to see that the state government and the district administration are silent," said Sanjoy Chakraborty, a district general secretary of BJP in Cooch Behar.